"There is a killer on the loose."
That was the message from Rev. Dyan Abena McCray at the World AIDS Day Candlelight Vigil at Freedom Plaza on Friday, Dec 1.
"[No] police force, no criminal justice system, no squad control, [and] no special task force has been able to stop the killing," said McCray, pointing to the disregard AIDS has for education or location or money or fame. "It simply wants your life. The only one who is able to stop this killer is you."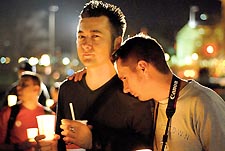 A show of remembrance at the Candlelight Vigil.
(Photo by Ward Morrison)
McCray was the final speaker at the annual vigil, sponsored by Whitman-Walker Clinic. Other speakers included Whitman-Walker chief executive officer Donald Blanchon; Mayor Anthony A. Williams (D); Councilmember Jim Graham (D-Ward 1); Matthew Kavanagh, executive director of Global Justice and the national coordinator for the Student Global AIDS Campaign; Rabbi Binyamin Biber of Machar, the Washington Congregation for Secular Humanistic Judaism; and Anthony Johnson, a client of the Whitman-Walker Clinic who has been living with HIV for the past four years.
"I'm here tonight to show you the face of HIV," Johnson told the crowd of more than 300 people. "Behind all the facts and figures, each of those numbers represent a human being with a story. These candles we are holding tonight…are symbols of hope for a future free of HIV and AIDS. I want all of you to hold onto that hope and to use it to make an HIV-free world a reality."
Williams praised the efforts of his administration liaison to the GLBT community, Darlene Nipper, and Graham. He also voiced his approval for mayor-elect Adrian M. Fenty (D), and his contribution to the fight against AIDS.
"I really want to use this occasion to encourage all of us to continue to fight," Williams said. "I'm going to continue to fight as a private citizen [and] I know the incoming mayor is going to be a leader in this effort."
Graham highlighted D.C.'s historic role in combating the AIDS epidemic.
"The first public contract in the United States in support of AIDS services was provided by the D.C. government in August 1983," said Graham, who formerly served as executive director of Whitman-Walker. "It was also here in the District of Columbia that the first private foundation grant for HIV was awarded [in 1983], by the Myer Foundation for Whitman-Walker. It was also here, in September 1983, when the first African-American AIDS forum was organized here in the District of Columbia.
"We can be very proud of the heritage of what we have done in this area," he said, pointing to the improvements in treatment, testing and resources that eventually came out of that early work.
"[T]here was a very special energy, there was a very special dedication, there was a very special spark to the earliest years of this epidemic that we can be very proud of…. Thank you for all those people who are no longer with us, but who worked so hard."
Blanchon said he was thinking about his brother Robert, who died of AIDS, as gatherers lit their candles.
"Remember your loved ones, your friends, your family, your colleagues and the millions of people who you have never met, all across the globe, who continue to fight everyday [against HIV and AIDS]," he said.
Biber wished the crowd "a Sabbath of peace and well-being," and spoke about how AIDS has affected his life.
"I [am a] bisexual man who has seen AIDS harm the beautiful rainbow of my birth family, of my wider queer family, and of [the] all-encompassing multi-cultural family of humanity."
Other supporters who attended but did not speak at the vigil included Nipper, Councilmember Carol Schwartz (R-At Large) and Jannette Williams, chair of the board of Whitman-Walker Clinic.
"How do you outsmart the killer?" McCray asked the crowd, answering on her own that the answer is to "get smart, get tested and play safe….
"It's time to save your life and the life of someone else."