Gregory Douglass seems to have a real fear of falling — especially falling in and out of love. On his new album, Up & Away, the gay singer-songwriter expresses great displeasure with feeling vulnerable. Singing of being trapped on the one hand ("Follow your heart but don't get caught"), and of being alone on the other ("You're never gonna figure it out on your own").
The conflict between love and loneliness is a central theme on the album. But it's not the central conflict about Douglass. Instead, there's this: Douglass has now released six albums in as many years, and yet you've likely never heard of him. You've perhaps contented yourself with the latest from Justin Timberlake, or with patiently waiting for Rufus Wainwright's next set.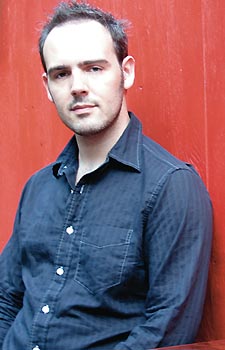 Hopeless romantic: Douglass
And yet, if you overlook Douglass's self-released Up & Away, you'll be missing out on one of the very best pop albums released this year.
No, Douglass isn't a Justin-come-lately (and not just because this prodigious 25-year-old has been recording as a solo artist longer than Timberlake). There's no hip-hop influence, and Douglass doesn't dance. His sound is much more in league with Wainwright: lush, orchestral, intricately arranged, brooding, achingly beautiful. But his sound is much more accessible than Wainwright's. It's also more removed from musical theater, and far closer to traditional pop and rock.
The best distinction to make is that Douglass never strays vocally out of pitch. He never sings through his nose, marring his masterpieces the way Wainwright frequently does. Douglass may not be quite as audacious a songwriter as Wainwright, but thankfully he's also not as audacious a singer. He doesn't have to be. His amazingly strong and supple voice perfectly adapts to the colors and textures of his music. He deploys it with great care.
Born and based in Vermont, Douglass started making music right out of high school. With Up & Away, he's concentrated more than ever on his love of harmony. He's got melody perfected. Douglass handles vocals and keyboards throughout, enlisting a core group of musician friends to provide electric guitar, bass and drums, as well as the occasional wood and brass instruments, and cello and timpani.
Douglass meticulously matches his music to his lyrics. His barnstormer "Who Knows" literally and figuratively moves you even if you pay no attention to his syncopated lyrics. "You always come back/to the menacing fact/you are backwards/and forwards/and baffled/and dazed/and all wrong," he sings, spitting bluesy rock fire on that last word. The music responds in kind.
The album opens with "Light Don't Shine," and the pensive, candlelit song's lyrics display Douglass's passion for wordplay. It's wordplay that centers on dichotomies and other conceptual contrasts that on closer analysis aren't quite so contradictory. "Sometimes I cry my eyes out laughing at the world on fire," he sings. You wonder: Is he crying because he's distraught, or because he's laughing too hard? And was he laughing to keep from crying, or because his crying got out of control and he's become embarrassed by it? Exactly.
Fortunately, Douglass keeps his performance from ever turning to sentimental sap. "Sentimental Fury" isn't just a song title. Douglass is genuinely fired up — occasionally even furious — about life and love, and all the while intellectually conflicted about it. He's a hopeless romantic who often sees romance as hopeless.
The album cover features cartoon clouds as if drawn by a happy child, and there's open water off in the distance. A place to escape. And yet the shore looks burnt and barren. Douglass himself is wearing a colorful green tee with a leafless tree on it, printed upside down. The song "Living" features a happy piano melody and a tender trumpet solo. But each measure ends with Douglass pounding out three ominous notes on his piano. He sings in the chorus: "Everybody's lost, everybody's in love."On the epic title track, Douglass floats his voice over the dreamy, windswept piano chords as his "beautiful balloon" takes flight in verse. The troubles begin only once the balloon is airborne, in the chorus and especially at song's end, right when you'd expect to be trouble-free. The music moves from airy to eerie, and Douglass' voice drops and he sings just above a worrying whisper: "I'm getting much further away from/up and away from the ground. What if I can't get down…what have I done?"
What he's done, throughout the album, is fall in love, and then try to flee. But what he's also done is make you fall in love, too. Your first instinct, like Douglass's, may be to flee. But Up & Away is worth staying around and grounded for.