Grant P. Thompson is not HIV-positive.
But 20 years ago, everyone in the gay community — positive or negative — was affected by the burgeoning AIDS epidemic.
"I remember how at that time all of us had friends who found out that they were HIV-positive," he says. "It seemed like a death sentence. People were depressed. Their social lives had ended, they thought. They were sick, thin, coughing — it just was not the picture of the 17th Street stud."
Thompson says many of those people had Kaposi's sarcoma (K.S.), a form of cancer that triggers outbreaks of lesions on the skin and other tissue throughout the body. He recalls one man with K.S. jokingly referring to himself as a Dalmatian.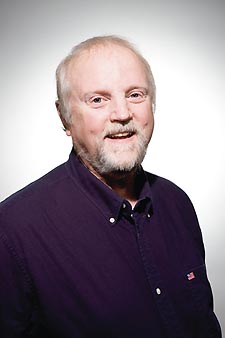 Coffeehouse founder Grant Thompson
(Photo by Todd Franson)
"He had K.S. sores all over him," Thompson says. "He knew he wasn't going to go to a bar and get a date because he didn't want to be seen socially. But he still wanted to have friends."
And so, Thompson and a group of other Quakers, including John Meyer and Neil Peterson, all of whom were members of Washington's Religious Society of Friends, felt obligated to do something.
"In the community there was a lot of shame and hiding about it, so people with HIV and AIDS were isolated socially. We met and discovered that people wanted a place they could come, relax, meet people like themselves, and not feel like a pariah," Thompson says.
Through word of mouth, and with the help of Quaker volunteers and funding from various sources including Brother Help Thyself (BHT), they launched the "Comfort Zone," a free all-inclusive monthly social geared toward Washington's HIV-positive population, in 1986. It was held at the Religious Society of Friends' place of worship and activism, the Friends Meeting House.
The meetings soon became known as the "HIV Positive Drop-In Coffeehouse."
Rob Chokran, a volunteer at the coffeehouse since 1997, says he has learned from early volunteers that conversations during those initial meetings included comparisons of AIDS medications and doctors' prognoses, among other topics.
"Over the years that part of it died out and it became a social group," Chokran adds. "People were tired of talking about doctors, medications, HIV and AIDS. So they made a social group."
The volunteers involved with the Coffeehouse made sure each social had the necessary food, beverages and chairs. Once the meetings gained momentum, they were held weekly. Currently, they are held bi-monthly, on the first and third Saturday of each month.
Former volunteer Elizabeth Segal says attendees, who were predominately gay men, would play card games, socialize and eat around the fireplace inside the Friends Meeting House's assembly room.
"The main thing was the food," she says. "Everybody came for the food. We had everything from cold cuts to pizza to salads, fruits and lots of desserts."
The Religious Society of Friends's anti-drug policy also created a healthy atmosphere.
"[In the '80s] there was hardly any place that [HIV-positive] people could go that wasn't a bar or something like that," Segal says. "The idea was to give them something healthy that wasn't going to cause problems for them."
Whitman-Walker Clinic psychotherapist Joe Izzo has been a member of the Religious Society of Friends since 1982. He has also volunteered for the coffeehouse, which he says provided an environment for "safe socialization," one that was not available anywhere else.
"I've been at Whitman-Walker Clinic for 20 years and one of the biggest problems we had in the late '80s and the early '90s was that people with HIV still felt so stigmatized that it was so difficult to socialize anywhere," he says.
"The Friends Meeting House had decided to fill a necessary gap in [HIV/AIDS] services and that was the one thing that was not available anywhere at the time."
Gay historian Mark Meinke of the Rainbow History Project, who is also a member of the Religious Society of Friends, recently joined the coffeehouse's volunteer group. He emphasizes the important role the coffeehouse played during its early years.
"[I]n 1986, it was a difficult time to have AIDS," Meinke recalls. "In the 1980s [the coffeehouse] was more of a haven than a social event. It was the height of hysteria and the discrimination that those who developed AIDS in the mid-'80s faced…. In those days police wouldn't touch you without rubber gloves. In 1986, there was even an issue about a person who died of AIDS and the ambulance refused to carry the body."
In addition to Washington's Covenant Baptist Church and the Metropolitan Community Church, Friends Meeting House was one of the few religious organizations to reach out to those affected by HIV/AIDS in 1986, Meinke says. Whitman-Walker Clinic's Max Robinson Center recognized the Friends Meeting House, in 2005, as an "AIDS hero" through its ongoing project, Our Heroes, which commends people, places and organizations involved in the fight against HIV/AIDS.
Thompson left the Coffeehouse in 1994 when he moved to New York City. He did not return to the group upon returning to Washington the following year.
"I knew it was time to pass it on," he says. "Other people were running it and that was fine. That was what I wanted."
These days, the coffeehouse operates primarily with the help of Chokran, Meinke and Jonathon Ottke. Ottke, a computer engineer, is also a member of the Religious Society of Friends and sometimes makes volunteering at the coffeehouse a family affair, when his wife and two daughters lend a helping hand.
It's been 20 years since the coffeehouse's first meeting, but it still serves the same purpose.
"There's no agenda," Meinke says. "It's just a place to come and eat, have refreshments and talk."
Ottke describes the setting as "a place where you can just be, and not worry about things. You can talk to people who are in the same circumstance, and not have to worry about anything in particular."
But many of the original people involved in the coffeehouse's initiation, are questioning the need to keep it alive.Thompson says things have changed drastically for people living with HIV/AIDS due to medical advancements introduced in the mid 1990s.
"The big breakthrough was the drugs," he says. "The death sentence went away and we gradually got to the situation we have now, where people who are HIV-positive are not outsiders in the community anymore. And so the need for the coffeehouse diminished."
Today, Whitman-Walker Clinic is just one of many local organizations that offers various services to people living with HIV/AIDS, including support groups, testing and counseling. Other organizations include Us Helping Us and Damien Ministries.
Segal, who stopped volunteering about three years ago, also says it's time to stop the meetings.
"I don't think we need to do it anymore," she says. "I always think it's important to give up a program if you don't need it anymore. I don think it's good to hold on because of sentimental [reasoning]."
But Ottke says he is thinking about how he can modify the settings of the social to meet the needs of people living with HIV today.
"If we offer something instead of just being an HIV-coffeehouse, [including] advice, how to cook, nutritional information — that might be what people are interested in nowadays."
Thompson is aware that there are many people who want to keep the coffeehouse going. Chokran is one.
"It gives people a chance to socialize in person rather than on the Internet or constantly look for a place to go to meet other people going through similar situations," he says.
Meinke echoes those sentiments.
"There are people who have been regulars here for years and years, and they keep coming back," he says. "So long as there's one person who wants to turn up, we have a reason to keep it open and going."
HIV-Positive Drop-In Coffeehouse meets on Saturday, Dec. 16. The Coffeehouse is from 7:30 to 10:30 p.m. at the Friends Meeting House, 2111 Florida Ave. NW. The entrance is located on Decatur Street NW.