"I heard that you were talking shit and you didn't think that I would hear it."
Gwen Stefani came out swinging, swaggering and stomping on her first solo outing, Love. Angel. Music. Baby., most memorably on the album's biggest hit, "Hollaback Girl." Never mind the pressure success must have created to do it all again. What happens if you let shit get to you?
Well, if you're Stefani, you stop having so much fun. And you shed tears. Lots and lots of tears. The title notwithstanding, on her follow-up album, The Sweet Escape, Stefani sheds tears in an inside-cover photo and talks of tears throughout. As content as she has previously made her married-with-children life sound, you hope the sad lyrics – about arguing and suffering from a man doing her wrong – are not as autobiographical as the album's lighter, largely self-referential tracks, about recording anxiety and just having fun.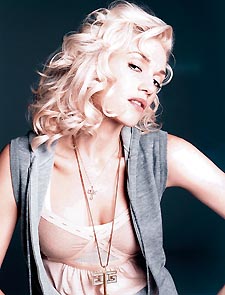 Sweet success: Stefani
(Photo by Mark Squires)
"That's right, put your pom-poms down, getting everybody fired up" — Hollaback Gwen says cool it.
Or something like that. Then again, maybe we're making too much of the lyrics. Lyrics, after all, are not Stefani's strong suit — except for memorable key phrases, from "this shit is bananas" to "wind it up." And the new album's press release pointedly makes no mention of her new somber lyrics, or their implications. In fact, the album, according to the release, was "inspired by the love that surrounds her, on and off stage," and fueled by "sheer joy."
Musically, there can be no argument about that. This time out, Stefani quadrupled her work with producers the Neptunes – responsible for "Hollaback Girl" – and again works with her No Doubt bandmate Tony Kanal. Those contributions alone make The Sweet Escape more joyous than it otherwise might have been, given that the Neptunes, in particular, disguise her saddest lyrics by overpowering them with sweet, multi-tracked music of strong resonance. On "U Started It," Stefani gives in so her man will give up the fight. That's just what the Neptunes's Pharrell Williams does, too: There can be no fighting with an early-Prince-style ballad as agreeable as this.
Stefani is still looking back for much of her musical inspiration, and especially to her own coming-of-age decade, the '80s. She's just not dancing nearly as much this time around. Kanal mines that decade's synth-pop and strikes gold with the aptly titled "Flourescent," a mid-tempo romp that flickers and hums with over-processed beats that has amazing staying power. "I didn't think we'd still be rolling," Stefani sings. But they are, and just as it was with Love. Angel. Music. Baby. Kanal's work here for Stefani makes you eager for the long-overdue next No Doubt album. (It's reported to be another year in the making though, given Stefani's tour schedule through much of next year.)
On the title track, Stefani sings about escaping a real world in which she's not sweet enough to her man and he's become bitter about it. So the music, fashioned by one of today's hottest R&B stars, Akon, escapes to an alternate world where the sounds of '60s girl-pop, '80s R&B mid-tempo balladry and '90s pop-rock in the No Doubt mold meet in bittersweet harmony. It's not the sweet, carefree escape you might prefer, but you'll happily flee to it anyway.
Stefani's purpose in making music, she has said, is to create guilty-pop pleasures. Perhaps the heavier lyrics are a result of her feeling guilty for the pleasures she induced last time. Even if that's the case, at least she's not feeling so guilty that she's above doing it again on occasion – or of being gutsy in the way she can use guilt to produce pleasure.
As for first single "Wind It Up" — it shouldn't work, and it may take a few listens before you get over the shock of her sampling "The Lonely Goatherd" from The Sound of Music for an otherwise austere hip-hop track. (The video's even wilder.) But once you give it a chance, you realize she hasn't gone sampling mad, or just plain mad – she just skirts awfully close. This is the obvious, stomping sequel to "Hollaback Girl." "Wind It Up" is a track custom-ready for the club, complete with a subtle, self-respecting message to demand more: "Keep going girl, it's your night/Don't let him steal your light."
Though it's dimmed a bit, Stefani still has her light. And these hills are alive.