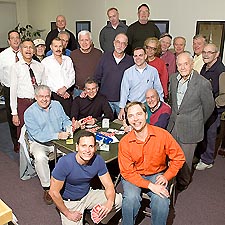 Members of the Lambda Bridge Club
MISSION: For 25 years, Lambda Bridge Club has provided a social atmosphere for gay bridge players, with 50 active members.
ACTIVITES: Lambda Bridge Club hosts both social and duplicate bridge, a more challenging version of the game. Ed Duffy, a certified American Contract Bridge League (ACBL) bridge participant, takes part in the games and is also in charge of refereeing the duplicate bridge games. The group hosts social games on the first and third Wednesday of each month; duplicate games, which require playing with a partner, on the other Wednesdays.
HOW TO JOIN: For a social game, just show up. Players are asked to pay $5 for each game. For a duplicate game, you must contact organizers in advance. You should have some knowledge of the game. "We don't teach bridge and we don't have a beginning class or anything like that," Duffy says. "You need to have some level of familiarity with the game to take part in the social game."
CONTACT: Visit www.lambdabridge.com.
NEXT EVENT: Bridge at 7:30 p.m., on Wednesday, Dec. 13, at the Dignity Center, 721 8th St. SE.