Sometimes a cigar is just a cigar and, sometimes, a play is just a play (or just a musical). This is not meant to sound dismissive or derogatory. In fact, much like enjoying your favorite comfort food, there's something wonderfully indulgent about an evening of theater that doesn't purport to be anything more than that. Not an event nor a keen marketing ploy meant to prolong the life of a movie or animated film, but an opportunity to sit back, relax and realize that there is a great deal of beauty in simplicity. A comedy that is unafraid to be silly. A musical that bursts unselfconsciously into song.
All the better when you discover two such opportunities a few Metro stops from one another.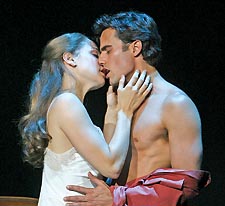 Italian passion: Piazza
(Photo by Joan Marcus)
On the surface, there are perhaps no two shows more dissimilar than Michael Frayn's ridiculously funny Noises Off and Craig Lucas and Adam Guettel's lush and lovely The Light in the Piazza. One is a slapstick farce that causes the kind of laughter that feels almost embarrassing in public. The other is a dreamy fairy tale that reminds one of the Hollywood screen musicals of another day. One sets up shop in tiny theaters in tinier towns in the British countryside while the other strolls the cobblestones of 1950s Florence and Rome. Regardless, there is something strangely similar about these shows.
With Noises Off, Arena Stage once again proves why it's one of the area's premiere theaters. A show that depends on impeccable timing and actors who are superb enough to perform truly horribly, Noises Off is something of a theatrical high-wire act. The play follows the downward spiral of a small British theater troupe as they prepare and perform the fictional farce "Nothing On."
Act one of Noises Off finds "Nothing On's" director, Lloyd Dallas (the perfectly cast James Gale) trying desperately to get his third-rate company through their final rehearsal. His actors are a collection of misfits. There is Dotty Otley (Helen Carey), who has financed the show as an attempt at a comeback. There is the inarticulate Garry Lejeune (Stephen Schnetzer), who seems capable of completing a thought only when it has been scripted for him. Then there's the drunk thespian (Arena veteran Robert Prosky); the pretty-but-dim actress who got her role by sleeping with the director, who also happens to be sleeping with the show's assistant stage manager; the actor who faints at the sight of blood; and the actress who is just so pleased to be working with such a fine group of people.
NOISES OFF
To Jan. 28, 2007
Arena Stage
$55-$74
Act Two finds the troupe roughly halfway through its tour. The show is beginning its descent into chaos thanks to bad acting, poorly concealed affairs and violent jealousy. The nifty trick here is that we're privy to the backstage view, where personal dramas are played out in silence (or, in theater parlance, with "noises off"). Act three finds us back in the "audience," watching "Nothing On's" final, dismal (and unintentionally uproarious) performance.
To attempt to shine the spotlight on just one member of Arena's cast is impossible. It's a finely-tuned ensemble who manages to make an evening of extraordinarily — and intentionally — bad theater exceptionally good.
---
The same can be said of the cast of The Light in the Piazza, a big, over-the-top musical that is unashamedly formulaic in its plot. And that's what makes it an almost guilty pleasure.
THE LIGHT IN THE PIAZZA
To Jan. 7, 2007
Kennedy Center
$42-$150
Margaret Johnson (Christine Andreas) is taking her naïve and beautiful daughter Clara on a tour of Italy to retrace the sites Margaret and her husband Roy visited on their honeymoon. While touring the city, Clara catches the eye of the handsome Fabrizio (David Burnham) and, not surprisingly, the two instantly fall in love.
As the star-crossed lovers move toward the inevitable happy ending, we are treated to visits with Fabrizio's family, an endless combination of gorgeous sets that glide magically on and off stage and a rich patchwork of songs that are surprising in their force and variety. Andreas' performance of "Dividing Day" is something that, if you are quite lucky, will echo in your ears for days.
So what is it that makes these two very different shows feel so similar? Perhaps it's because there is something nostalgic, almost Romantic, about them. They both treat their audiences to the kind of evening that will remind many why they fell in love with going to the theater in the first place. When the final curtain falls — in the case of Noises Off, literally — and the audiences of these shows give both well-deserved applause, we are reminded that in the end the play is truly the thing.