Though Mother Nature has yet to conjure a winter wonderland in the capital, D.C.'s Different Drummers (DCDD) have the soundtrack at the ready with "Winter Dreams," a holiday concert featuring DCDD's Capital Pride Symphonic Band and D.C. Swing!
Taking the baton for the Saturday, Dec. 16 concert is DCDD Assistant Artistic Director Beth Smith, who will conduct the symphonic band through the second half of the concert.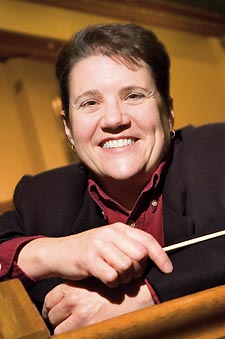 Beth Smith
(Photo by Todd Franson)
"This is the first time I've totally had the [symphonic] concert to myself," says Smith of the conducting duties that usually fall to Artistic Director K. Scott Barker. "It's such a thrill…. It's really an ensemble feeling. I'm leading them, but we're all going there together — and taking the audience with us."
Chris Raitzyk, director of DC Swing!, will lead the first half of the concert from her spot within the smaller swing band, playing alto saxophone.
"We always try to do something kind of campy and fun," says Raitzyk of D.C. Swing!'s contribution to the holiday concerts. This year they offer a duet of "Baby, It's Cold Outside." That the weather is not cooperating is fine by Raitzyk — keeping the cold at bay is her idea of a good time. She says the music just adds to the cheer.
"It's a light, fun concert for us," adds Smith. "Some like the holiday concert best."
Many of D.C. Swing!'s public performances, Raitzyk says, are for private functions. So this holiday concert is a rare treat for swing fans who have been good this year.
DCDD presents "Winter Dreams" on Saturday, Dec. 16, at 8 p.m., at the Lutheran Church of the Reformation, 212 East Capitol St. NE. Tickets are $15 in advance, available through DCDD or at Lambda Rising Bookstore, or $20 at the door; $10 for seniors or students. For more information, visit www.dcdd.org.