In the past decade in Washington seven people were murdered, or died, as a result of someone else's wrongdoing because they were transgender. And those are just the ones that were reported.
A new analysis from the Gender Public Advocacy Coalition (GenderPAC) titled 50 Under 30: Masculinity and the War on America's Youth, reminds us who they were.
It also profiles the deaths of 43 other transgender people from around the nation, between the ages of 13 and 30, and ranks the District of Colombia as the city with the highest number of reported incidents.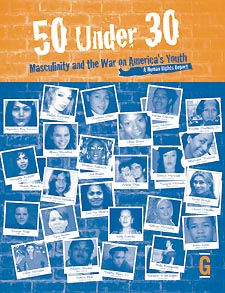 The cover of GenderPAC's new study
Those who were killed in Washington include Imani Williams, 24, an African-American transgender woman who was found beaten and shot to death on Aug. 21, 2003. Her murder remains unsolved.
Emonie Kiera Spaulding, 25, was also killed that day. She was an African-American transgender sex worker who was shot to death when her assailant discovered that she was biologically male. Her killer, Derrick A. Lewis, 23, pleaded guilty to voluntary manslaughter and was sentenced to 10 years in jail.
Bella Evangelista was shot and killed just a few days before those murders, on Aug. 16, 2003. The 25-year-old transgender Latina's assailant was sentenced to 17 years in prison after he confessed to the killing and was convicted of second-degree murder.
One year prior to those murders, Ukea Davis, 18, and her friend, Stephanie Thomas, 19, were shot repeatedly by an assailant in a passing car as they sat in a car near Thomas's house, in the early hours of Aug. 12, 2002. According to the report, the assailant then returned to the victims' car on foot to deliver a second round of gunfire. Their murders remain unsolved.
Tyra Henderson was a 22-year-old African-American transgender woman involved in sex work. She was bludgeoned to death on April 23, 2000. Her case also remains unsolved.
Tyra Hunter wasn't murdered, but many activists argue that her death could have been prevented. The 24-year-old died as a result of severe injuries she suffered from a car accident in Southeast in Aug. 1995. Paramedics wasted two-to-five minutes when they discovered she had male genitalia and interrupted her medical recovery to mock her instead, witnesses said.
Those seven deaths make Washington the highest ranked city for transgender murders within the past 10 years. Houston follows in second place with four incidents, and New York City is third with three.
"D.C.'s rate being the highest, or tied with [the state of] California, supports our assertion that these [incidents] are taking place in urban centers where the proximity in which people are living can contribute to these kinds of crimes being perpetuated," says Taneika Taylor, director of communications at GenderPAC. "And also something that I think that's specific of D.C., is the visibility here of the community, in terms of LGBT and non-conforming people. Those two things playing together definitely contributed to D.C.'s ranking up there as one of the highest rated [for] incidents."
50 Under 30 does not include any victims who were killed in Virginia or Maryland.
"It's just an artifact of the data that there weren't any victims in this report in Maryland and Virginia," Taylor says, noting the age group studied.
"I don't think they're safer places, I think it's just because we narrowed the scope of the report."
The data cited in the report was compiled from a variety of sources including, Web sites, hate-crimes reports, news articles and online databases.
50 Under 30 reveals some startling facts:
"All assailants are male; most attack biologically-male peers their own age; most assailants use extreme violence; most assailants live in major cities; most murders aren't investigated as Hate Crimes; [and] most assailants go free."
It also concludes that most victims are of color (black and Latino), poor, transgender or gay, are biologically male but not presenting masculinity, and are ignored by media.
GenderPAC has been collecting data about transgender murders around the nation since the gropu formed 10 ten years ago. Last year, members of the organization decided to compile a report, about those murders, which would become 50 under 30.
"For too long, the lives and murders of these young people have gone under-solved and under-reported," Taylor says. "This violence, these murders, have been weighing heavily on our organizational heart for years. 50 Under 30 is our response to this and our effort to not only convey the tragic, personal toll behind these murders but to also bring greater awareness to this epidemic of violence."
After taking a closer look at the victims, Taylor and other members of GenderPAC were able to conclude that all of the cases had many similarities.
"We noticed that most victims were people of color, most were under the age of 30, and most of them were killed in urban centers. We thought that was a significant interception of some very unique characteristics that were and are making these young people susceptible to the fatal violence."
Taylor worked with about 15 other staff members, volunteers and correspondents to compile the data for 50 Under 30, which she co-wrote with Riki Wilchins, executive director of GenderPAC.
"50 Under 30 is an examination of a little more than 10 years of the casualties in this war being waged on youth aged 13-to-30," Wilchins writes in the report's opening letter.
"We focused on youth, both because there has been such indifference to the epidemic of gender-based violence against them and because youth are particularly vulnerable to such violence, often lacking adult advocates or sufficient financial and social capital to ensure their own safety."
Taylor says she suspects that the number of people featured in the report would have "almost doubled" if they had included victims over the age of 30 and under 13.
GenderPAC has distributed 50 Under 30 to more than 100 governmental and non-governmental human and civil rights agencies. There are plans to present a copy to the Organization of American States's Inter-American Commission on Human Rights (IACHR), a group that investigates human-rights abuses in North and South America, in February.
Taylor says GenderPAC is also working with various national partners in order to be able to reach various communities and people of different ethnicities, age groups and racial backgrounds.
"Raising awareness really is the first step that we can take in terms of transforming the culture that has allowed these murders to happen in a way that they're under-solved [and] under-reported by most media outlets, outside the LGBT community," she says.
"We hope that people will recognize the sorts of violence and aggression that American culture has become accepting of, in terms of enforcing masculinity or femininity."