Trey Watkins is modest.
The second-year, gay grad student at George Washington University's School of Public Health is quick to point out that he's not solely responsible for pushing CVS/pharmacy to modify its policy of locking condoms in cabinets or behind the counter in almost half of its stores in Washington's lower-income neighborhoods to avoid theft.
"We looked at this and said it's obviously an issue," Watkins says. "Condoms are continuously being locked up and are not … readily available, and people have to ask for them. Rather than ask [for them because] of embarrassment, they are going home and having unprotected sex."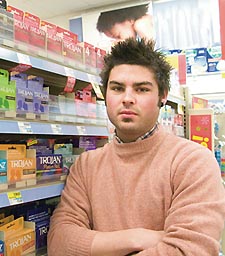 Trey Watkins
(Photo by Todd Franson)
Watkins, 23, advocated alongside members of Save Lives: Free the Condoms, a group pushing CVS/pharmacy stores to unlock condoms in all of its stores.
"We rallied around CVS, we encouraged them, wrote letters and spoke with managers and asked them to re-think their policies," says Watkins.
The group, an outgrowth of a class project from GWU's School of Public Health that operates as a coalition of students working to reduce health disparities in Washington, met with CVS regional managers on Oct. 30 to discuss the issue.
Perhaps the persistence paid off. Save Lives released a statement last month announcing that CVS "managers were responsive to the requests and were working on unlocking a limited number of condoms in all D.C. stores…."
CVS now sells three- and 12-pack boxes of the more popular selling condoms on "power-wings," stands that display items at the end of aisles. But the larger boxes still remained locked in cases.
However, CVS spokesperson Mike DeAngelis says the decision to unlock a selection of the store's condoms was not a result of Save Lives' advocacy. He says CVS, which had locked the condoms due to theft issues, was in the midst of working on a temporary solution due to the feedback it had already received from various sources when the students met with CVS regional managers.
"What we told them is that we were putting into place…a display that is unlocked with a limited inventory of condoms, so shoplifters can't sweep our entire inventory," DeAngelis says. "We certainly appreciated them bringing their concerns to our attention, but it's something we recognized and had been working on a solution for."
Either way, it's a relief for people who are embarrassed to walk into a store and ask for condoms. And activists say it's also an important step toward reducing the spread of HIV/AIDS and other sexually transmitted diseases in Washington's lower-income communities.
Watkins, who serves as the co-vice president of GWU's Public Health Student Association, as well as assistant outreach coordinator for the university's Student Health Services, says this is just one step in the right direction. He's asking others to get involved to make condoms more accessible.
"It is our right as citizens, especially with HIV rates increasing so tremendously."
Watkins and students from Save Lives are reaching out to Mayor-elect Adrian Fenty (D), asking him to make this issue a citywide initiative.
"We don't want a selection of condoms to be unlocked," Watkins says. "We want all of the condoms to be unlocked."
Ron Simmons, executive director of Us Helping Us (UHU), one of the largest gay-identified, African-American AIDS organizations in the country, commends the work of the students, saying that he doesn't accept CVS's reasoning of controlling theft by locking up condoms. Instead, locking the condoms creates "another barrier."
"It's hard enough with the stigma of sexuality and condom use to buy condoms as it is," says Simmons. "You [shouldn't] have to page somebody as though you are buying a watch or ring…. Ideally CVS should have a bowl of condoms for people to come and just take."
Watkins says he understands that CVS functions as a business and not a community clinic, "but businesses need to make their services available to a population. If it's not available, it's not profitable."
Barbara Chinn, director of Whitman-Walker Clinic's Max Robinson Center in Southeast D.C., recommends alternatives to dealing with theft, such as electronic metal tags.
"We need to do everything we possibly can to reduce the infection of HIV/AIDS and other sexually transmitted diseases in the district," she says. "We are trying to encourage people to use condoms, we don't want to put any barriers in their way."
There are alternatives to buying condoms at CVS. Chinn points to the Condom Project, a not-for-profit organization established by AIDS educators, activists and artists, that works domestically and internationally to de-stigmatize the use of condoms.
She says they provide free condoms at various laundries and 24-hour restaurants throughout the city.
DeAngelis says the issue is "being able to protect the product so that it is available for our customers."
He says CVS is working on a permanent solution that will be unlocked "but will be preventative to shoplifters," and available in various stores sometime next year.
While he would not reveal how the fixture will operate, DeAngelis did say it functions in the same way theft devices on the store's baby formulas, razors and other items work.
Watkins is just hoping that people can walk into the store and pick up a box of condoms without facing obstacles.
"It's great to encourage people to make healthy decisions," he says. "But if they've decided to use condoms, and they don't have access to condoms, the decision doesn't hold much weight, does it?"