When it comes to making positive life changes, Sally Michael wrote the book.
The 61-year-old lesbian's ongoing recovery from a stroke she suffered six years ago, leaving her partially paralyzed on the left side of her body, makes her a living testimony of how people can overcome life-altering challenges.
And now she's sharing the wealth of her knowledge. Michael, a former director of Whitman-Walker Clinic's Northern Virginia branch, has launched a new endeavor as a certified life coach with her business, Coaching for Change. And while she's not one to shy away from meeting her clients in person, her post-stroke condition makes the phone a more practical option.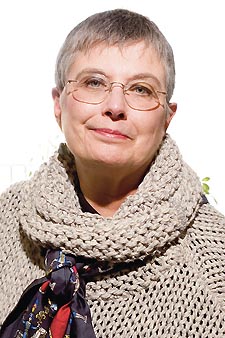 Sally Michael
"Since I had the stroke and became disabled, several friends have challenged me to do something with the experience," she says. "I figured the thing that I know how to do the best is to start over. I've done it through divorce, through 12-step recovery and now becoming disabled."
The stroke forced Michael to learn new ways of performing day-to-day tasks, from typing efficiently with one hand to walking with a cane. She's had to bid farewell to spontaneity in daily routines — everything must be planned. But above all, Michael says the partial paralysis tested her perseverance at one of her weakest moments.
"I wanted to quit after the stroke. I remember very clearly a meeting at the hospital where some therapist sat and pretty much just said I could never…do the kind of work [I did] before. And that was sort of it for me."
With the help of her partner, Renee Lohman, 49, Michael was able to pull through.
"[Renee] is a very high-energy, positive person. She is just what I needed, and when I get discouraged, she's right there."
With her new business, Michael hopes to return that encouragement to others who are in need of empowerment — people looking to overcome potentially crippling situations, such as coming out, the death of a loved one, the end of a relationship, losing a job or battling a drug addiction.
"Coaching is different from traditional therapy in that the client is led to discover his or her own answers [by] creating his or her own empowerment," she says. "I'm trained in linguistics and how language and careful questioning can lead people to a new way of life."
Michael launched Coaching for Change in November after graduating from a training program at New Field Network in Reston, Va. She will be certified as a professional coach in January, but is ready now to take on new clients by telephone and e-mail. While versed in what she sees as the advantages of coaching for her clients, Michael is also aware of her limitations.
"Coaching is not therapy and if I believe a client needs psychotherapy or medication, I will make a referral to more appropriate providers."
Jay Fisette (D), an openly gay member of the Arlington County Board, knows Michael well from his own tenure as director of Whitman-Walker Clinic's Northern Virginia branch. He says Michael is the perfect person to provide support during difficult times.
"Sally has a great combination of wisdom, caring and insight that suggest to me that she'll be a terrific life coach," he says.
Michael's specialty lies in starting over, because that's what she's done, on more than one occasion. Born and raised in Milford, Mass., her earliest memories of being gay trace back to her late teens.
"I did what many young women did at that time, and that was figure out another way to live in the world."
She married a U.S. Navy lawyer and came to a predicament when her mother died in the '80s.
"[Her death] seemed to open me up to feelings I had had before," she says. "It was like I had two tapes playing in my head, the real me and the 'presentable' me."
Following those feelings, Michael left her husband of 16 years a few years later. Although they remained friends, it was a difficult period for them both.
"It was painful for both of us and I will always regret that I hurt him. But I think at this stage he agrees that it was [best]."
It was during her marriage that Michael became addicted to alcohol, which led to many episodes of blacking out.
"I started finding myself at restaurant tables having no recollection on how I got there. A few moments like that can really get your attention."
She successfully battled her alcohol addiction a few years before separating from her husband. She's been sober for 26 years.
Michael and Lohman met in 1997 at their church, St. Clemens Episcopal Church, in Alexandria. They've recently become homeowners in Lost River, W.Va., where Lohman also heads a health-care facility she founded. That makes for frequent traveling for the long-time couple, as they spend three days a week at Lost River.
But when Michael is not on the road, she hopes to be on the phone, as a life coach.
"What would you like to change today?" is usually the first question Michael asks callers. And as she listens to the voice on the other end of the phone call, it becomes evident that one thing hasn't changed throughout her life and all her endeavors: her talent for helping others.
"One thing I'm very happy about is that my compassion was never affected [by my stroke]. People go through emotional changes after strokes at times, and I went through my share of lows, but my concern for others never varied."