When D.C.'s new chief of police met with supervisors from the city's various police units to discuss plans for a new community policing effort, Sgt. Brett Parson heard the call of the streets.
Parson, who has headed the city's ground-breaking Gay and Lesbian Liaison Unit (GLLU) since June 2001, realized an opportunity to focus on his first passion as a cop: street and patrol work.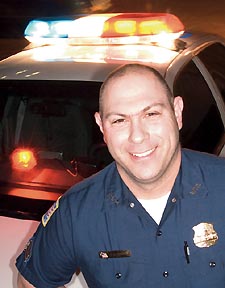 Parson
Acting Chief Cathy L. Lanier and Mayor Adrian Fenty have promoted a plan to increase police visibility, form partnerships among different units, and train the community to spot and respond appropriately to major threats. Parson has decided to take to the streets of Columbia Heights as part of the new effort.
Last Friday, Jan. 12, the 39-year-old gay officer announced his departure from the GLLU, where he served as the unit's Commanding Officer, to take on a new assignment at the Metropolitan Police Department's Third District Patrol Service Area (PSA) 302.
"This PSA has experienced a substantial increase in crime and calls for service, making it an ideal area for me to serve," Parson said in the release. "I am eager to start my work there and join the hardworking men and women currently assigned to that area."
Parson told Metro Weekly this transition is something that he's anticipated for a long time.
"My passion is street and patrol [policing], so this seemed like the perfect time to approach the chief with that," he says. "When I asked [her] where I'd be best used, she said the highest crime in the city is not that far away … [I]t just seemed a perfect fit for me."
Mike Sessa, President of the Washington DC Center for Gay, Lesbian, Bisexual and Transgender People describes Parson's departure from the GLLU as "bittersweet."
"When someone like Brett comes along and creates such a presence, we all hope that the presence continues," he says. "In lots of cases, [an] organization takes on the personality of its leader and the GLLU has really become that presence because of Brett's personality, his outgoingness, his roll-up-your-sleeves and get involved attitude."
Sessa says losing Parson's attitude and presence bring him "anxiety," but he's appreciative that the long-time cop is eager to focus on what he loves.
"I wish him the best and all I can hope is that his replacement has the same ability to be everywhere [like Brett was]."
Many can attest that Parson seemed to be everywhere during his five-and-a-half year tenure as head of the GLLU. Whether it was Capital Pride, leather contests or High Heel races, Parson was there. His presence went beyond gay celebrations, and included more difficult times for the community, including memorials and vigils for those who were victims of crime in the city.
After the murder of mayoral gay and lesbian liaison Wanda Alston in March 2005, Parson escorted her partner, Stacy Long, into the vigil. More recently, Parson once more joined with members of the transgender community in a vigil for another victim of violence — this time outside the apartment building where Diamond Person was murdered.
That presence made him the go-to person of the GLLU for many community leaders, including Earline Budd of Transgender Health Empowerment (THE), who was shocked to hear the news of his departure.
"To me, when you say Gay and Lesbian Liaison Unit, it is not the same without hearing Sgt. Brett Parson. It can't be the same. I can't have it."
Budd lauded the fact that she could always call Parson to speak to one of THE's support groups, and he could be counted on to speak forthrightly
"He would always … say, 'Ladies, first and foremost, I'm a police officer, so if you're breaking the law I will lock you up,"' says Budd. "And trust me, he's [arrested] a few of the transgenders and they definitely talk about him.
"But, on the other hand, he started something with the GLLU that's special and unique," Budd adds. "He's got a heart … . There will definitely be a void."
The GLLU has not announced a replacement for Parson as its commanding officer. Currently, 15 people comprise the unit. Five of those are gay, including: Officer Juanita M. Foreman, Officer Joe Morquecho, Reserve Officer Vince Micone, Volunteer Services Coordinator Sterling Spangler, and Buck Jeppson. The GLLU includes five full-time staff members including two new officers, Dustin Nevel and Kevin Johnson, who came on board shortly before Parson's announcement.
Sessa says Parson's replacement needs to be dedicated and approachable.
"Brett [leaves] big shoes to fill," he says, noting that it will take "dedication and persistence" to succeed in the position.
"Brett is like no other cop that I know," says Sessa. "I think of him as a friend, someone I can call. He just understands that, regardless of his personal feelings, this community has many different characteristics and he is not biased to any of those characteristics. He supports them all and applies all of his police requirements judiciously. That's a difficult thing to find — it doesn't happen everyday."
Parson says his departure from the unit will be "a slow transition," and for a time he'll be wearing two hats by being available as a resource for the gay community. "I'm not going completely cold turkey."