According to the formula concocted a few years ago by British psychologist Cliff Arnall, Jan. 22 was the most depressing day of 2007. Unsurprisingly, Arnall's formula was commissioned by a travel company seeking the best time to market vacations to blue Britons.
In D.C., the winter weather has not been particularly harsh — a few chills, with more to come, but nothing overwhelming. But that shouldn't stop you from thinking about taking a break. After all, tax refunds are right around the corner and some woefully expensive summer destinations are remarkably within reach.
And if there's anything at all to Arnall's formula, you best take heed, as depression is the very antithesis of gay.
Erik Torkells, the gay editor of Arthur Frommer's Budget Travel — a surprisingly sophisticated magazine, despite the name — confirms that winter has some advantages over the traditional summer travel season.
"If you've been to Europe lately, particularly the U.K., it's brutal," warns Torkells, citing a particularly weak dollar in comparison to the euro or British pound. "Going in winter lessens that."
Torkells recalls a relatively recent cold-weather trip to Stockholm, for example. While people thought it "grim" to trade one winter for another, he says the city truly comes to life when the tourists are scarcer: "When winter comes, that's when the party begins."
Even better than the atmosphere is the reduced cost.
"If I decided to go to Stockholm for five days in summer, the airfare and hotel would have been twice as expensive. And what if I didn't like it?"
That's not to say that a blustery winter vacation to Northern Europe is everyone's cup of tea. And when you live in a metropolitan area with three major airports to choose from, there's no need for it to be. The less-lauded winter travel season is open for business, whatever a gay traveler's tastes, from burgh to beach to bunny slope.
Some Like it Hot
FIVE-HOURS of flying south from Washington brings you to stable, gay-friendly Costa Rica. Gay Washingtonian Roy Kaufmann is so fond of the country he bought a house there, which he rents out most weeks of the year. The hillside home overlooks the Pacific Ocean town of Quepos, which marks the entrance to Manuel Antonio National Park, where thousand of jungle acres host monkeys, macaws, frogs and flora. Throw in a concentration of gay locals and tourists, and it's a winter gay getaway of distinction.
"It's relaxing. It's safe. It's inexpensive," Kaufmann says. "It's got everything from four-star dining down to rougher offerings. People are friendly."
Kaufmann also notes the concentration of gay establishments, such as Big Ruby's La Plantacion hotel, Hotel Villa Roca and Hotel Casa Blanca. And don't forget the full slate of vacation activities, from rainforest trekking to whitewater rafting to horseback riding.
Beyond the concentration of gay hotels in this relatively tiny area, Kaufmann also points to the neighborhood where he bought his house, estimating that of 20 homes, seven are gay-owned.
When first arriving in Costa Rica, Kaufmann recommends resisting the lure of the beaches for a time and taking advantage of the equally alluring gay nightlife on hand in the Costa Rican capital, San José, often missed by travelers in a rush to their final destinations.
"It's a vibrant, fun, late-night, Latino atmosphere. It's very cosmopolitan," says Kaufmann. "It's everything from working gentlemen to immigrants — a bar for gay Nicaraguans, say — and upper and middle-class bars where everyone is very educated and refined. But street crime is rampant — and easily avoidable by taking taxis."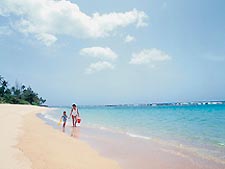 The sunny shores of Puerto Rico
(Photo by Puerto Rico Convention Bureau)
On the matter of safety, another gay Washingtonian, Bob Summersgill, maintains the Web site sodomylaws.org, which can help gay travelers assess a foreign nation's affinity, hostility or indifference toward gay people. The site also offers useful information on the United States. It explains, for example, that Puerto Rico has sodomy laws that could be used to persecute gay people, were it not for the U.S. Supreme Court decision that found such laws to be unconstitutional.
Regardless of laws that may still be on the books, local D.C. couple Laura Ferrazzano and Kirsten Pullin say the atmosphere on the Puerto Rican island of Vieques suits them just fine. Once a bombing range for the U.S. Navy, Vieques is slowly evolving into a Caribbean hot spot. But with luck, Ferrazzano and Pullin hope, it won't happen anytime soon. They compare the current state of affairs in Vieques to Massachusetts's ultra-gay destination on Cape Cod.
"It's like Provincetown gone south," waxes Ferrazzano. "But I can't stress enough how unpretentious it is. It's a dusty island. There is no scene, no dance clubs. It's not a place you go to go out. I would recommend it only if you're not looking to party. The island is not for princesses."
Pullin echoes the sentiment: "People say it's like Key West 40 years ago. It's not a party island…. Don't get off the plane and get pissy because you got sand in your Pradas."
Getting to Vieques takes a 30-minute flight by "puddle jumper" from San Juan, which is itself a non-stop flight from two of Washington's three airports. The couple says it's an easy trip, but "easy" really comes into play once they've arrived.
"I like that I can totally relax," says Pullin. "There are beaches, the people are friendly. I slow down. It's the only place I've been where I get to wear flip-flops and do nothing. There's nothing to do but wear flip-flops, rest and eat good food."
Of course nothing enhances rustic joys like a bit of luxury, these two are the first to admit. Case in point is the lodging they choose on the island: Bravo Beach Hotel and Hix Island House.
"Bravo Beach Hotel is a kind of South Beach-style, hip hotel. It has a hip little bar, a sushi bar and a tapas restaurant," says Pullin.
Adds Ferrazzano: "It's white-washed with very clean, modern rooms, with Frette towels and sheets."
"And balconies overlooking the sea," Pullin interjects with apparent wistfulness.
Hix Island House takes the couple deeper into the jungle, but with the sea still in sight. And with more of that rustic luxury that, to Ferrazzano and Pullin, makes Vieques an unparalleled spot for a winter break.
"It overlooks the jungle and the ocean, open on two sides to the elements," says Pullin. "It's made to blend into the environment. They're lofts in the jungle."
Says Ferrazzano, "It's very contemporary, yet also rustic. It's a truly modern aesthetic, in nature."

Miami's South Beach strip
(Photo by Greater Miami Convention and Visitors)
Vieques and Quepos are just the tip of the warm-weather-in-winter iceberg. Florida is an obvious destination for gay Washingtonians longing to warm their bones, and there are events waiting to welcome them. In Miami's South Beach, Feb. 28 marks the start of the Winter Party Festival, the weeklong signature event of the National Gay and Lesbian Task Force. The festival includes a tennis tournament, cultural events, dances, pool parties and DJs from around the world.
If Feb. 28 is sneaking up too quickly, the Fort Lauderdale Pridefest isn't until March 10 and 11. This 30th anniversary event, also billed as Florida's largest pride event, offers DJ Ari Gold alongside the duo Goddess and She.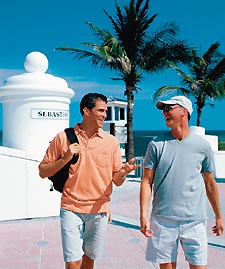 Out and about in Ft. Lauderdale
(Photo by Greater Ft. Lauderdale Convention and Visitors Bureau)
Beaches, however, are not what brings the heat. All you need is sun, and one gay hotspot has it in abundance: Palm Springs, Calif. This desert oasis may have an unpleasant sizzle in the summer, but the average highs in February and March hover pleasantly in the 70s. Couple that with more than 330 days of sunshine a year and more than 30 gay resorts, and you have reason enough to pack your bags. Make it to the desert by Feb. 3, and you can even catch the Steve Chase Humanitarian Awards Charity & Gala Auction for the Desert AIDS Project. Or hold out until the blossoming of spring and the Girl Bar Dinah Shore Week, March 28 to April 1.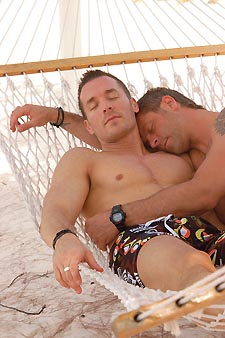 Taking a break on an RSVP cruise
(Photo by RSVP Cruises)
For the undecided, cruises may offer a variety of destinations in one vacation, in a bubble of gaiety. The gay travel companies Atlantis Events and RSVP still have room on winter sailings. Atlantis offers a cruise from Buenos Aires to Rio de Janiero, Feb. 21 to March 5 on the Oceania Insignia. RSVP sails Royal Caribbean's Serenade of the Seas through the southern Caribbean March 10 to 17.
"It's a wonderful trip for anybody to consider," says local Atlantis veteran Eric Muhl. "Atlantis cruises are accommodating to all ages, all kinds of people. And everybody gets along really well. There's not a lack of things to do for anyone."
Muhl warns that single travelers might want to stick to gay cruises specifically, following a mainstream Carnival cruise he took with his family in December.
"Overall, it was good because I had fun with my family," says Muhl, explaining that mainstream cruises often offer "Friend of Dorothy" socials for GLBT guests to meet one another. Unfortunately, the social on Muhl's cruise wasn't easy to find given that no signs were posted pointing the way. Still, Muhl found some camaraderie with a gay male couple and a single lesbian who recognized him as "one of their own."
Noting that mainstream cruises are easier for gay couples than singles, Muhl recommends sticking with the gay cruise unless it simply can't mesh with your schedule.
Adventurous GLBT travelers may follow the sun quite a bit further. Costa Rican homeowner Kaufmann, for one, won't be settling for the Western Hemisphere this winter: "I'm going to Asia for all of March — Vietnam with friends."
Just Chilling
THOUGH LESBIAN travelers certainly make themselves at home on Atlantis and RSVP cruises, one tour company, Olivia Travel, is distinctly for the women. And while their upcoming winter cruise offers plenty of sun, it falls a bit short on heat. Olivia sets sail Feb. 9 to 20 with the adventurous set in mind on an Antarctica cruise at the bottom of the world.
But like the hardy Sapphic souls taking in the polar sights in February, there are plenty of folks who like the winter for winter's sake.
"I haven't done the beach in winter in a long time," says Jason Thomas. "I'm a winter guy. I like winter for winter."
In fact, when Thomas graduated from high school here in the late '80s, he saw to it that he secured himself a place on the slopes, spending the next four years at the University of Utah for two nights a week and the rest of his time as a ski instructor. And he still graduated in four years.
Today, back in D.C., he heads up a small group of friends for annual winter trips back to his old schussing ground.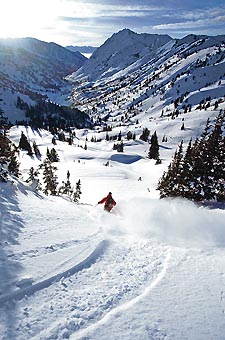 On the slopes outside Salt Lake City.
(Photo by Salt Lake Convention and Visitors Bureau)
"It's between four and five people always. We're all gay," says Thomas of the treks he leads back to Utah. He avails himself of direct and affordable flights to Salt Lake City from both National and Dulles airports, along with stays at the gay-friendly Hotel Monaco.
Even better, Salt Lake City offers a level of convenience Thomas says can't be found in higher-profile ski resorts.
"That's what's unique about Salt Lake. Within 30 or 35 miles of the city, there are eight major ski resorts," he says. "That's different from, like, Aspen. You're kind of trapped there."
That doesn't stop Colorado's ultra-hip destination from playing host to one of the world's most popular gay ski weeks. Thomas says he's never gone out of his way to attend the Aspen event, or any other gay ski week, but it did once come to him.
"I was in Utah the year the [gay ski week] group boycotted Aspen," says Thomas, referring to a protest begun in 1992 when Colorado voters approved the notorious (and later overturned) anti-gay Amendment 2. "I think a lot of gays were hesitant to come to Salt Lake City, thinking the Mormons wouldn't be very accepting. It's a common misconception about Salt Lake. But the gay pride parade goes right through the downtown center. The pride festival is held right there at [Washington Square]."
This winter, some gay ski weeks are still to be had. Aspen Gay Ski Week is over, but Whistler Gay Ski Week is up next in British Columbia, Feb. 4 to 11. The Vail Gay & Lesbian Ski Week in Colorado runs concurrently, Feb. 6 to 11. Closer to home, Winter Explosion is heading into its 13th year of what was initially dubbed, affectionately, "black, gay folks on the slopes!" Winter Explosion 2007 is based at the Hudson Valley Resort & Spa in the New York's Shawangunk Mountains. A gay ski week in Telluride, Colo., follows Feb. 24 to March 4. The winter wraps up neatly with the delightfully named Happy Gay Ski Week at the Avoriaz resort in France's Portes du Soleil region, March 17 to 24.
Local couple William Fleming and Will Lang may not be heading to the Happy Gay Ski Week, yet France beckons, as do its slopes. So does Italy, for that matter. The couple heads out in February for a 10-day European odyssey that begins in Naples, then to Rome, before boarding a train to a ski resort in Chamonix, France. After they've had their fill of skiing, it's on to Paris, then back to D.C.
"For me, all these places are new," says Lang, who handled much of the planning for this multi-city adventure. "For William, everything is new but Paris. William always talks about how beautiful Paris is."
Lang likes to talk about how beautifully all the arrangements came together, a task that's simplified by the ease and availability of Web-based information and bookings.
"I think it's amazing to do that nowadays," says Lang.
But this trip isn't all nuts and bolts for Lang. Actually, it's something of a pilgrimage for the man who grew up watching the famous French Olympian Jean-Claude Killy ski his way into the history books. Childhood memories of Killy winning all three Alpine events in the 1968 Winter Olympics in France seems to be part of Lang's inspiration for this trip.
"Chamonix is kind of the Nirvana of skiing the French Alps," he says.
As for whether Chamonix will be as gay-friendly as Happy Gay Ski Week, Lang doesn't seem too concerned after conducting some more online research and consulting the long-time gay resource, Damron Gay Travel Guide — although beyond a few bars, the listings offered scant information.
Laughs Lang, "There's a lot less snow than usual, so I think they'll be accommodating to anyone who walks through the door."
Bright Lights, Big Cities
IF EVER THERE was evidence of winter travel bargains to be had, the weekly Travelzoo "Top 20" mass e-mail in mid January broadcast it. That e-mail carried news of a special offer from Malaysia Airlines: $199 roundtrip from New York to Stockholm. Add taxes and the price jumps to about $400, but a good deal nonetheless for one of the world's most comfortable airlines. Check out the status for gays in Malaysia on the aforementioned sodomylaws.org, however, and you may find yourself checking in for your flight with more ethical baggage than anticipated. At least there's no charge for that.
But the example holds. Winter trips in Europe can often be half the price an American tourist would fork over in the high summer season. But just because it's cheap, is it worthwhile? Cheery songs are sung about Paris in the springtime, but nobody whistles a tune about Brussels in January.
With today's exchange rate about 6 cents lower than this time last year — also not good — perhaps they should.
"The dollar is so weak, almost anywhere [in Amsterdam] is expensive," says James Murphy, who last visited the Netherlands in December. "You can get deals, but you've got to look. The big gay hotel, Amistad, they've got a lot available. And you're right along Kerkstraat, one of the major gay streets."
And the weather? "You definitely need to pack layers. The wind off the North Sea definitely impacts walking around," says Murphy, who admits he tends to stay put in D.C. in the winter months for fear of inclement weather affecting his flight plans.
Despite the chill, he grants that Amsterdam is still a lovely place. "It's one of the friendliest places to visit. It's a walk-able city. It's easy to get around…. As far as gay life, there is a lot to do. The bars are visitor-friendly."
As for the infamous coffee shops, Murphy says he does not partake. For those who do, he offers this caution: "Anything goes, within reason. The Dutch want you to have a good time, but don't be out on the street drunk or high. It's considered poor form."
For those who demand some sun with their urban winter bargains, Budget Travel's Torkells has a suggestion: Buenos Aires.
"I was just there. The dollar is incredibly strong," says Torkells. "It's very tourist-friendly. The restaurants are great — the food is really sophisticated. You just walk around — primarily the Palermo Hollywood neighborhood — and it's exciting. It's got the energy. The people are beautiful."
Argentina may not be quite as gay-friendly as Northern Europe, but that still leaves plenty of wiggle room, says Torkells.
"I was traveling with my partner, and we never felt that anyone gave us a glance. It's a pretty sophisticated city. They've seen weirder things," he laughs.
Getting there can add up, though. With the Northern Hemisphere's winter being the Southern Hemisphere's summer, this is high season in Buenos Aires, and flights down to Argentina's cheap food and lodging are hefty. With plane changes, a roundtrip ticket from Washington to Buenos Aires in mid February is about $850. Opt for the only nonstop, offered by United, and the price can ratchet up to more than $3,000 for the 10-and-a- half-hour flight.
If money is no object, however, Torkells does not hesitate in offering his preferred winter destination Down Under: "Sydney. It's the best city on earth."
This time of year also sees Sydney, Australia, offering what may be the largest gay party on earth: Sydney Gay & Lesbian Mardi Gras, now in its 29th year. The actual Mardi Gras party — one of dozens of events — is March 3, lasts for 12 hours, includes seven venues, and should draw more than 16,000 party people.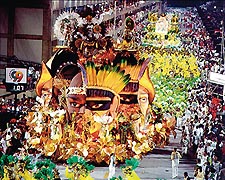 Brazil's colorful Carnivale
(Photo by Rio Postais Digitais Ricardo Azoury)
Sydney's party isn't the only game on Earth, though. Brazil's Carnivale in Rio de Janiero runs Feb. 17 to 20. Feb. 20 also marks Carnivale's Gay Costume Ball, a highlight of the entire days-long spectacle. Right here at home, a short flight away, gay-friendly New Orleans could certainly use some support for Mardi Gras 2007. Gay Mardi Gras action in New Orleans centers around the Bourbon Pub, Feb. 15 to 20, including DJ Joe Gauthreaux.
Regardless of where, or even whether, a gay Washingtonian chooses winter as his or her time to get out there, there is plenty on offer. Find a palm tree, ski pole, or a parade — or just stay put, because, borrowing from T.S. Elliot, "The journey not the arrival matters."