In the week since news surfaced about the Jan. 3 murder of Grafton Lee Person, a 42-year-old transgender woman known in the community as Diamond Lee Person, her death has reverberated through the transgender community. Earlene Budd, drop-in center coordinator at Transgender Health Empowerment (THE), has already received several calls from other transgender women who are looking for ways out of domestic abuse.
"As a result of Diamond's death, I would have to say there is more violence against transgender people than we can imagine. Already I have had at least 10 calls from transgender women [inquiring] about support groups, talking about the fact that they have not disclosed it, but are going through things [involving] violence."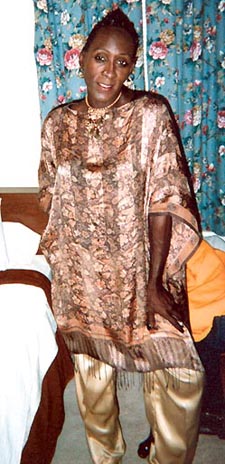 Diamond Lee Person
(Photo courtesy Transgender Health Empowerment)
Budd said this is another wake-up call that more support is needed for transgender women who are experiencing domestic abuse. "Even a hotline," she said, "so that when they are going through something, they can call in and say, 'I'm with a person who's abusive and I need help."'
Budd knew Person for the past 10 years, as both a client and a friend, and said Person would have used a hotline or support group had there been one. Budd believes it could have saved her life.
The D.C. Metropolitan Police Department (MPD) discovered Person's body after arresting her partner, Preston Randolph Logan, 43, for shoplifting at a 7-Eleven store in Northwest. Information obtained by police during the arrest led them to Logan's apartment building at 3921 Kansas Ave. NW, where they found Person.
According to police, Person was murdered the previous Wednesday, Jan. 3. From evidence obtained at Logan's arraignment on charges of first-degree murder, police reports indicate that Person was beaten on the head with a hammer prior to being choked and having a plastic bag placed over her head.
Police Sgt. Brett Parson of the MPD's Gay and Lesbian Liaison Unit (GLLU) said police cannot disclose information on the motive at this time.
"We're not discussing motive at this point, other than to state what was stated openly in court, which is that Mr. Logan and Ms. Person had lived together for a short period of time and there was some sort of intimate relationship prior to her death," he said.
Logan is being held without bond until a preliminary hearing on Jan. 23.
With the case still under investigation, Parson could not comment on specifics of the case. However, he said that police have concluded that Person was not targeted because she was transgender: "There's absolutely no evidence at all that this is a hate crime and I would be surprised if this took a turn in that direction."
GiGi Thomas, a client advocate and case manager at Helping Individual Prostitutes Survive (HIPS) in Adams Morgan, was a friend of Person's, and last saw her about one month ago.
"She came to HIPS, and she was telling me that she was finally getting her life together, and that she was trying to do things right."
Thomas said that Person had talked about "getting away from [Logan] because he was always putting her out and was very abusive. But she had disclosed that information in confidentiality, and I wasn't aware of it [until now].
"We do have a victim-assistance program [that could have helped her]."
Thomas believes the murder happened over money, specifically an altercation involving money Person had received from the government, which Logan allegedly stole to use for drugs.
According to Thomas, Person had worked independently as a hairdresser and met Logan at a drug-rehabilitation center less than a year ago.
Budd says Person was disabled, but would not reveal her disability. Like many in the community, she was saddened to hear the news.
"I was kind of numb and unbelieving for a minute that this was happening again as we enter into the new year," she says.
Budd and other members of the transgender community organized a candlelight vigil in honor of Person on Tuesday, Jan. 9, in front of the apartment building where she was murdered. They were joined by Person's father and stepmother, who declined to comment. Others present included Darlene Nipper, the director of the Mayor's Office of LGBT Affairs, who offered condolences to the victim's parents on behalf of Mayor Adrian Fenty, before addressing the crowd of about 20 people.
"It's sad when we lose someone this way, and my heart is mourning," she said. "At the same time I recognize that Diamond is in a better place, free of the shackles of dangers of living in this life. Â… We have to be the change that we want to see in the world Â… so that there are no more victims like Diamond or anyone else that has been senselessly murdered."
Ruby Corado, a transgender activist and president of Latin@s en Acción, spoke about the dangers of hiding domestic abuse.
"Violence is not good for anyone," she said. "We have enough things to worry about such as employment, survival, and it's very unfair in situations we feel safe in, our own homes, with our own partners [to deal with violence]."
Corado invited gatherers, friends and allies of the GLBT community to speak out against domestic violence. She also called on the media and asked them to take responsibility to educate and inform people about violence against the transgender community.
"When we are silent about violence — it equals death," she said. "If we want to stop death from continuing, we need not to be silent."
Funeral services for Diamond Lee Person are scheduled to begin with a viewing from 10 to 11 a.m., followed by services at 11 a.m., on Friday, Jan. 12, at the First Rising Mt. Zion Baptist Church, at 602 N St. NW. For more information call the church at 202-289-4480.