I'll admit it: I've internalized a fair amount of disdain over the years for minivans, the one style of grown-up automobile that's designed almost completely for children. If there's a four-wheel symbol of the American-dream nuclear family, it would have to be the minivan. But while in my younger, more ideologically obnoxious years I considered minivans peripheral to my own urban gay existence, the gay and lesbian baby boom has certainly shown that minivans aren't just a hetero family thing. Perhaps Mary Cheney and Heather Poe will be getting one soon.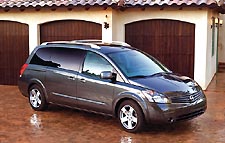 Speaking of which, if you can spare me a moment for a political digression: While stumbling across a live broadcast of Vice President Cheney's remarks at the ceremony for President Gerald Ford in the Capitol Rotunda, I was struck by the fact that directly over his left shoulder I spied his lesbian, not-legally-recognized daughter-in-law. I'm not annoyed that Poe was there, and presumably Mary Cheney as well, but it's just so weird watching the whole kabuki-show politics that D.C.'s power brokers go through when their private lives so contradict their public policies. I would have given the matter a bit more thought, but it was the weekend, I was crabby and I changed the channel back to Law & Order reruns.
So, back to the Quest. Over the Christmas vacation, I had the chance to role-play as a typical family unit, with me as the mom and my partner Cavin as, well, the other mom, and ancient pug Lazlo as the spoiled only child. Granted, most families in minivans don't transport their children in kennel-cages — even if they should — but I figured Nissan wouldn't want its Quest back filled with tawny pug fur.
The 2007 Nissan Quest is a tweaked version of the new-look minivan Nissan debuted a few years ago. It's certainly more distinctive on the outside than the Toyota Sienna, Honda Odyssey or Chrysler Town & Country. As minivans go, I like the Quest's skin — angular and swoopy, the thing has sharper edges than you generally associate with kiddies.
Inside things are a mixed bag. It's comfortable, and the fold-and-tumble second and third-row seats can quickly turn the back-seat child-transport area into a roomy cargo-storage facility. What I don't get is Nissan's insistence on keeping the automatic shifter on a dais directly to the right of the steering wheel. Not only is it just awkward as all hell, it actually tends to block your ability to access the console controls on the other side. If you want to avoid a floor-console shifter, why not just go with a more old-fashioned and less intrusive approach such as a steering column shifter?
At least once you put the Quest in gear, it moves a bit faster than expected. Driving to my old Kentucky home involved over a thousand miles of mostly rural interstate interspersed with mountains, plus a decent amount of city traffic. We averaged around 22.5 miles per gallon.
The DVD entertainment system, with a screen for each of the back rows, was a nice treat. I spent part of the trip settled in the back watching Jackass Number Two — hey, if I'm gonna sit in the back of a minivan on a long family trip, I might as well act juvenile, as well.
The navigation system, however, proved far more suited to the urban environs of D.C. than the rural adventures of Kentucky. Searching for my grandmother's new home in Kuttawa, the system got confused and finally just gave me a best guess and told me to pay attention to local traffic laws.
When I headed to my sister's place way out in the country, the system wouldn't even take her address. Turns out the navigation system doesn't seem to include county roads. While I may have been comfortably driving to my sister's rural homestead, as far as the GPS was concerned I was taking a balls-out, four-wheeling trip across the wilds of Northern Kentucky.
2007 Nissan Quest
Base MSRP: $33,900 ($40,865 as tested)
MPG city/highway (est.): 18/25
Highlights: Comfortable interior, lots of room, more power than expected for highway driving.
Lowlights: The over-designed console mixes the shifter with other controls, to bad effect.
In fairness, it easily handled all the interstate and city oriented directions, and I've always thought Nissan's navigation systems sported some of the best implementation of map and voice directions. However, I would hope that Nissan will eventually ditch the awkward fingertip joystick input system in favor of a touch-screen or other option. The current system makes entering a simple address an exercise in frustration.
Overall, the Quest is a comfortable ride if you're looking to make a long trip, or have lots of kids (or even adult friends) to haul around on a regular basis. But until the stork drops by, it's the type of car I'd like to own for just one week every year.