When it comes to new movie releases, January is pretty much the doldrums. In order to find a truly involving motion picture that doesn't include museum exhibits which magically spring to life, one has to look past — way past — the studio releases and cast an eye on the smaller independents. I've found two that are more than worthwhile: Pan's Labyrinth and Notes on a Scandal. While their releases are small, their payoffs are big.
Of the two, Guillermo del Toro's Pan's Labyrinth is the more magnificent and ambitious. You may be familiar with the Mexican-born del Toro's work — in America he's directed Blade II, Mimic and the sardonic and entertaining Hellboy. (He's currently at work on the sequel.) But he also gravitates toward his Spanish-language roots, and has made almost as many films in Spanish, of which Pan's Labyrinth is one.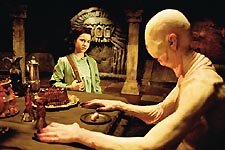 Eyes without a face: Baquero and the ogre
Yet no matter what language del Toro's working in, he has an unmistakable aesthetic — his movies bear the stamp of an auteur. He's fascinated by the fantastical, and he's often drawn to creepy, insect-like manifestations. He's a Mexican David Cronenberg. With Pan's Labyrinth, the director incorporates his horrific fantasy visions into a stark, emotionally arresting drama set in 1944 Spain, shortly after Franco's fascist regime took power.
The movie's action takes place in an idyllic countryside setting at a remote mill, but what occurs there is often anything but pleasant, as the abusive, sadistic Captain Vidal (Sergi Lopez), a member of Franco's army, hunts down rebel forces hidden in the surrounding woods.
Into the captain's world arrives his wife Carmen (Ariadna Gil), pregnant with his son. In tow is Ofelia (Ivana Baquero), Carmen's daughter from a previous marriage. Ofelia's point of view informs the narrative, as she refuses to make nice with this man whom her mother has so hastily married. For his part, Vidal sees both Ofelia and Carmen as expendable once his heir is born.
To cope with the harsh realities of her sorrowful new life, Ofelia enters a fantasy world where she encounters a decrepit faun who informs her she can reclaim her title of princess of a magical underworld if she completes three tasks. No simple tasks these, as they include confronting a giant, malevolent toad and a child-devouring ogre that has its eyes embedded in its hands. Ofelia embarks on her missions with a courage and stoicism that belies her age and her innocence.
There is a marvelous density and complexity to Pan's Labyrinth. Del Toro's use of Ofelia's fantasy world is sparing but effective. And the film is sometimes shockingly, alarmingly violent, though never gratuitously so. The performances — especially Baquero, who is a study in determined calm, and Lopez, who is simply monstrous — are rich and involving. And the story is uncompromising. The movie ultimately is about how one person finds peace in a world of turmoil and how another is fittingly forever lost in the winds of history.
---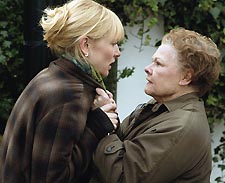 Judi Dench plays another lost character of a sort in Notes on a Scandal, a sharp, bracing drama directed by Richard Eyre and written by Patrick Marber (Closer), who based the screenplay on a novel by Zoe Heller. Dench's Barbara Covett — a history teacher at a British public school and a self-described "battleaxe" — is so ensconced by her own loneliness, so embittered by her inability to achieve intimacy with another human, that she has turned inwardly toxic. It doesn't help matters that she's a deeply, deeply closeted lesbian.
Barbara's newest obsession is the school's blonde, willowy, new art teacher, Sheba Hart (Cate Blanchett). Barbara, who keeps a copious diary of her thoughts and feelings, becomes increasingly delusional about Sheba, concocting a fantasy life for the two of them, imagining her to finally be "the one." Nevermind that Sheba is married with two kids — as far as Barbara is concerned, she'd be better off with Barbara. Things tip in Barbara's favor when she discovers Sheba's affair with a 15-year-old student. It's an opportunity Barbara seizes with relish.
The movie's driving force is Dench, whose transformative performance only underscores her post as one of the world's finest living actresses. Blanchett, however, is every bit Dench's equal, even though the role of Sheba is far less juicy, relying mostly on a release of vulnerability and pent-up passion at key moments.
There is a mildly suspenseful quality to Scandal, but frankly it could have used a good, old-fashioned murder to give it an extra kick. It's almost too restrained at times. Still, the restraint allows the few moments in which the characters erupt to be that much more jolting. Notes on a Scandal may not leave you as shell-shocked or emotionally drained as Pan's Labyrinth, but it leaves you feeling you've gotten your money's worth for 90 minutes of intelligent, literate entertainment. And, really, that beats a Night at the Museum any day.