It happens every year, especially during the fall. An onslaught of good and great music causes other releases to get lost in the shuffle. Before 2007 gets fully underway, let's not let that fate happen to at least two gifted singer-songwriters who released albums in the last quarter of 2006: Emilie Simon and Jennifer O'Connor. Both will keep you enraptured for months to come.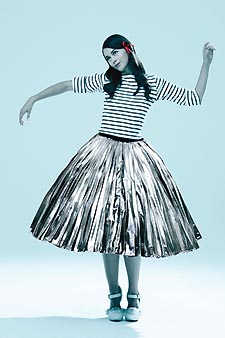 Nature loving: Simon
(Photo by Lee Jenkins)
Emilie Simon's The Flower Book is a dazzlingly eccentric and eclectic album released by the independent label, Milan Records (it's normally a home for movie soundtracks). The 15 songs collected on her U.S. debut are highlights drawn from Simon's two major-label releases in Europe, as well as her contributions to The March of the Penguins soundtrack — though not the American version of that popular documentary. Hollywood handlers replaced Simon's music because it wasn't "'adapted' to an American audience," whatever that means. And so all the creative care she put into making melodious music went unheard here.
Fortunately, her full original soundtrack is scheduled for release from Milan Records later this spring. A taste of it comes as The Flower Book opens. "Song of the Storm" is cold and captivating, an edgy, electronica-tipped rocker for which Simon apparently rubbed large pieces of ice together to add to the song's shifting, crackling beat bed. "Can't you hear my storm comingÂ…can't you feel the earth shaking, big dark clouds forming now," she sings, in an icy sweet voice.
Simon is an extremely visual, nature-loving electronic singer-songwriter. It sounds as unusual as it is — a very plugged-in musician focused on the unplugged natural world. Though she's obviously fascinated by flora and fauna, The Flower Book shows she's equally enthralled by water, singing about bodies of water large and small, as well as swimming and dancing in the rain. Her sounds, too, come rushing out or at a gentle stream, with often surprising twists and unexpected undercurrents altering the flow. Simon is like a sweeter, more sensual Björk — bigger time sensuality, you could say.
Like Björk before her, she channels her deceptively simple, girly voice into both breathy whispers and full-throttle yelps, mostly in English but occasionally in French. Simon has an Audrey Hepburn-like charm, but she's not naïve or timid or unaware of life's darker realities — a few times Simon even sounds as stark as if she were inspired by this fall's blasphemous Gap ad featuring clips of Hepburn wildly dancing to music from AC/DC. Simon wears black, for sure — black leather as well as black lace.
"I want to buy you flowers," she sings on one of her earliest and clearly her best single, "Flowers." It's a sweet sentiment. Except she actually sings it as if her voice were a chemical spray a gardener would use to kill pesky fruit flies. "It's such a shame you're a boy," she sprays some more. Did she get rejected because a girl's not supposed to buy a boy flowers, as she did? She suggests the possibility as her story goes on, and as the song grows creepier and more menacing. "Forget the flowers," she concludes. "Because the flowers never last forever."
Pop music may not last forever either. But when it's as well tended as Simon's musical garden is, you'll likely admire it for a long time to come.
Jennifer O'Connor is a more traditional singer-songwriter, basing her music around her acoustic guitar and a lively, largely acoustic supporting band. It's less ambitious — but altogether more accomplished. Never straining to be cute and clever, O'Connor focuses on creating solid folk-rock with affecting lyrics and responsive music. O'Connor is a slightly different breed of folk-rocker, since she never becomes inconsolably angry or uncontrollably nervous – or even ecstatically happy. She's a stable, non-showy sort of person, though one as riddled by worry and wart as most of us are, with concerns about where her life and love are going.
Over the Mountain, Across the Valley and Back to the Stars is as inspired by movement as the title suggests, and the Brooklyn-based O'Connor credits "endless driving" as a strong influence. As such, it's fair to think she often drives at night, alone, and with a lot on her mind. "You're always asking…if it ever gets to be too much for me. Well, yes it does," she sings on the small-scale, depressing "Bullshit Maze," a term she uses to describe her self-destructive tendencies.
O'Connor's album traffics in the achingly personal. The brilliant album closer "I'll Bring You Home" is about a sister who died from brain cancer. It was written before she died, when it was thought she'd survive, but recorded after her death. Even if you didn't know that, though, the song, a prayer about life's mysteries, would make you cry.
"Maybe someday all of this will make sense to me and you," O'Connor sings. "I just hope you know how much I care. I just hope you know…" O'Connor stops there on a hopeful, high note, but she drops out for a few seconds, possibly, like a listener, overcome by emotion. She soon joins a chorus of her friends to end the song in communion.
"Come on, I'll bring you home. Come on let's go!" You can't help but go. And be moved.