Romantic relationships are often fraught with pitfalls and puzzlement — gay relationships often more so, given social stigmas and bureaucratic obstacles. Sometimes, the added difficulties are extreme.
For Shawn Gaylord, who lives in Adams Morgan, and Slava Bortnik, of Gomel, Belarus, that's putting it mildly.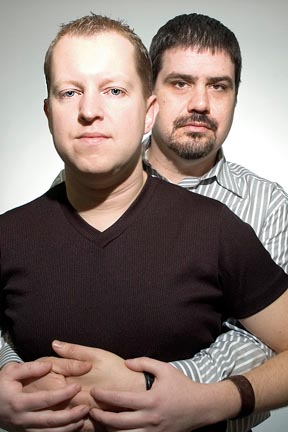 Gaylord and Bortnik
(Photo by Todd Franson)
"In the evening, the police came to the apartment," says Bortnik, 32, recalling a November evening in Gomel when he and a few other GLBT activists met to plan a gay human-rights conference. "Four people spent about two hours in the police station. Three of us spent the night there. They interrogated us about the conference. We decided to cancel it. It was too dangerous."
Half a world away, Gaylord got news of his partner's Nov. 8 arrest by reading a listserv for human-rights activists.
"It's difficult because I have no way of getting information," says Gaylord, 37. "Most of his family and colleagues don't speak English. The fear is that I don't know what's happening."
Bortnik and Gaylord have been a couple since they met at an August 2003 human-rights conference in Mexico. As a bi-national, same-sex couple, they're not alone. And while their straight counterparts have the option of getting married and sponsoring their spouses for residency in one of their home countries, that system excludes gays (with a handful of exceptions for countries that allow same-sex marriage).
And it just becomes more complicated given that Bortnik's native country has amassed what many see as the single-worst record on human rights in Europe.
"We've talked about Slava coming here for school," says Gaylord, ticking through various ways the couple has pondered a day-to-day life together. "We've seriously talked about moving to Canada. That's actually, in some ways, one of the easier ways to do this."
But more immediate, yet short-term, solutions take precedence.
"Right now, we're talking about me going to Belarus in March. Sometimes it's just easier to figure out the next trip, because we have control over that."
As Bortnik and Gaylord spoke with Metro Weekly, just before the new year, they were coming to the close of one such trip, which saw the couple traveling the United States, from the Grand Canyon to Gaylord's hometown, Schenectady, N.Y. With their time together coming to an end — for now — the two have to steel their resolve ahead of the inevitable good-bye.
"When I go back to Belarus, I have, like, two weeks of depression," says Bortnik. They are, however, getting better at living this particular situation. "Now I have so many things to do when I go home, which is good. I won't have too much time to be depressed."
The same feelings strike Gaylord shortly after his partner leaves.
"There's definitely a feeling of depression each time. It's particularly bad when something happens — good or bad — that you'd want to share with a partner. You want somebody to talk to."
It's not a feeling either are familiar with, says Gaylord" "We're not depressed people. We usually have a lot of fun."
To ease the separation, they e-mail each other daily, and phone a couple times a month. And they've not had to go more than about three months without meeting since the initial introduction in Mexico. That's not to say it hasn't been complicated and expensive.
"It's very hard to get a U.S. visa," says Bortnik. Each man needs a visa, which costs $100, to visit the other's country. Bortnik says, at least, the American embassy in Minsk knows him thanks to his work for Amnesty International — an illegal group in Belarus — and his frequent visits to the United States. "They know I'm a human-rights activist, so I don't have trouble. [But] it takes at least a month to get a U.S. visa. It's very complicated. And there's no guarantee you'll get the visa."
Poland sometimes serves as an alternative meeting point for the couple. Warsaw is much more accessible by air for Gaylord, and about half the cost of flying to Belarus. For Bortnik, Warsaw is an overnight train-trip away. But the time and expense of meeting is burdensome, no matter which plan they follow.
"It's definitely something I think about: the amount of money we spend to see each other," says Gaylord, adding that during the first year of their relationship, he was job hunting and had more free time to travel. "It's harder since I started working at [the Gay, Lesbian and Straight Education Network]."
While the complications are hard on the couple, it's also hard on others, says Gaylord: "Since Slava has been here six times, he has a lot of friends here. And my family really likes him. It's hard for us to be apart, but lots of people miss Slava when he isn't here. And I like his friends and family. It's all these bonds that people form, not just our relationship."
Bortnik and Gaylord say there may be a bright spot for them in the recent Democratic takeover of Congress, a change that bodes well for legislation that has been introduced repeatedly to allow Americans to sponsor their foreign, same-sex partners for residency, as is now the case with spouses.
Immigration Equality, a New York-based organization whose work includes advocacy for bi-national, same-sex couples, offered this statement after the November election, expressing cautious optimism: "We have a great opportunity with the newly elected Democratic Congress. This does not, however, make passage of the Uniting American Families Act (UAFA) a 'slam dunk' in the 110th Congress. The bill has cosponsors on both sides of the aisle and although Democrats have been far more supportive of the UAFA than Republicans, many Democrats have not yet agreed to cosponsor."
Immigration Equality and Human Rights Watch issued a joint report in May titled Family, Unvalued documenting the plight of bi-national, same-sex couples.
Gaylord says he's hopeful that change may be coming as well. As a lawyer, he sees it as an issue of fairness in the uniting of bi-national families.
"There are all sorts of ways that you can sponsor people that are your 'legal family.' It doesn't seem like it should be so difficult to sponsor a partner. For a straight couple, there can be some expense to sponsoring someone. But what we have is an absolute bar from sponsoring someone as your partner."
The Family, Unvalued report is available online via Human Rights Watch, www.hrw.org, or Immigration Equality, www.immigrationequality.org.