Michele Anne Riley never had a chance to say goodbye to her brother, Donald Charles Ebe, who vanished nearly three months ago.
On Wednesday, authorities contacted Riley and confirmed that the body of an unidentified man, which had been found several weeks ago by a dog walker in the woods neighboring the George Washington Parkway, was that of her 47-year-old gay brother.
The discovery has raised more questions than answers for Riley.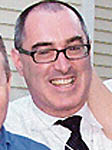 Donald Charles Ebe
(File photo)
"He has been dead for quite some time, and it's not looking like anything but him laying down on the ground [and dying]," said Riley. "There are no signs of foul play. Whether it was suicide or hypothermia, we don't know yet."
The Arlington County Police Department turned the investigation over to the United States Park Police after finding Ebe's remains at Golf Branch Nature Center, according to Arlington Detective Steve Gomez.
"We got a call at about 3:16 p.m., on Dec. 29, from a man who had been walking his dog and came across a human skull," Gomez said. "The next day [U.S. Park Police] found more his remains and belongings."
U.S. Park Police Lt. Scott Fear would not disclose information on the cause of death or how long Ebe's remains had been in the wooded area, because the case is still under investigation.
When Ebe disappeared several months ago, family members were alarmed to find that he had left all his belongings behind, including his medications. He suffered from bipolar disorder and manic depression. He was prescribed to take Zyprexa, which treats the symptoms of schizophrenia and bipolar disorders, and Lamictal, used to treat mood and other psychiatric disorders.
In late October Ebe walked away from his full-time job as a front-desk receptionist at a residential building in Northwest D.C. Shortly after that, Riley filed a missing persons report with the Arlington County Police Department after making several calls and visiting his abandoned apartment in Arlington.
With the help of friends and neighbors, Riley worked vigorously to find her brother by posting missing posters around Washington, including Dupont Circle, where Ebe regularly visited. She also contacted the D.C. Metropolitan Police Department's Gay and Lesbian Liaison Unit (GLLU).
An article that ran in Metro Weekly about Ebe's disappearance, on Nov. 23, triggered a response from a friend of Ebe's who contacted Riley, but did not lead to any clues as to his whereabouts.
Ebe's death has devastated Riley and her family, who had experienced a similar turmoil 20 years ago when Ebe disappeared and later was found living on the streets of New York City.
"We can't believe it's true," Riley said. "It's going to take a long time to find closure. … We're not ready to say goodbye to Donald. He had a tremendous heart and touched many people's lives, and it's hard to believe that I'm never going to see him again."