This weekend, Washington will see yet another rally against American involvement in Iraq. Among the thousands coming to the capital is one-woman known for songs, not shouts. She's thrilled to be part of the movement, nonetheless.
"The title of the concert is Peace by Piece," says Suede, a former local who will be in town for two concerts with the Lesbian & Gay Chorus of Washington, D.C. (LGCW), Jan. 27 and 28, "and the entire program is music that centers on that theme and all aspects of it from wisdom of the ages to working together to create a peaceful world. The fact that these concerts are happening on the weekend of the huge peace march in town guarantees an extraordinarily powerful experience for everyone present."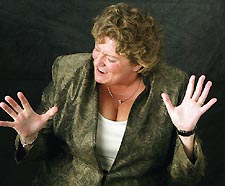 Suede
The mono-monikered Suede, who relocated to Cape Cod, says she got her start in this area and still draws a devoted following whenever she returns. But the same could be said about devoted followings wherever Suede performs, wowing audiences with a style that moves from Ella Fitzgerald cool, to a brassy sound befitting of Chicago's Matron Mama Morton, to a folksy sentimentality that makes audiences misty.
"I can't believe how often someone tells me they came to the show because a friend in some other town said they shouldn't miss it," Suede says of her loyal and expanding fan base, as her much-lauded pipes keep them coming back for more.
"Voice is absolutely my first instrument," says the singer, known to pick up a trumpet or guitar onstage, or sit down at a piano. "I'm fascinated by any instrument,…[but] voice is the one that intrigues me most. I have to say I am also enjoying getting older and the effect that has on my voice, especially for the styles I like to sing. There is a richness in timbre that simply comes with age, like a fine wine."
Suede performs with the LGCW at Capitol Hill Presbyterian Church, at 8 p.m., Jan. 27, and at 4 p.m., Jan. 28. Tickets are $20 in advance at www.lgcw.org, or $25 at the door.