It's all about the song. So potent is its power — and so much more powerful in the hands of the artist who sings it — that you find yourself immobilized, gripped by a state of shock. When the song arrives midway through, it hits with such shattering emotional impact that everything else that follows, while not exactly a letdown, can't even begin to compare. On stage, it was a showstopper of the highest order. On film, it remains that and so much more, adding intimacy to its potency. Don't be surprised if you find that it brings you to tears, as it did me.
The song is "And I Am Telling You I'm Not Going." The show that made it legend is Dreamgirls. And the young woman who sings it in the film, Jennifer Hudson, is, at least for this moment in time, an instant legend. Hudson's performance as Effie Melody White, the most vocally talented member of the Dreams, a black female trio who rise to fame in the '60s and '70s, is the movie's heart, soul and humanity. While Hudson's singing voice is a gift from the gods, her acting doesn't come quite as naturally. She could use some polishing — there's still a hint of newcomer to her. But that's no reason to complain, because you don't come to Dreamgirls for the acting. You come for the music. And the music is spectacular.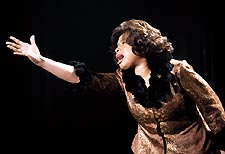 A supernova is born: Hudson
There are times when the film soars — mostly during one of composer Henry Krieger's better-known numbers, the sorrowful, slowly simmering "One Night Only" or the sweetly harmonic anthem "Family" — but mostly director Bill Condon keeps things on the even-keel side, with musical numbers often serving as backdrop to narrative-propelling montages. There are no avant garde touches a la Chicago. It's solid, straightforward movie-musical directing. And, for the most part, it works like a well-oiled machine.
It's a well-known secret that Dreamgirls is loosely based on the story of music mogul Berry Gordy and Diana Ross and the Supremes, the trio that brought Motown, Gordy's record company, extraordinary success. But the Dreamgirls story plays out as thinly as almost any Broadway blockbuster (Sondheim excepted). To his credit, Condon attempts to graft serious undertones onto the film version by using the '60s civil-rights movement as a backdrop, but the moments of violence in the streets seem bizarrely out of place.
The underlying theme of Dreamgirls remains intact. It's essentially a musical history lesson about the shift in black music from hard-core, soul-enriched R&B to homogenized, mass-market, easy-listening pop and disco.
The central story follows the snake-like Rainbow Records chief, Curtis Taylor (Jamie Foxx), as he embarks on a lifelong, greed-induced mission to find a new sound for black singers, one that strips R&B of its rhythm, blues and soul, replacing it with a glossy pop sheen. It's African-American music that, in the late '60s, will become increasingly popular with white America, music that will make oodles upon oodles of money, music that will set up a dynamic for years to come. Dreamgirls is, at its core, about cultural identity — finding it, losing it, and then reclaiming it, without apology or shame. It's about how commerce drives art, and how, in the end, art wins out. By their very nature, popular Broadway musicals can't help but be thin. Yet Dreamgirls is one of the few to incorporate at least a sense of history into its sprint through a decade of success and sorrow, heartache and vindication.
Condon has cast Dreamgirls with what can only be called a dream cast. Beyonce Knowles is splendid as Deena, the singer who takes the center spotlight of the Dreams, and who is convinced she can be so much more than a pretty face with a bland yet appealing voice. Knowles has been handed a new number by Krieger to sing, but it feels out of place, and it pales when held up against the show's original numbers. Foxx beadies up his eyes as Curtis, playing the hustler-turned-mogul with a hard, controlling agressiveness. Curtis is the show's least likeable part — he's the proverbial bad guy — and Foxx ensures we remain sour to him.

Area Showtimes
DREAMGIRLS
Starring
Jennifer Hudson, Beyonce Knowles, Eddie Murphy
Rated PG-13
131 Minutes
Area theaters
Aside from Hudson, the other breakout performance in the film belongs to Eddie Murphy. With a voice as clear and vibrant as a bell and an exuberance that is uncontainable, Murphy gives the greatest performance of his career. His James "Thunder" Early is a groundbreaking R&B singer who refuses to change with the times and pays a tragic price for his stubbornness. Murphy shows, in a single sobering, heartwrenching glance, the faded star's pain at being pushed to the sidelines. He's just as impressive in the early scenes, as Early's star blazes bright with confidence and showmanship. There was never any doubt that Murphy was a gifted talent, but Dreamgirls proves just how far into the stratosphere his talents extend.
Still, Dreamgirls belongs to Hudson. When she sings, the movie transcends its celluloid confines, becoming an experience that is spiritual, impassioned, profound. It's her first screen role and already she's attained that special "star is born" status. I can hardly wait to see what she does for an encore.