Abe Lincoln would be proud. Gazing out over the stage of Ford's Theatre, our 16th president might be pleased as punch to witness the late August Wilson's debut in the now-historic space. In a fortuitous collaboration with the African Continuum Theatre Company, the folks at Ford's have co-produced their first Wilson play, Jitney, a solemn study of racism and the question of black masculinity.
Representing the 1970s installment in his 10-decade, 10-play cycle of scripts exploring the African-American experience during the 20th century, Jitney exposes the diverse spectrum of attitudes that define generations of black men learning to cope with discrimination in a nascent era of civil rights. And although Wilson paints broad strokes of his memories growing up near a gypsy cab station in Pittsburgh's Hill District, Jitney serves up an acute portrait of black America in the autumn of 1977.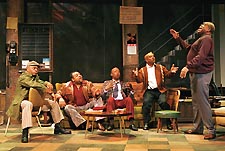 Like much of his drama that is driven by character instead of plot, Wilson builds Jitney in tiny, indiscernible cadences that quietly threaten the freedom and independence of his characters. Here it's the story of Jim Becker (Frederick Strother), a respectable man who runs a meager jitney service — an office for unlicensed taxicabs and a collective for working black men to meet and exchange gossip. The hearsay is mostly fueled by Turnbo (Doug Brown), whose loose lips cause all sorts of trouble for Youngblood (KenYatta Rogers) and his girl Rena (Jessica Frances Dukes). And when Becker's son (Craig Wallace) is released after serving 20 years in the state penitentiary, the lively jitney station becomes a breeding ground for hostile speculation.
Wilson probes the macho posturing of black men struggling to reclaim their pride and heritage while demanding that we acknowledge the involuntary lessons passed between father and son. It's a sobering look at one father's legacy that echoes beyond Wilson's Pittsburgh and into a new generation of attitudes toward work and responsibility in the 21st century.
The play itself is subtle and sturdy, but under the potent direction of ACTCo.'s Jennifer L. Nelson, Jitney becomes a seasoned stew of hardy performances that support the maxim that "acting is making, not faking." Just as she accomplished with Wilson's Joe Turner's Come and Gone in early 2004, Nelson has assembled a strong cast with an appetite for raw, biting dialogue.
You won't find a better ensemble on any area stage, from the quiet strength of Strother's Becker and the dry tones of David Emerson Toney to the incessant (and often hysterical) meddling from Brown's Turnbo. There are also fine contributions from Cleo Reginald Pizana and Michael Anthony Williams. But the evening's most indelible scene features Rogers and Dukes discovering each other's true intentions in an embittered confrontation. Wilson writes with honest concern for the future of young black couples in crisis, and it's inspiring to see the pair work through relationship issues in a realistic and nurturing way.
The only thing missing from Wilson's fictional drama is his signature appeal to the supernatural. And while it may have been difficult to imagine an otherworldly figure imposing on the denizens of a bustling car service, it certainly would have elevated Wilson's drama beyond its flat closure and lack of action.
Jitney is animated by thoughtful, colorful costumes designed by Reggie Ray. Chas Marsh's jazzy incidental music underscores the transitions between scenes on Tony Cisek's authentic jitney station, one of the most engaging sets presented on Ford's stage in recent memory. It's easy to find yourself drawn into Wilson's world of big men and firm ideals, and although his meditation on how to fight oppression with peace and dignity isn't always a smooth or comfortable trip, Nelson and company ensure that the ride is definitely worth your while.