Over the next six months some 60 organizations — from the Alexandria Symphony Orchestra to the Woolly Mammoth Theatre Company — will present more than 100 performances by or inspired by the work of William Shakespeare as part of "Shakespeare in Washington" (for more information, visit www.washington.org/shakespeare/). What is it about Shakespeare? What is it that makes such a project enticing to both Taffety Punk Theatre Company and the American Ballet Theatre? What is it that moves so many artists to re-imagine the plays of a writer who has been dead for almost 400 years?
It's not because Shakespeare is, as the saying often goes, the greatest playwright of all time. It is because so many people believe that Shakespeare is the greatest playwright of all time. It offers directors, composers, artists and the rest an irresistible challenge. The audience already knows — or believes — the play is wonderful. It's Shakespeare. The task is to impress them with your production. In other words, the question is not whether Shakespeare is great — it's how great are you at Shakespeare.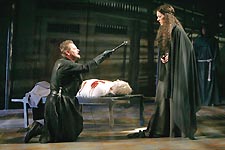 Perhaps unsurprisingly in the case of Shakespeare Theatre Company's presentation of Richard III, the answer is, quite simply, outstanding. Darkly glamorous and bitingly sexy, designer Jennifer Moeller's costumes and Lee Savage's sets imagine a world where rusted metal elegantly meets black leather. There is a touch of rock video to this production, with Charlie Morrison's severely orchestrated lighting scheme and a cast that seems plucked from some underground Goth club where New Romantics mix with Cure-inspired rockers.
This is an undeniably beautiful telling of the brutal Richard III. Geraint Wyn Davies plays Richard, who becomes the Duke of Gloucester after helping his brother Edward take the throne Henry VI by deadly force. What follows is Richard's near serial murders of family members and fleeting allies as he works first to capture the crown and then to hold on to its power. Davies is a strong lead for this cast, equaled in power and mesmerizing presence by standouts Tana Hicken as Henry's widow, the deposed Queen Margaret, and Pamela Payton-Wright as the Duchess of York. With Richard III, Director Michael Kahn has managed to craft a vision that is deft, original and exciting to experience.
The same, unfortunately, cannot be said of the Folger Theatre's production of King Lear. Co-produced with The Classical Theatre of Harlem, this Lear is ultimately disappointing. What should be the near deafening roars of war and storm and madness are dulled by weak performances and unimaginative staging.
The story of King Lear is relatively simple for a Shakespeare play. Lear (André De Shields) decides to split his kingdom between his three daughters, saying that he will make his divisions based on how greatly each loves him. His eldest daughters Goneril (Chantal Jean-Pierre) and Regan (Deidra LeWan Starnes) flatter their father without hesitation. But Cordelia (Christina Sajous), the king's youngest, cannot bring herself to participate in what seems to her a hollow game. Furious, Lear banishes Cordelia and gives her portion of the kingdom to the scheming Regan and Goneril. This single act sets into motion a series of love affairs and betrayals that eventually drive the king to a state of madness.
The well-known Baltimore native and Tony award nominated De Shields plays Lear opposite Obie Award winner Ty Jones as the deceitful Edmund. This casting alone would seem to guarantee a successful production. But while Jones offers the audience some surefooted moments, De Shields seems hesitant to let go. Even in the theater's intimate space, an emotional connection is never quite made with the audience. Lear's tragic descent never achieves the full weight it demands.
In truth, no one in the cast seems ever to fully occupy their character. Sajous is distant and not terribly interesting and Ken Schatz's performance, as Lear's Fool, quickly becomes too difficult to bear. Credit, however, must be given to musician Shayshahn MacPherson. Set above the stage, in what can only be described as a kind of DJ booth, MacPherson's percussion and string work add an interesting and well-conceived dimension.
The next several months will offer scores of opportunities for area audiences to experience the work of William Shakespeare. From some you will walk away with an entirely new appreciation for the playwright. From others you will just quickly walk away.