Continuing its series of "town hall" style forums to discuss methamphetamine use in Washington, the D.C. Crystal Meth Working Group (CMWG) Monday evening, Feb. 26, offered such a meeting in the Equality Forum of the Human Rights Campaign headquarters at 17 Street and Rhode Island Avenue NW.
For more than two hours, about 75 people explored the "State of the Crystal Meth Epidemic in Washington, D.C.," working largely from the top down — from D.C. Department of Health (DOH) Director Dr. Gregg Pane commending the CMWG's efforts and relaying greetings from Mayor Fenty, to a man in the audience identifying himself as meth user named Dan, calling for the city to close down venues he says exacerbate the meth problem among the district's gay male population.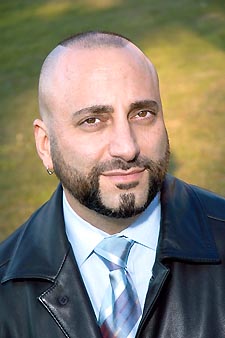 Center President Sessa
(Photo by Todd Franson / File photo)
Bridging the two poles of politics and the populace, Mike Sessa, chair of the CMWG and president of The Center — Home for GLBT in Metro DC, moderated the evening. In order, speakers following Pane included: Amy Jeffress of the U.S. Attorney's Office for the District of Columbia; Linda Fisher, interim senior deputy director for substance abuse at the D.C. Department of Health Addiction Prevention and Recovery Administration (APRA); Ivan Torres, special populations coordinator at DOH; Randy Pumphrey, program director at The Lambda Center at the Psychiatric Institute of Washington, specializing in mental health, substance abuse and addiction treatment for the gay community; Dr. Mariana Niemtzoff, psychiatric medical director of Whitman-Walker Clinic's Behavioral Heatlh Services; and Jimmy Garza, a local gay man who has battled addiction to methamphetamine.
The audience was a mix of grassroots and recognized community leaders and activists, such as Cheryl Spector, Sterling Washington, Jeff Marootian, José Gutierrez, Lt. Alberto Jova, David Mariner and ANC 2B Commissioner Phil Carney — some of whom are directly involved with CMWG. Evidence of the CMWG's recent $100,000 grant, thanks in large part to gay City Councilmember David Catania (I-At large), was also present in the form of free T-shirts and glossy brochures.
But from Jeffers statement that "methamphetamine distribution is a crime" to by countered by aggressive investigation and prosecution, to Torres's claim that methamphetamine addiction is "a vital public-health issue" rather than a policing issue, it was evident that at this stage in the fight, there is some disagreement. There is also agreement.
"It's a very, very easy drug to get us in big, big trouble," warned Torres. He added that while he doesn't want to demonize the methamphetamine, infamous for it's quickly addictive ability to wreak ecstatic havoc on a user's neurotransmitters — serotonin, dopamine and norepinephrine — often leading to decreased inhibitions and increased sexual appetite among gay men, his studied conclusion is that methamphetamine addiction "is one of the worst things that can happen."
Beyond addiction itself, clinicians and the community have sounded the alarm regarding methamphetamine-fueled HIV transmission, resulting primarily from the aforementioned intersection of increased libido and decreased inhibitions.
"If you're part of the gay community, you've seen this — I've seen it," added Pumphrey.
"Crystal is here. It's going to stay here for a while," Niemtzoff followed.
Garza concluded, from his own jail experience and 889 days without meth as of Monday, that an addict who does not find treatment will "either go to jail for a long time, or you'll die."
While there was consensus that methamphetamine is a very dangerous narcotic and that D.C. is not nearing the end of its fight with the drug, but only just beginning, there was more confusion about the extent of the so-called epidemic in the district, as well as who exactly is being affected.
Is it a white, gay, male problem? Is methamphetamine making inroads into local mainstream communities, or other ethnicities within the gay male community? Answers to those questions — and quite a few others — seem not to lie in current data, but in data yet to be collected. To that end, the CMWG has so far collected 420 surveys from people polled in D.C. in January and February, Sessa reported. It is a beginning, he said; the CMWG's first major outreach under the D.C. government grant.
Adds Fisher: "In a number of ways, the data is not here and it's going to take us some time to get it."
It's reasonable to extrapolate that the data might come a little quicker with greater support from the community, as the survey-collecting CMWG is an entirely volunteer-driven organization. Spector wished aloud, however, that there were more members of the community present at Monday's meeting to join the effort. "The number of empty seats here tonight makes me very sad," she told the crowd, comparing the night's draw to a recent GLBT event with a line out the door waiting to pay a $9 cover to join the party. "We're preaching mostly — I don't want to make any assumptions — to the choir."
While Sessa countered that a crowd of about 75 people was substantial for a damp Monday evening, we did make a plea for more help from the community in the form of volunteers to join the CMWG: "It's not fun work. It's not sexy work. What's been driving this is passion."
Along with The Center, the D.C. Department of Health and the D.C. government, Monday's event was co-sponsored by the DC Coalition of Black GLBT Men and Women, Drug Policy Alliance, Gertrude Stein Democratic Club, the Human Rights Campaign, the Lambda Center, PreventionWorks!, Whitman-Walker Clinic and the Sexual Minority Youth Assistance League.
Visit the CMWG online at www.LetsTalkAboutMeth.org.