Sure, you could reserve a candlelit table at one of D.C.'s finest restaurants, or prepare your own seductively sumptuous feast at home next Wednesday. But why go to all that expense for Valentine's Day when you could just make a date with the lovably trashy filmmaker, John Waters.
You'll never have a better one.
Waters describes his perfect Valentine's date as someone willing to get stupid: to go-go dance for him, to play with sexual roles, and preferably to do it while on the lam. You do, too? It's a match!
There's nothing but fun to be had on A Date with John Waters, (





) the second in what we hope is a series of holiday soundtracks from Baltimore's most famous filmmaker who immortalized both the late Divine and a hefty Ricki Lake as gay-household names, to say nothing of Kathleen Turner as a murderous momma. In 2004, Waters celebrated Christmas as only he could: A John Waters Christmas was a gloriously twisted take on the holiday celebrating a fat man and a baby. Ho! Ho! Hallelujah. Now, he tangles with Cupid to the same delirious effect.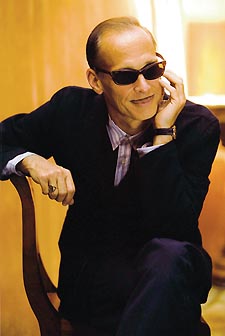 Waters
Waters assembles a set of 14 mostly obscure songs spanning his six-plus decades on Planet Earth that range from doo-wop to R&B to punk to country. With selections from Tina Turner, Ray Charles and Dean Martin, as well as Waters's film stars Mink Stole and Edith Massey, nearly every song is fun, most are funny, and a couple are even seriously sentimental about love.
Waters is himself absent from the soundtrack, save for his raunchy, ribald liner notes that plot out his selections as a quirky, kinky, kitschy story of a one-night stand. The set kicks off with the first record Waters ever shoplifted, "Tonight You Belong to Me" by Patience and Prudence, and quickly moves into territory you expect. There's a '70s-era punky ode to pan-sexual oral sex, then a Hairspray-era hoppy-pop/R&B tune that toys with sexual identity and appeals to all races.
Waters doesn't mince words in his liner notes. For example, he calls one underappreciated jazz singer included here a "white fat girl singer who hung out with gay guys and passed for black." Let's hear it for Mildred Bailey!
And let's hear it for John Waters, too: You'll love every minute of A Date With John Waters, whether you're currently in or out of love. So grab a drink and Jujyfruits, put your gun away, and pop a convict movie into the DVD player: you're in for a date to put all other dates to shame. A Dirty Shame, naturally.
Belinda Carlisle apparently has little shame herself, and she also offers what is billed as a Valentine's Day treat. But while it may be her first new album in a decade, Viola proves the former Go Go's lead singer hasn't exactly been missed. Carlisle apparently found what she might call heaven on Earth in the south of France, where she made her home more than a decade ago. But her heaven becomes your purgatory with the hopelessly pretentious Viola (


).
Not because it's an album of songs completely sung in her not-native tongue, French. It's because it's an album of mostly-famous French songs that she doesn't cover well. They are songs sung in the language of love, but in such a way that there can be no more amour.
Worse, she assumes she can get away with it. She thinks her American listeners are none the wiser. "After I moved to France, I became familiar with the classic French chansons and a lot of French pop music," Carlisle has said. "I came to love this music and wanted to record some of them with a playful, contemporary feel." That she does. Admittedly, she does okay with French pop songs, those easily adapted as Carlisle-style power-pop, from "Pourtant Tu M'Aimes" to "Contact" to even "La Vie en Rose," which she fashions into a disco throwback. She's aided in her efforts by famed Irish rock producer John Reynolds, as well as the surprising recruitment of even more famous British rock producer Brian Eno on keyboard. And that's only the start of an impressive roster of world music stars supporting her on accordion, piano and backing vocals. The production is pretty top-notch.
But apparently none of her supporters had the good sense to tell Carlisle to leave the French chansons alone. She doesn't try to make these aching songs of love and loss playful. Though maybe she should have: At least then they would have been intentionally embarrassing.
But unintentionally, Carlisle is at her most embarrassingly desultory with her shrill and girlish take on the very adult song of desperation, Jacques Brel's ne plus ultra "Ne Me Quitte Pas." Would that were the worst of what she does to the song famously interpreted by the late, great Nina Simone — or Shirley Bassey with the English version, "If You Go Away." Instead, Carlisle sings the lyrics as if she doesn't realize what she's saying — even on the English version of the song, included on a bonus CD en Anglais. Carlisle recites the title as if it were a chant and not a pained plea; as if she thinks that if she says it four times fast, her love will stay. But love doesn't work that way.
And neither does her album, so we're leaving.