A bill that ensures hospital-visitation rights for same-gender couples in Virginia has passed the House of Delegates by a unanimous vote, and will be voted on by the Senate within the next few days.
"It's just in the beginning stages right now," Dyana Mason, executive director of the state's equal-rights group Equality Virginia said last week, after House Bill 2730 passed the House Committee on Health, Welfare and Institutions.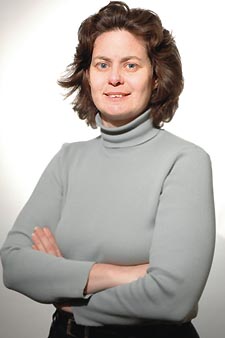 Gustafson
(Photo by Todd Franson)
On Monday, the House of Delegates approved the bill 97-0. As written, it would allow adult patients of the state's hospitals the right to assign visitation rights to whomever they choose. The status of the bill has generated optimism from many gay-rights advocates in the state, including Sarah Gustafson, president of Equality Fairfax.
The bill was introduced in an effort to secure for gay and lesbian couples one of the rights that was often discussed during last year's fight against a constitutional amendment banning same-sex marriage and any similar legal arrangements for same-sex couples. Gustafson says the benefits, however, go beyond the gay community.
"It is also helping a whole broader class [of people]," she says. "Whenever anybody is in a hospital in Virginia, they can have anybody come and visit."
Currently, she says, hospitals implement their own visitation policies.
"It's nice to see that [the House of Delegates is] letting families protect themselves."
Gay-rights advocates are also pleased with the status of Senate Bill 1242, which would allow self-insured localities to provide benefits to domestic partners or "any class of persons that may be mutually agreed upon by the locality and the policyholder."
The bill passed the Senate 36-4.
But it hasn't been all good news for the state's gay-rights advocates.
Two measures that would amend state laws to extend employment-discrimination protections to gay and lesbian state employees failed. Currently the state's anti-discrimination policy includes GLBT people by an executive order first issued by former Gov. Mark Warner (D) and later extended by Gov. Tim Kaine (D).
"We still have the executive order in place, but we weren't able to codify that in Virginia law," says Gustafson.
Alexandria Del. Adam Ebbin (D) says it was encouraging to see that 53 members of the General Assembly signed onto the various versions of the bill.
"I was pleased that all members of the Black Caucus and five Republicans were willing to join the majority of Democrats in support of non-discrimination in state employment," Ebbin said in an e-mail message.
"For now, gays and lesbians remain protected by the non-discrimination policy by virtue of the governor's executive order. The community and our supporters need to communicate with all our legislators, including Republicans, of why this is so important."
Two efforts that would have allowed local governments to include GLBT persons in their non-discrimination policies were also defeated in committee.
Gustafson says the regulation of extracurricular activities at Virginia public schools, including gay/straight alliances, is "not bad, but could have been better." A bill establishing a parental-permission requirement for participation in such activities passed the House, with modifications, 81-16.
Mason says the modifications leave it up to the schools to implement either an "opt out" or "opt in" option for parents about their children's participation in after school clubs and extracurricular activities.
Gustafson says the "opt out" approach is already being used in Fairfax County. Parents are given a list of all the school's extracurricular activities, and they can specify which ones they want to "opt out" their children from. Students are then given full access to the all of the activities from which their parents did not request they be excluded.
Gustafson believes "opt in," which requires students to use permission slips signed by their parents before they can participate in a specific activity, creates problems for gay youth who are not out to their parents.
"Kids who are not out, in order to get the support of their peers, will have to come out to their parents," she says. "If they're not comfortable coming out, they're going to lose the opportunity to associate with that peer group."
Gay-rights activists were disappointed with the outcome of two bills introduced to repeal or lessen the impact of the constitutional amendment on marriage.
Ebbin, the Legislature's only openly gay member, introduced one of those bills, HJ 678, which proposed a "savings clause" to the Marshall-Newman marriage amendment in an effort to protect the rights, benefits, obligations and status of gay couples in Virginia.
Del. David L. Englin (D) of the state's 45th District, which includes parts of Arlington County, Fairfax County and the city of Alexandria, introduced HJ 721, a measure to repeal the marriage amendment by referendum at the 2008 November election.
Both bills "passed by indefinitely" in the House Privileges and Elections Committee on Jan. 19, which means they were "basically ignored," Gustafson says.
"They were killed immediately," she says, "they weren't even considered."
Ebbin says that emphasizes the challenges that lie ahead for gay Virginians.
"It shows that we have a difficult challenge in modifying or appealing the Marshall-Newman amendment," he says.
Gustafson adds, "[Both bills] were more symbolic than anything.
"We didn't expect to repeal the [marriage] amendment, but it was put out there to say there were a lot of people who weren't happy with … that amendment."