In theater, the "ghost light" is a single bare bulb on a pole left in the center of the stage between performances so that the building never goes completely dark. This is to keep spirits from taking up residence in the house.
It's one of the many superstitions that dwell like ghosts themselves in theater circles. Like saying "break a leg" instead of wishing someone luck. Or never saying the title of "the Scottish play" while in a theater. (If you're not familiar, it's the play by Shakespeare. Seven letters. Starts with M.)
Fortunately for the cast of Round House Theatre's production of Orson's Shadow (




), at least two of these notions are proven faulty. First, having a ghost light on your stage does not prevent specters from gathering and, second, having someone say the name of that certain Scottish queen with hand-washing issues — even if they say it loudly and repeatedly — will not cause catastrophe.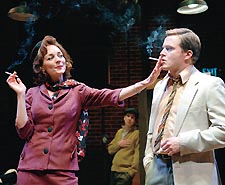 Living legends: Kelley and Henry
(Photo by Stan Barouh)
On its surface, Orson's Shadow is a play about a group of very great names coming together to put on a play. Or, to try and put on a play — if their egos will let them. And that would be how we know the ghost light is failing. By the end of Shadow, the theater's stage is scarcely able to hold the weight of all the ghosts that have come to nest in the form of old memories and long nursed grudges.
It is 1960 and Orson Welles (Wilbur Edwin Henry), moved firmly and dramatically from the soundstages of Hollywood, is appearing as Falstaff in a play he has been carrying around with him since he was a young man. Even in a relatively small theater in Dublin, Welles can't manage to draw an audience.
Shadow opens with the arrival of theater critic Kenneth Tynan (Will Gartshore) who has come to Dublin to convince Welles to direct Laurence Olivier (Anthony Newfield) in a production of Ionesco's Rhinoceros at London's National Theatre. Not the easiest of tasks as Welles blames Olivier for his failure in Hollywood and because, technically, Olivier hasn't actually hired Tynan to find a director for the show.
It is only through the intervention of Joan Plowright (Connan Morrissey, in her Round House Theatre debut) that Tynan is able to bring Welles and Olivier together for the production. Plowright is Olivier's co-star in Rhinoceros and the woman with whom he is having an affair while he is trying to end his marriage to the increasingly unstable Vivien Leigh (Kathryn Kelley).
Orson's Shadow is not the easiest of shows — for a cast or an audience. Driven by dialogue, it isn't filled with artful speeches or witty banter. Everything unwinds deliberately. There are moments you find yourself longing for a scene to end because you realize, even as the characters themselves are realizing it, that this is going nowhere — the curse of "the Scottish play" has lit upon their production and their lives.
What is impressive about the Round House cast is the fact that they manage Shadow's cumbersome baggage with such agility. There is something exceptionally normal about their portrayals, which is striking when you remind yourself that they are playing giants. There is great room for histrionics and baroque gestures, but director Jerry Whiddon has wisely moved his actors to a quieter place where they can exist as people — frighteningly real people with fragile senses of self worth and marriage problems and career issues and health problems they ignore.
Morrissey and Gartshore deliver brilliant performances. Gartshore maneuvers easily between his place as an actor within the play and his role as audience confidante, while Morrissey's work is an essay on the power of subtlety.
High marks also go to Kelley, whose Leigh is shattering. This is an actor who has learned to seize an audience with a single, heart-wrenching glance. Henry and Newfield perhaps have the heaviest load to carry, bringing Welles and Olivier to the stage. Both do so with confidence, gravity and, when called for, surprising humor.
Orson's Shadow is more intellectual than thoughtful, more studied than clever. But Round House is doing a great service to area theatergoers by bringing it to their stage, reminding us that there are great rewards to be found in embracing challenges and in braving ghosts.