Virginia Legislative Session wraps
Sarah Gustafson, president of Equality Fairfax, says she is "pleased" with the outcome of Virginia's 2007 legislative session, which convened Jan. 10, and adjourned on Saturday, Feb. 24.
Gustafson and other activists are celebrating the defeat of House Bill 1727, which would have jeopardized the existence of gay-straight alliances by requiring that all public schools in the state implement either an opt-out or opt-in policy before students could participate in after-school programs. Activists argued that it would create obstacles for gay students who are seeking resources, and are not out to their parents yet.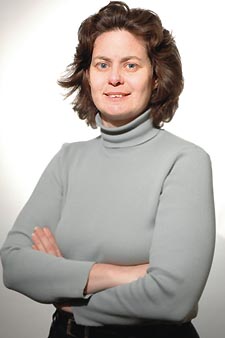 Gustafson
(Photo by Todd Franson)
There was also the passage of HB 2730, which allows adult hospital patients in the state to decide who is granted visitation rights, and works to benefit same-gender couples.
"I was pleased with the unanimous support that the hospital visitation rights bill had," Gustafson says. "Nobody tried to turn that into a 'pro-gay bill.' They looked at it for what it was, as helping out all families."
The legislative session was also a reminder for her and other activists of the work that needs to be done in Virginia, she adds. Currently Virginia's anti-discrimination policy includes gay people by an executive order first issued by former Gov. Mark Warner (D) and then extended by Gov. Tim Kaine (D). Measures that would have codified that protection by permanently placing "sexual orientation" in local and state employee non-discrimination policies, were dismissed and defeated right away.
Gustafson is optimistic about the implications of the session.
"It's better to see us going forward then going backwards," Gustafson says of the advances made this year, "which is a big improvement from last year."
---
Marylander activists support transgender rights
About 20 people gathered in Columbia on Monday night for Equality Maryland's town meeting regarding two bills that would prohibit discrimination against transgender people living in the state.
"This is the third transgender meet-up we've [held] since we started this campaign six months ago," says Sara Ryan, field organizer for Equality Maryland. "Twenty people doesn't sound like a lot, but that's 20 different people that we've had at three different events," a sign of the group's persistence to fight for equality, she says.
Monday's meeting was organized to raise awareness about two bills, Senate Bill 516 and House Bill 945, which would prohibit discrimination in the areas of employment, housing, credit and public accommodations. Baltimore is currently the only jurisdiction in Maryland that offers protection for transgender people. Equality Maryland is advocating for legislation to protect transgender people across the state from discrimination in the workplace, which Ryan says often leads to unemployment, loss of housing and lack of healthcare.
Dana Beyer, a retired doctor who unsuccessfully ran to become Maryland's first transgender delegate in the Legislature last year, and Lisa Mottet, a lawyer who directs the National Gay and Lesbian Task Force's Transgender Civil Rights Project, spoke at the event.
"The goal was to empower transgender people and transgender allies to tell their stories so legislatures know the severity of hardship and discrimination that transgender [people] face," Ryan says.
"Too many transgender people have been discriminated against, and too many transgender people have really suffered because of it… but they're mobilized and excited about the bills, and they're going to be a huge part of the process towards passage."
---
One in Ten awarded DCCAH grants
The D.C. Council on Arts and Humanities granted One in Ten, the organization that has produced the Reel Affirmations film festival in Washington for the past 16 years, among other events, with $47,600 to fund film screenings throughout the year.
According to a Feb. 22 press release, the DCCAH presented One in Ten with two grants: $30,000 from the City Arts Project, created to advance access and encouragement for local artists and underserved communities; and a $17,600 Grant in Aid award to support operating costs for Reel Affirmations.
"For the DCCAH to award One in Ten with two grants reflects that our hard work and dedication to programming for D.C.'s GLBT community has paid off," Elizabeth Braman, board president at One in Ten, said in the release. "This grant will certainly allow us some breathing room in our crucial non-festival months as we plan our programming calendar".
One in Ten Executive Director Margaret Murray expressed similar sentiments.
"This is a wonderful show of support for One in Ten's programming, outreach to the community and a vital acknowledgment of the role we play in the cultural life of the city," she said.