While it may have been a simple and "silly" thing when he made a short video to audition as DJ for the daytime talker Ellen, Joe Bermudez quickly found he'd garnered attention from his own fans.
"I'm getting all these e-mails of support hoping that I get on the show," Bermudez chuckles over the response to the video on his MySpace page. But he won't be on the air with Ellen Degeneres anytime soon.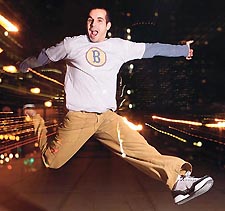 DJ Joe Bermudez
(Photo by Andrew Swaine)
"They ended up hiring an actor as their new DJ, which makes sense, since it's for a TV show."
Who needs TV anyway? Especially when Bermudez is all over the radio.
In fact, he's one of the more popular DJs on what you might call premium radio. He's a regular mix-show DJ on cable's Music Choice dance channel and on AOL Music. And he spins a peak-hour set every Friday night on XM Satellite Radio. "The best thing about that has been getting new fans in areas I otherwise wouldn't have, such as in Bozeman, Mont., or Laredo, Texas," the Boston-based Bermudez says.
Some of the 28-year-old DJ's oldest fans, however, are here in D.C., one the cities that helped launch his career. He got his start as a club DJ at Apex, back when it was called Badlands, and has returned to the club regularly. He'll spin there again next Friday, Feb. 23.
"D.C. seems to be a forward-thinking city," Bermudez says. "The people here really like to have fun and that translates to a good energy on the dance floor."
Bermudez finds that "the tracks I am using on my show usually work well in the club." These tracks include his own productions, something he's been doing more of the past few years. To date, he's most proud of remixes for Hilary Duff and Kelly Clarkson. About Clarkson, he says: "She is by far one of the nicest people I know. I think we get along so well because we are both dorks at heart."
Bermudez, who's straight but spins more often in gay clubs, likes mixing things up: "I like to introduce gay clubs to some of the bigger straight records and vice versa." To Bermudez at the moment, that means incorporating fresh, rock-tinged electro — such as that from D.C.'s own Deep Dish, or Eric Prydz — into the still-ruling tribal sound of gay clubland.
"To me tribal music has become rather stale," he says. "It's really nice to have fun music back in the clubs."
Joe Bermudez will spin next Friday, Feb. 23, at Apex Nightclub, 1415 22nd St. NW. Doors open 9pm, cover $9. Visit www.apex-dc.com or call 202.296.0505 for more information.