Erin McKeown's latest album launches a bit ominously, with her shouting, "Hallelujah, all you sinners gather round…just follow me." It becomes easy enough to do, as what starts off sounding like a séance melts into a lilting, lightly bouncing cover of a Judy Garland classic.
Oh yes, a Judy Garland classic. Little wonder singer-songwriter McKeown is finding increasing gay appeal.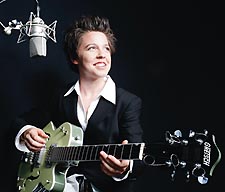 New Old Songbook: McKeown
And that's only the start of it. On Sing You Sinners (





), the Fredericksburg, Va., native covers 11 other golden-era jazz and pop tunes from the likes of Cole Porter, Harold Arlen and Johnny Mercer and associated with Ella Fitzgerald, Fred Astaire and Blossom Dearie, among many others.
Sing You Sinners is a delightful, whimsical romp through the annals of the Great American Songbook. McKeown cites in her album liner notes this mid-20th century era at a time when pop music was influenced by the theater, just before radio and teenyboppers took over. The CD casing replicates the look of record jackets from the era, with faded edges and candid two-color shots of McKeown and her band in the recording studio.
Yet McKeown is not so beholden to the era and these classics that she's too awestruck to do anything. Like a singer from that bygone era, she knows a good cover requires respectful but real re-imagining. So she never betrays her roots as an indie-rocker — really, an alt-popper. She has a penchant for playfulness and perky melody, as well as strong songs, fully realized but tautly wound.
McKeown credits Judy Garland as "her window into a lot of this style of music." Even if that's not true for you — perhaps because you're a more typical 29-year-old than McKeown, who was raised around the theater — you'll still appreciate her take on "Get Happy," a rapturous anthem about the Rapture. With her clear mezzo-soprano voice and slightly mischievous delivery, McKeown swings through this Garland classic written by Harold Arlen with the help of a merry band of three musician friends. Including Ani DiFranco's bass player, the trio have roots in raucous rock but exhibit a similar passion for refined jazz. McKeown and her "band of misbehavers" recreate the Cole Porter classic "Just One of Those Things" as a sinister and sad break-up tune with rock heat. Another Arlen track, "Paper Moon," typically a quiet, sweet ode to romance, gets recreated as a calypso-styled stomper.
She also includes a song raving about a girl named "Melody." In interviews McKeown, who makes her home in the lesbian-popular enclave of Northampton, Mass., has deflected questions about her own sexuality, merely professing happiness that the gay community is taking to her. Nevertheless, this girl, Melody, is obviously a metaphor, and one that suits McKeown just fine musically: "Oh Melody, not asking for a symphony," she sings. "What a pleasure it would be to have a little Melody."
What's not so obvious about this ragtime jam, because it fits right in with the half-century-old gems here, is that the song is an original composition from McKeown herself. Sure, you could hear influence from jazz standards on her previous all-original, mostly folk and pop-inspired albums. But this cut — and the care and creativity that went into this cohesive album in general — suggests an even stronger songwriting to come.
McKeown seems to be aging into an especially assured singer-songwriter, with confidence in spanning pop genres, and humor and grace in equal measure. I can't wait to hear more.
A year before MeKeown's standards album, another indie-rock singer-songwriter had a similar idea. Sondre Lerche's Duper Sessions was more ambitious than McKeown's, featuring two covers and 13 originals that only sounded like timeless relics from Tin Pan Alley. The album was a departure from Lerche's first two albums of slightly psychedelic pop-rock tunes.
Now, the Norwegian and his band, The Faces Down, have released Phantom Punch (




). Perhaps because the standards set was softer than his earlier work, the latest is harder. Not too hard: Lerche is still a sensitive soul, wise beyond his 25 years, who prefers his music and lyrics to be generally guitar-hazed and love dazed, not angry or angst-ridden. He still has a calming voice and a casual vocal delivery that can be both charming and disarming — sometimes at the same time. And he still offers lyrics that are often opaque, or a bit of a puzzle.
On the deceptively sunny "Say It All," he slyly sends up his own behavior: "I said a little, the rest is a riddle." But while he includes nearly as many sweet, swaying ballads, born of a love of Burt Bacharach and Brazilian folk, it's his edgy, charging rockers that characterize this set. The title track, for example, takes multiple psychedelic twists and turns but never loses sight of what it's driving toward. And once it builds to an extended trilling guitar climax, it ends abruptly. Lerche's developing friendship and recent touring with Elvis Costello, and especially his addition of Beck's producer to handle the new album, results in a sharper, more focused sound.
Most of the songs were recorded all in one take, to stir the band's symbiosis and collective intensity. They often leave you wanting more — the mark of a good pop tune. So you listen again and again, searching for lyrical meaning, at least finding endless musical pleasure.