During an emotional hearing in Courtroom 111 of D.C.'s Superior Court on Thursday, Feb. 8, Preston Randolph Logan, 43, pleaded guilty to the second-degree murder of Grafton Lee Person, a 42-year-old transgender woman who was known in the community as Diamond.
Logan killed Person in January in their shared Northwest apartment. In addition to pleading guilty, Logan waived his right to a jury trial.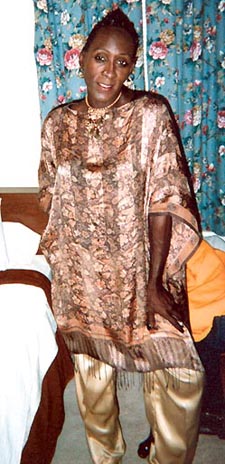 Diamond Lee Person
(file photo)
The graphic police report detailing the murder of Person — Logan beat Person's head with a hammer until she was unconscious, then choked her with a necktie, a nylon strap and, finally, a plastic bag — left her father, stepmother and sister in tears. Earline Budd, a friend of Person's and drop-in center coordinator at Transgender Health Empowerment, left the courtroom sobbing.
"I was looking at him and I think my emotions erupted because I kept asking myself, 'How could you do this?"' says Budd. "Especially when you're claiming that this is someone that you loved, that you cared about. I don't know what love has that kind of rage."
Judge Wendell P. Gardner Jr. said he would announce his verdict on April 12. Logan faces a maximum sentence of 40 years.
During the hearing, Logan confirmed that his educational background was limited to the 11th grade, and that he is currently taking Zoloft, a prescription anti-depressant. He also answered "Yes," when asked by Gardner if he plans to use "mental illness" as an explanation to what happened on Jan. 3, the day Logan says he smoked crack with Person, before an argument led to a physical battle and then her violent death.
It was also revealed during Gardner's exchange with Logan, that Logan is not an American citizen, and that the verdict could include deportation, denied re-entry into the United States, denied naturalization and any combination of the preceding. It could not be confirmed by Metro Weekly's deadline from what country Logan originates.
Budd is not pleased with the plea offer.
"It's frustrating to say the least," she says. "To think that someone could take the life of a human being and kill them … just to know that he could walk away with a lighter sentence is frustrating and confusing for me."
Budd is also concerned with the defendant and judge's references to Person as a male and a "boyfriend," which she suspects could be a part of the defense's strategy to minimize Logan's jail sentence. She believes that Logan's defense is downplaying his own "very dominant, male" role in the relationship, and casting Person as more of an aggressor.
"He's making it look like he was the feminine role, and Diamond was the masculine role," she says, "which we clearly know was not true."