It's official: Darlene Nipper is stepping down as director of Mayor Fenty's Office of LGBT Affairs. Beyond that, the details get a bit muddy.
While the Feb. 2 issue of the Washington Blade reported that unnamed sources pointed to Khadijah Tribble and Jeff Marootian as lead contenders to head the office, Mafara Hobson of Fenty's communications office says that assessment may be premature.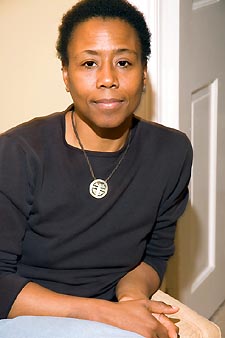 Darlene Nipper
(Photo by Todd Franson)
"We just started the search process," says Hobson. "Khadijah and Jeff just happen to be two résumés we have."
Fenty's office on Wednesday, Feb. 7, did announce, however, that gay ANC commissioner and Fenty mayoral campaigner Christopher Dyer will be stepping in as interim director of the office until a permanent director is named. Under Mayor Anthony Williams, Dyer served as a member of the mayor's LGBT Advisory Committee. Among his other community involvements, he also founded the city's Youth Pride Alliance.
"It is an honor to be asked to serve the mayor, his administration, the residents of the District of Columbia and the LGBT community," says Dyer.
Nipper, whom Williams tapped to head the office since January 2006 — following the murder of the previous office director and close friend to Nipper, Wanda Alston — has long maintained that as a political appointee, she fully expected Fenty to choose a new director. Instead of remaining in office until Fenty could name a replacement, Nipper appears to have set her own agenda, giving notice on Jan. 30 that her last day as head of the office will be Feb. 16. Nipper could not be reached for comment regarding her resignation, as she's currently traveling in India, according to M'Bwende Anderson, program coordinator at the LGBT office. Anderson could not answer any questions regarding whether Nipper has found a new position outside city government. According to Nipper's voicemail greeting, she will be back at work Feb. 14.
Until then, there is room for speculation and not much else.
Peter Rosenstein, a local gay activist who is close to the Fenty administration, confirms that as of Feb. 5 no one has yet been interviewed to replace Nipper. "I don't think [Marootian and Tribble] are so far in front," he says.
RELATED ARTICLES:
Vacancy Filled – Mayor Williams chooses Darlene Nipper to succeed the late Wanda Alston as head of DC's LGBT Affairs
www.metroweekly.com/gauge/?ak=1881
Finding the Bridge – Darlene Nipper ponders the end of her appointment as the mayor's liaison the GLBT community, her call to God, and the state of gay D.C.
www.metroweekly.com/feature/?ak=2278