First off, an important disclaimer about Black Snake Moan. The snakes are metaphorical — they did not follow Samuel L. Jackson off the plane. In fact, there are absolutely no snakes in the entire film.
There is a beaten and bruised blonde woman clad only in her underwear chained to a heater. But no snakes.
This will undoubtedly be good news to fans of Jackson, who leaves behind his über-macho, one-dimensional persona from Snakes on a Plane to assume the role of Lazarus in Black Snake Moan. As Lazarus, Jackson develops a much more grounded character in desperate need of a resurrection.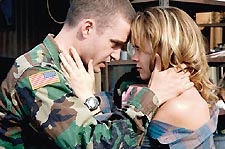 Sexyback: Timberlake and Ricci
Obviously, the film lacks both snakes and subtlety. Nevertheless, what could easily have been a film overburdened with stereotypes and clichés turns out to be surprisingly touching, funny and redeeming.
After his wife unceremoniously leaves him for his brother, Lazarus finds his chance for new life in Rae, an oversexed and reckless young woman who is desperately seeking something. Shockingly, whatever it is she's searching for, it's not to be found by having sex with lots of men. In an attempt to cure Rae of her wicked ways, Lazarus nurses her back to health after she is beaten and left on the side of road, ultimately chaining her to the house to ensure she does not escape.
As Rae, a blond Christina Ricci channels her bad-girl role from The Opposite of Sex — and cranks it up a notch. Strutting around in her Confederate-flag tube top and Daisy Dukes while working a thick Southern accent and her large, doe eyes, she's at once a lost child and a predatory vixen. Ricci is shockingly skinny, but still manages to make a heavy metal chain look sexy, wrapping it around herself in a manner that's both seductive and protective — a sex toy and a security blanket.
Black Snake Moan



Starring Samuel L. Jackson, Justin Timberlake, Christina Ricci
Rated R
116 Minutes
Opens March 2
Area Theaters
Lazarus and Rae are living lives that are spiraling out of control — he's despondent over the end of his marriage and she's unable to control her urges and be true to her boyfriend. When their worlds collide, they have the chance to find the balance needed to stop their worlds from spinning. If you can get past the whole chain and bondage bit, it's actually a fairly touching story.
Rounding out the cast, Justin Timberlake gives a surprisingly strong performance as Rae's military-bound boyfriend. But, to be fair, he starts out by playing to his best assets with a sex scene. Fortunately for JT, his character has several tender moments because the tough guy routine is just one step beyond his acting range. Anyway, don't you have to be a sensitive, new age guy to bring sexy back?
In a supporting role, S. Epatha Merkerson is a breath of fresh air. Best known for her role on Law & Order, Merkerson brings great life to Angela, a potential love interest for Lazarus. She's the only touch of class in a story otherwise filled with victims and snakes.
Writer and director Craig Brewer walks a fine line with Black Snake Moan. At once crass and vulgar and sweet and touching, the film teeters between succumbing to the violence or finding hope for the future. Given the lives of Lazarus and Rae, either direction is just as likely.
With the prominence of blues music throughout the film, one would be remiss not to mention Jackson's attempts to sing. Let's say that he gets credit for the effort. In the end, the actors should stick to their strengths: Jackson should leave the singing to Timberlake, and vice versa with the tough-guy scenes.
Though the whole transformation of characters takes place during one week, a leap of faith is required to enjoy the film's message. Because if you're going to be picky, it's easier to ask why Lazarus doesn't just bring Rae to a doctor when he finds her passed out in the road. But despite the unevenness, a couple of carefully crafted moments featuring strong actors make the film a worthwhile endeavor. While many will be pulled into the theater by the chain-laden poster, Black Snake Moan actually has some bite to offer the audience.