The 1993 March on Washington for Lesbian, Gay and Bi Equal Rights and Liberation was an exciting step for the American GLBT community. In a sense, it has a legacy that continues today beyond the speeches and crowds that took to the streets and occupied the National Mall. One component of that legacy is about to make its annual return on the Northwest D.C. campus of American University.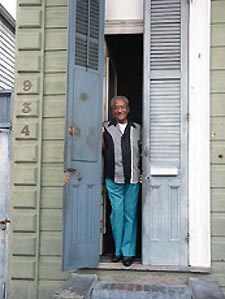 E. Patrick Johnson
(Photo courtesy of E. Patrick Johnson)
"In the '90s, there was a group of us asking what was gay about the language we spoke," says Bill Leap, current chair of the anthropology department at AU. "We couldn't find a home for this work in traditional academe or emerging queer-studies conferences, so we said, 'We'll do our own conference."'
To that end, Leap and his band of academics hoping to explore the linguistics of queer culture put out a call to their peers, announcing a conference to coincide with the '93 march.
"About 100 people showed up," Leap recalls. "Now it's the longest-running LGBTQ academic conference in North America — and possibly the world."
The Lavender Languages & Linguistics conference was born. This year, the event runs from Feb. 9 to 11, once again making D.C. the site of something unique and dynamic — and even somewhat controversial in linguistic circles.
"We get criticized because we don't do 'real linguistics,"' says Leap. "Other linguists say this isn't really linguistics — and by queer theorists who say this is about identity and subject, not abstract discourse."… That is exactly the issue. The conference is really interested in figuring out why language is important; how language is important in LGBTQ life. We want to take that out of 'high falutin" theory. We want to put it into language that makes sense for people who use the language. What we've tried to do over the years is develop not only interesting topics, but also a way of talking about them that will be accessible to folks with inquiring minds."
Take, for example, a paper titled, "Dolly Parton She Is Not: Indexing region, gender and sexuality in drag queen performances," to be presented Feb. 9 by Stephen Mann of the University of South Carolina. Or, "Fallen in the Rockies: Homophobia and hypocrisy in sequential gay sex scandals among Colorado fundamentalist pastors," from Lori Heintzelman of the University of Colorado at Boulder.
Then there's Leap's own presentation: "I'm doing a paper that looks at the changing image of gay men and sex in pornography from the '70s to today — changes in national politics, economics and globalization — and how it's connected to things like English.
"What we do at the conference, we take a broad, inclusive definition of 'language communication.' It's not just words. It's any means of communication. It can be spoken or written. We have film. Text could be dance. We have an art exhibit. All of this is language."
Perhaps the highlight of this year's conference will be a visit from E. Patrick Johnson, chair and director of graduate studies at Northwestern University's department of performance studies. On Friday evening, Johnson will be performing readings from his forthcoming book, Sweet Tea: An Oral History of Black Gay Men of the South.
"It started in D.C. in 1995," Johnson says of Sweet Tea's inception. "I was at the Us Helping Us annual picnic. There was a group of older African-American gay men sitting around, reminiscing about the good old days. I was just fascinated by these stories, and that no one had really documented them. I decided then that at some point I would take this on as a project. Ten years later, I found the time, energy and money. In 2004, I was on sabbatical from Northwestern and I went to the South to start collecting these histories. … There were 77 men in all. It became this massive project, but it was worth it."
While Johnson's reading may be a crowd-pleasing option for someone new to the Lavender Languages conferences, Johnson, who first attended the conference in 1996, says accessibility is the hallmark of this annual gathering.
"It's not the kind of posturing that a lot of other academic conferences have," Johnson assures. "A lot of the topics aren't just academic. It's public discourse around the gay and lesbian community. This year, I think there's a panel on the 'down low.' There was a panel one year about closing down gay bars near the baseball stadium."
Elijah Edelman, a first-year AU doctoral student in public anthropology who is helping to organize a conference discussion regarding transgender issues on campus, echoes Johnson's sentiment.
"American's anthropology department, in general, is about making that which is typically stuck in the ivory tower of academia accessible," Edelman says. "This conference is framed in that same paradigm. Everyone makes an effort to make sure the papers they present are accessible."
Beyond that, Leap offers that anyone who wants to stop by the conference for a commitment-free sample of what Lavender Languages has to offer is welcome. And while Leap grants that some of the papers and sessions planned for the conference may be too esoteric for general consumption, he says he is committed to maintaining a "user-friendly, no-attitude environment."
And if anyone still has questions about what they may or may not get out of this unique, local event, Leap offers accessibility via e-mail.
"E-mail me and I'll make some suggestions. Look at the Web site; all the abstracts are posted. I'm very happy to have an e-mail conversation about the conference."
Bill Leap may be reached at wlm@american.edu. For more information about Lavender Languages & Linguistics, visit www.american.edu/academic.depts/cas/anthro/lavenderlanguages.