Nearly 100 people gathered at the Human Rights Campaign's headquarters on Tuesday, Feb. 20, for the D.C. Chapter of the National Lesbian & Gay Journalists Association's State of the Movement, a community forum featuring eight GLBT leaders.
Metro Weekly Editor in Chief Sean Bugg moderated the event, which generated discussion about various topics related to GLBT equal rights, including Employment Non-discrimination Act (ENDA) legislation, as well as other discussions including the impact of the Internet and blogs on the political climate.
"There is no doubt that the LGBT movement has been making process," said Matthew Berger, president of NLGJA's D.C. chapter. "But it seems like every time we take a step forward, we take a step back. Whether it is homophobic ads at the Super Bowl, or athletes saying they rather be traded than play with a gay teammate. With the new Congress in town, and the presidential race already starting, it's an important moment for us to step back and assess where we are going."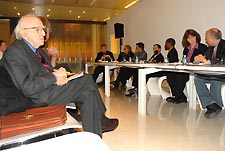 Activist Frank Kameny (left) at the start of the NLGJA 'State of the Movment' panel
(Photo by Ward Morrison )
The panelists were Joe Solmonese, president of the Human Rights Campaign; C. Dixon Osburn, co-founder and executive director of Servicemembers Legal Defense Network; Christopher Barron, lobbyist for Log Cabin Republicans; Matt Foreman, executive director of the National Gay & Lesbian Task Force; blogger Pam Spaulding of Pam's House Blend; Herndon Davis, communications director of the National Black Justice Coalition; Mara Keisling, executive director of the National Center for Transgender Equality; and John Marble, communications director of the National Stonewall Democrats.
Metro Weekly was a co-sponsor of the event.
Bugg started the discussion by addressing the recent shift in Congress to the Democratic Party. He asked panelists what they expect in the near future, in terms of the advancement of gay rights.
"The fact of the matter is the Democrats being in charge means our allies control those committees," said Solmonese, who also noted the importance of gaining Republican support. "From a tactical standpoint we need both [Democrats and Republicans] to get anything passed in this Congress," he said.
Osburn said he is optimistic about the passage of the Employment Non-Discrimination Act (ENDA) and aware of the challenges that other bills, including those related to the military's ban on gays and lesbians, may be more challenging.
"There a number of very important [bills] on immigration equality and 'Don't Ask, Don't Tell,' [where] I think we have a harder fight." Osburn said the House bill seeking to overturn the military ban garnered 123 co-sponsors in the last session, and SLDN hopes to increase that number this session.
Barron said the shift in power to the Democratic Party does not make the role of the LCR less important.
"If anything I think it makes the role of [LCR] even more important," he said. "We do have the opportunity now to pass meaningful legislation and not just be on the defensive."
Barron said the issues can't be left to Democrats, but pressure must be placed on Republican allies as well.
Bugg pointed out that the Task Force and HRC are often tagged as being very closely lined with Democrats, before asking Foreman whether that hinders the Task Force's ability to persuade opponents of the gay rights movement.
"We all have different roles in the world and our goal is not to try to convince conservative … far-right people, about the rightness of our cause," said Foreman, who noted that the "narrative of the last 14 years" hasn't been completely understood by the Democratic Party. The GLBT community, he said, should not be in a political position in which hate crimes legislation and ENDA are seen as the main "deliverables."
Barron also pointed out that "a strategy that only engages those members who are from urban centers or who are from areas that are going to represented by progressive Democrats, [leaves] behind a huge chunk of this country."
Spaulding can attest to that. She said her blog has given a forum to people who live in small towns and outside major cities across the country. Spaulding said she has no way to measure the political impact of her blog, since she does not receive feedback from lawmakers or organizations that may be criticized.
"I'm sure there are times that [people] are very pissed off about things that are said on my blog," she said, "but I think that that's reality. We're talking about people contributing who had no voice before."
Spaulding said that although blogs are a powerful medium, "It's hard to harness that, you can't control message, and I think that scares a lot organizations."
Davis said technology "is waking people up" to how varied the GLBT community is in terms of people and ideas.
"I think we have to take note as to what is being stated and heard and seen on these blogs because I think it's a small signal of what people are thinking," he said. "The results will be at the polls."
Keisling said she looks at blogs from a perspective she mastered during her tenure as a college professor.
"When I had my evaluations, my mentor said to me throw out the best one, throw out the worst one, and then look at the rest of them. And that's sort of how I look at the blogosphere … when you look at it that way it's helpful."
The discussion was followed by questions from the audience including Lane Hudson, a local blogger who is credited for helping expose the Mark Foley scandal, who inquired about the status of equal marriage rights in Washington, in particular the support voiced by the city's elected officials for equal marriage rights, but who fear a backlash from Congress if the issue were to be pursued.
"I understand with conversations with people that there is no conversation going on about this in the District of Columbia, why isn't there? And can we go ahead and get that conversation started?"
The conversation became heated when Rick Rosendall, a local activist and vice president for political affairs for the Gay and Lesbian Activists Alliance (GLAA), angrily declared that despite the fact that the majority of gay rights supporters are Democrats, he feels that the majority of members in Congress strongly oppose same-sex marriage rights.
"In Congress it would be insane to push marriage rights now because Congress has a long history of stomping on the District of Columbia," he said.
Forum attendant Michael Crawford, a former HRC staff member, responded by calling out that Rosendall and other people's "old school mentality" is to blame for the lack of progress in marriage rights in D.C.
"When will be the right time? At some point we have to politically man up," he said.