Across America, at various institutions of higher learning, some policies may seem less than enlightened. From Gordon College in Wenham, Mass., to Baylor University in Waco, Texas; from Bob Jones University in Greenville, S.C., to Seattle Pacific University, there are policies aplenty singling out homosexuality as a particular breach of the rules. And for the second year, Lynchburg, Va.-based Soulforce is sending Equality Riders far and wide to offer a different perspective on some of these campuses.
Four of this year's 52 young riders, currently making their way along a nearly two-month journey in two busses scheduled to visit 32 Christian universities, have ties to the broader D.C. area. Rebecca Buck, 23, is a queer-identified student from the University of Richmond. She's riding the "West Bus," along with Brian Murphy, 21. Murphy, a gay man originally from Potomac, Md., recently graduated from the University of Southern California in Los Angeles. On the "East Bus" sit Stephen Krebs, 26, a gay, D.C.-area native, and Bram Wispelwey of Charlottesville, Va., who is straight and just turned 23 last week on the road.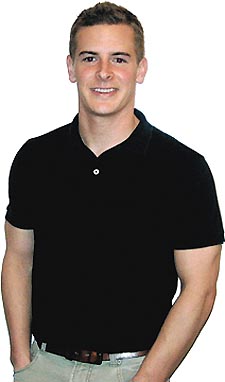 Equality Rider Stephen Krebs
"The common characteristic of all the riders is a passion for social justice, a passion to do the right thing," says Krebs, the self-identified eldest Equality Rider on the East Bus, and a paralegal at the Federal Trade Commission. "It's a mix of different faith backgrounds, geographic backgrounds. There are people like myself who haven't really struggled from being gay, and there are riders who have been kicked out of their schools. There are riders who grew up in evangelical communities and still identify with that conservative faith. It's a wide-ranging, diverse group. An intelligent, humble group."
Krebs sounds remarkably upbeat for someone arrested just a couple days prior to speaking with Metro Weekly.
"I was actually arrested on Thursday," he says, referring to March 15, while the bus was in Shawnee, Okla., just outside Oklahoma City. "Oklahoma Baptist University has a policy that gay students either attend 'reparative, ex-gay therapy,' or be kicked out. I have two friends who were kicked out. It was an important stop for me. We made a colorful tapestry with quotes from the Bible, stories of OBU students and messages of love. We intended to deliver it to the student center. We were arrested for delivering the tapestry. The day before, five [Equality Riders] were arrested for trying to attend chapel."
Though the highpoint of Oklahoma for Wispelwey may have been seeing his first drag show — part of his birthday celebration — joining Krebs in jail was surely a low point.
"The police were nice, but it was still pretty intense," says Wispelwey. "Being in the holding cell, with people coming in for various crimes, it really hit home what we're doing. That was a powerful moment of reflection."
So far, with both busses beginning campus visits March 8, the East Bust seems to have had a more difficult time, including graffiti during the bus' first stop: Dordt College in Sioux Center, Iowa.
"Someone spray painted 'God doesn't love fairy fucks' on the bus," Krebs reports. "That's exactly the type of thing we're trying to address. God loves all his children. God loves everyone."
Adds Wispelwey: "The school volunteered to take care of the graffiti for us. It was a nice gesture."
But despite the arrests and homophobia, all four riders seem genuinely gratified by the mission, which they all define generally as opening dialogue, opening minds, and bringing a loving message to these campuses.
"It's been a really amazing experience so far," says Murphy, who considers himself a non-denominational Christian. "It's just great, at every school so far, to meet students who are so ready and willing to have these conversations. Some are gay. Some are straight and curious. It's been inspiring, the amount of willingness to talk. It's been personally fulfilling for me. It's already been worth it."
Buck, whose sense of social justice runs so deep that she makes an effort to avoid using gender-specific pronouns as a personal protest against the absence of gender-identity protections in her home state of Virginia, says the West Bus's first two stops, Notre Dame and Wisconsin Lutheran College, met with some resistance, but that's not dampened her spirit.
"Today, we're at MidAmerica Nazarene University," Buck said March 15, during a stop in Olathe, Kansas. "We had a nice welcoming reception. We've had some good one-on-one conversations. We gave some presentations in the classroom with the school's blessing. They're extremely cooperative. We're escorted around campus, but we're happy to cooperate. MidAmerican Nazarene has said that if protesters like Fred Phelps showed up while we're here, he wouldn't be allowed on campus. I describe this as my own spiritual journey, a chance to get back in touch with faith and humanity. Our goal is not to argue, but to create dialogue."
While "homosexual behavior" may be grounds for dismissal at MidAmerica Nazarene, the sort of welcoming reception Buck describes is not out of the ordinary from what other Equality Riders report.
"I was a little bit apprehensive. I wasn't sure what the response would be," admits Krebs. "We've had kind of different receptions at different schools. The most exciting thing is that in every single community, even those conservative small towns, people have been very excited and supportive. Churches have provided us with meals. Students have thanked us for our presence…. It's already been life changing, seeing the excitement in people's faces when our bus pulls up."
Wispelwey says that his background, growing up in a very socially conservative Christian home, along with being straight, has allowed him a special rapport with some students he's met.
"Students always want to know why I'm here," he says. "Allies are always a big part of any movement. The people working to end poverty often aren't living in poverty. That's a question I'm always asked. Sometimes my background is the same as a lot of these other students. I can explain to them how they can be an ally with their Christian background. I can talk to them from the same perspective…. With these Christian practices that marginalize other people, I feel like if I don't stand up I'm complicit with the status quo."
A secondary component of the Equality Ride is to raise money for Soulforce, with each rider setting a goal of $3,500. Locally, Krebs and Wispelwey — who have surpassed the goal — and Buck got a big boost in this effort with some help from Eric Hirshfield, owner of the 18th & U Duplex Diner.
"I knew Stephen Krebs beforehand. He's a patron and friend," says Hirshfield, adding playfully that he had minor reservations about the Feb. 24 fundraiser at his restaurant. "I'm a Jewish guy from New Jersey. I was a little bit apprehensive, thinking, 'Is this going to be a bunch of "Christian-y" folks?' It was just a fun group of folks celebrating equality. It had nothing to do with denomination. It wasn't exclusive."
And thanks to Hirshfield, as well as raffle donations from Dupont Circle's Artists Inn Residence Bed and Breakfast and the Eatwell DC restaurant chain, Buck, Krebs and Wispelwey each netted more than $1,000 for the Soulforce mission.
That mission, says Krebs, is providing a voice where none existed.
"We strongly believe that we're going to places where people are taught to be ashamed of themselves. We're bringing a message of love, and we just want to have dialogue. We should have a voice in the conversation. It's an open and affirming perspective that's never heard on these campuses."
For more information about the 2007 Soulforce Equality Ride, visit www.soulforce.org/equalityride.