Lucinda Williams put her faith in a lover who "looked right into my eyes, said I'm not like the other guys." But her lover lied and cheated on her. So she comes to grips with the situation as only a singing-songwriting virtuoso could: with a tangled bout of pithy wordplay that leaves everyone speechless in its wake.
"What I thought I heard you say and what you really said/And what I thought you thought I thought was actually in your head," she spits on "Wrap My Head Around That." Williams doesn't sing the digressive verses on this blistering track, a nine-minute tour-de-force that struts and swaggers. She merely speaks her piece; singing would lessen the sting. "I know more than you think I know," she goes on, "More than you think about, and know and think you know and think, you got it all figured out."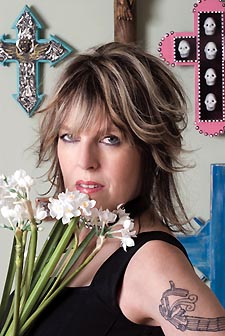 Loss leader: Williams
It's far and away the most stunning track on Williams's latest album, West (




), which finds the Southern-reared, roots-rock artist looking westward, in a mostly metaphorical manner. She uses the album as therapy, working out the pain suffered after two losses in her life — the death of her mother as well as the curbed boyfriend — so that she can move on to brighter, wider emotional pastures. It's an audacious concept, and one that threatens to ask too much of a listener. Hey lady, tackle your pain on your own time, one uncouth know-nothing might respond.
Don't make the world suffer with you!
Here and there, the songs on the intensely realized West are a little overdrawn in their achiness, a bit too plodding in their confused angst. But Williams has a gutsy, gritty, hard-to-control voice that warms the soul and conjures the best rock singers ever to record. And working with famed producer Hal Willner, she's done a masterful job of plotting out the 13 tracks here so that the listener wants to keep listening, to hear her move through her stages of grief, from shock to hurt to anger. The album ends in hope with the title track, a simple, country tune that finds wide-open horizons coming into Williams's focus.
But before those brighter horizons, Williams lets lose on her ex. As sweet as the early ode to her mother is ("Mama You Sweet"), it's these two love lashings that keep you coming back to West. In addition to "Wrap My Head Around That," there's "Come On." This is as close to Williams's past forays into rock as this album comes, and it's a scorcher. "You don't even have a clue, all you did was make me blue," she says in the first verse, before launching her repeated double-entendre grenade: "You didn't even make me, come on!"
She goes on to regret ever flirting with this sad sack, and shouts those last two words in such a way that by the second-time through, you can't help but sing right along with her. Come on! Right on!
Mara Levi's new album What Are You? (




)is as audacious as Williams's, but in a different way. The D.C.-based Levi grew up listening to folk, and she's a lesbian — both realities color her set, but that barely begins to paint a full picture of her. What Are You? is more of a pop, or even a cabaret, album than it is folk, and Levi's training in classical and jazz is also very much on display. She calls it "smart pop," and it is.
But even more audacious than this album's skillfully blended, rich musical diversity is the mere fact that Levi created it all herself, with no help from a celebrated producer — or even an obscure one — and no support from a backing band. The multi-talented instrumentalist and vocalist recorded it all from the comfort of her studio apartment.
Her songs are complex creations, with ravishing chord changes, catchy melodies and dazzling harmonies — not to mention drawing from far-ranging inspiration, including Johannes Brahms's German Requiem. But their complexity is subtle; she doesn't beat you about the head trying to make you notice it. She just wants the listener to have as much fun as she obviously did making it.
Lyrically she's mostly concerned with love and lust, but she gets political and philosophical on at least two occasions. Even here though she exhibits her standard quiet audacity. It's never clear what it is that we imbibe on "Drink It Down" — Is it generic Hollywood pabulum or rehearsed Washington sound bites? Whatever, she makes it sound so great, so cheers! Similarly, she never explicitly compares our current President to one of the most notorious robbers in American history. But her coded lyrics with reference to fear, manipulation and mediocre intellect, along with a quick aside about Texas, make clear to any thoughtful listener the ultimate inspiration for "Jesse James." And yet, the fact that it's a Gunsmoke-styled cow-tipping delight is the real attention-getter. Yee-haw!
The album is a bit too sprawling, and her lyrics occasionally stray into juvenile territory, or become too contrived. But those are quibbles. Levi is an amazing songwriter, and she's served well by her sweet Joni Mitchell-esque voice that runs deep, but not wide. It's girly but not shrill; strong and confident yet young and vulnerable. You never tire of her singing or her songwriting. And you can't wait to hear more.