You might be a girly man if… you spent a recent morning at work listening to the Dixie Chicks.
"We were just listening to them when we were putting our new CD in the mail," says Ty Greenstein, a professional Girlyman.
Girlyman, in this case, isn't one sweet and sensitive boy who fancies three-part harmony. It's a sweet and sensitive trio of two girls and a boy who fancies three-part harmony — and creates its own. Childhood singing friends Doris Muramatsu and Greenstein met Nate Borofsky in college.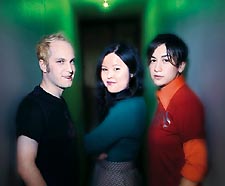 Girlyman
"We sang a lot together in college but it didn't occur to us to start anything," Greenstein, 32, says. But six years ago, Borofsky followed the girls from Boston to Brooklyn. "Suddenly we're all living in this apartment together, and we just started playing again. And it just felt really, really right."
Lead songwriter Greenstein says the queer name fits this queer-identified band. "We started to describe ourselves, and girly man was this word that came up. We were sort-of joking," says Greenstein, a lesbian. "It makes it impossible to take yourself too seriously."
The band does get serious, however, and its third album, Joyful Sign, reflects that. The album won't be released until next month but will be available at the Jammin' Java show this Friday, March 16. Says Greenstein: "The album is really joyful, really fun. But there's actually a lot in the album about leaving and endings and transitions, so there's a kind of sadness to it."
The album is also richer in sound than their previous two albums, largely on account of more drums and bass. Those earlier sets were released on Amy Ray's label, and Girlyman has toured with Ray's band, the Indigo Girls, and has drawn much influence from the lesbian duo. "[We have] a similar sound, a similar acoustic-leaning musical sensibility," says Greenstein, adding "with a little Paul Simon thrown in."
Explaining the contrasts that exist at a Girlyman show, Greenstein says their "songs can be very serious and can be very complex, and musically transporting. We like to work up campy cover songs too, so we have a couple of those up our sleeves." In the past they've even performed George Michael's "Father Figure." Laughs Greenstein: "It's really fun when Doris shouts, 'I'll be your daddy!"'
Girlyman performs this Friday, March 16, at Jammin' Java, 227 Maple Ave. in Vienna, Va. Showtime is 8 p.m. Cover is $15. Visit www.jamminjava.com or call 703-255-1566.