When Diana Ross crooned her immortal "Love Hangover," she probably didn't have a waitress and short-order cook in mind. But who hasn't felt that dreamy sparkle of hope in a sleep-deprived dawn? And who hasn't wondered if the "hangover" has nothing to do with love at all — just too many beers, too little sleep and too much unearned intimacy? This is the question, the dilemma, the reality explored by the hard-luck lovers in Terrence McNally's Frankie and Johnny in the Clair de Lune.
In one night, beginning with a bit of boldly dramatized love-making, we watch as Frankie, the waitress, and Johnny, the cook, turn from what came naturally to what does not come naturally at all: the quest for lasting trust and love. From the moment the apartment comes into view amid a sea of vast high-rises, we are instantly attuned to Frankie's imperatives: She is a woman of a certain age, living alone, barely making it, fully armored against the vagaries of love, and yet still somehow, despite herself, curious. Johnny emerges from the passion as the unexpected wild card. Instead of making his excuses and taking his leave, he begins professing loud, exuberant love for Frankie. The ingredients are set for a fascinating tug of war, love and humor and, by and large, we get it.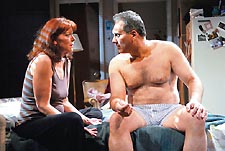 Buddeke and D'Ambrosio
(Photo by Scott Suchman)
The heart and soul of this production is the amazing Kate Buddeke, who gives a beautifully realized and believable performance as Frankie, caught superbly in posture, voice and face. We see a woman still capable of casual passion and maybe even a deep and fulfilling love. Yet in a hundred little ways she is poised to become the hermetic elderly apparition familiar to anyone who has lived in an apartment building — the keeper of a lonely life filled with tiny rituals. With this glimpse of the future, shown to us in the particular way Frankie moves about her apartment, Buddeke creates a poignant undercurrent to the burning question of whether she can love again before it is too late and whether Johnny is worth the risk. Despite her world-weary deadpan, we can see this woman grappling for truths in the face of Johnny's adamancy and his flaws; his pufferies and his apparent sincerity. It is a riveting performance.
Vito D'Ambrosio as Johnny is also hard to ignore, but not quite for the same reasons. He is simply too loud. In the intimacy of the Kreeger there are few issues of acoustics and, as Buddeke ably demonstrated, even an aside carries well. Certainly Johnny is the epitome of a boisterous demonstrative talkaholic, but nevertheless, people in reality do not bark non-stop at top volume (except when they're staring at the moon or listening to Clair de Lune). They have more range, even if it's non-verbal grunting (another of Buddeke's skills). D'Ambrosio's accent is also uneven, occasionally falling out of "tough guy" and into something more cultivated, which rather muddies the waters — one of Frankie's biggest questions is whether Johnny is "for real."
Frankie and Johnny
in the Clair de Lune




Arena Stage
6th & Maine SW
To April 8
202-488-3300
www.arenastage.org
Still, D'Ambrosio brings a lot of the necessary verve and persuasive charm to his Johnny along with a convincing physicality and some interesting notes of bitterness and sadness behind the bravado.
Director David Muse gives the production an alternating tightness and flow that makes the tension work along with the many laughs. The actors move and emote around a tiny one-room apartment, yet we never tire of the physical and emotional choreography. Neil Patel's set is integral to the palpable mood of loneliness, as well as the comforts, of a huge anonymous city.
Nancy Schertler's lighting also deserves mention. She has completely grasped the moods of apartment life at night: the darkness broken by city light across bed-sheets, incandescent lamp-light amid hours of talk, and the coming of dawn. She truly captures the long night that brings the day and its inevitable hang-over. A drama worth seeing, Frankie and Johnny will stay with you after you leave the theater — but it's a hangover you won't want to cure.