In mid July of 1992, the United States was simmering — not from the heat, so much as the feeling of change in the air. Eight years of Ronald Reagan's presidency, with a successive win by his vice president, George H.W. Bush, was coming to an end. Meeting in New York City, Democrats held their national convention and employed Fleetwood Mac's "Don't Stop (thinking about tomorrow)" to set the tone. Organizers set a more somber, yet still hopeful, tone with Bob Hattoy, the first openly gay, openly HIV-positive person to address a national audience.
"We have watched our friends and lovers die, but we have not given up hope," Hattoy told prime-time America, having learned he had AIDS and lymphoma just weeks earlier. "Gay men and lesbians created community health clinics, provided educational materials, opened food kitchens and held the hands of the dying in hospices. The gay and lesbian community is an American family in the best sense of the word…. President Bush, we are a million points of light; you are just too morally blind to see us."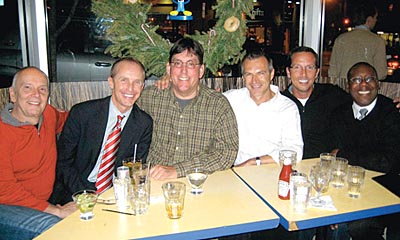 Hattoy, center, surrounded by his friends at the Diner on his last trip to D.C.
(Photo courtesy 18th & U Duplex Diner)
Hattoy, who went on to gain a reputation as a bit of a thorn in the side of the Bill Clinton White House, publicly challenging the party line on issues such as gays in the military, died Sunday morning, March 4, in Sacramento. He was 56. Though the exact cause of death has not yet been determined, his close friend and former boyfriend who held medical power of attorney for Hattoy, Bob Pelham, says Hattoy likely died of heart failure, following a weeks-long battle with pneumocytis pneumonia (PCP) and a bone-marrow infection. "Basically," says Pelham, "complications from AIDS."
The gravity of Hattoy's historic, groundbreaking speech and the sadness that accompanies news of his death in no way, however, equal the sum of Hattoy's character. People who knew Hattoy don't talk about a flag-waving activist storming the halls of power, but rather a quick-witted, self-deprecating jester who liked to have a good time.
"He was funny, bubbling with energy and passion, always witty, joking. And very upfront about everything with everybody," remembers Deacon McCubbin, owner of the Lambda Rising bookstore, frequented by Hattoy and located in the same Dupont Circle neighborhood he called home during the mid to late 1990s. "It was ironic to me — bitterly ironic, I guess — that just that night before, I came across his entry [in a guestbook]. I wondered what he was doing…. The very next day, I got the message that he had passed away."
Another favorite haunt of Hattoy's was the 18th & U Duplex Diner. On Monday evening, the café's sidewalk chalkboard announced the "Washington celebration of Bob Hattoy's life." Owner Eric Hirshfield says that by the night's end, 50 to 60 people passed through, sharing Hattoy recollections. Smatterings of conversation around the bar Monday were sometimes raunchy, sometimes reverential.
"I knew him pretty well — he was probably our first regular customer after we opened in 1998," Hirshfield says, adding that Hattoy's favored cocktail was a Belvedere Vodka martini with olives. "He was very discerning about how it was made, chilled and shaken."
Hirshfield adds that Monday night's gathering both softened and emphasized the loss, saying, "With his friends here, it was really hopping. I just kept feeling like something's missing. It was Bob. He would've worked the whole room. He would light up a room. He was gregarious, outgoing, warm, embracing. It was largely a political crowd here, with different opinions and beliefs. Bob would have brought them all together."
The last time Hattoy did just that was in early January, back from California for Rep. Nancy Peolosi (D-Calif.) being sworn in as speaker of the House.
"I bumped into him on Connecticut Avenue," Hirshfield recalls. "He said, 'Let's have a get-together at the Diner.' I put the word out to the faithful that he was in town and about two dozen of his friends showed up."
It was on that trip, or shortly thereafter, says Pelham, that Hattoy contracted pneumonia, marking the final downward turn in his health.
Since Hattoy's death, the outpouring of condolences is testament to the legacy Hattoy leaves behind, be it as an advocate of the environment in California, an advocate for HIV-positive people everywhere, or as an advocate of teasing his friend Andrew Sullivan from across the bar at the Duplex Diner.
"Maria and I were deeply saddened to learn about the death Sunday of Bob Hattoy, president of the California Fish and Game Commission and longtime citizen activist," reads the statement, in part, from Gov. Arnold Schwarzenegger (R-Calif.). "Bob was a true renaissance man who possessed great courage, wit and integrity."
From Joe Solmonese, president of the Human Rights Campaign: "Bob Hattoy was truly a person of courage. His prime-time speech on AIDS at the…Democratic Convention broke new ground in the fight to combat the disease and forever changed the way millions of Americans viewed people living with HIV/AIDS."
And from Sullivan, on his blog: "He was a fantastically funny, pathologically indiscreet, wildly irresponsible, AIDSy queen with great hair. And he had more integrity in his little finger than all the other gays in the Clinton administration put together…. We were ideologically miles apart, but Bob was so real, petty issues like politics never got in the way."
Pelham says he also got a call from Hattoy's old boss. "Even Bill Clinton called to express condolences on behalf of [himself and Hillary]."
Pelham says there will be four upcoming celebrations of Hattoy's life to follow, just as Hattoy requested — one each in Washington, New York, Los Angeles and San Francisco.
"There's going to be a more formal one in D.C.," promises Pelham. "He wanted four of them — four celebrations of life with drinking and people to remember how happy he was. Or how big he was — he was constantly saying he'll be the first person with AIDS to die of obesity."
Pelham says Hattoy had another wish he'll be honoring following Hattoy's cremation: "He wanted [his ashes] to be placed in one of my antique martini pitchers."
When available, information about upcoming events celebrating Bob Hattoy's life will be posted online at www.metroweekly.com.