Don't ask him to explain it. Jason Royce just knows it's for real.
"They all know Rick Astley, and they all know Donna Summer," says Royce of today's twentysomethings. They were mere toddlers when people gave up on Astley. How do they know Whitney Houston's early hits? They couldn't even talk to ask "Who's That Girl?"
"Somehow, people just know," says Royce, 30. Maybe it's because they're regulars on Tuesday nights at Cobalt, where Royce has been the DJ since the club reopened after a fire five and a half years ago. Originally launched when Cobalt first opened in the space in the mid-1990s, the retro-themed Tuesday party, says Royce, "is the only thing that is really still the same from the old Cobalt."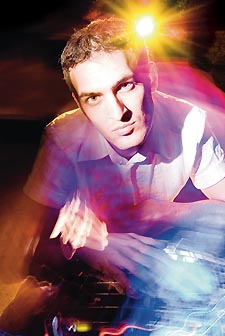 Royce
Even the retro is retro.
Royce, who also serves as the club's assistant manager, was a mainstay at Cobalt long before he took over the DJ booth — "I used to come here every single Tuesday, whether sick, with a broken leg or the flu" — and offers various reasons why his Flashback party's popularity endures. Today's younger crowd may not have been around when the songs he plays were originally popular, but "they're not so much into circuit stuff," either.
"I think the majority of people going out now want something fun, and kind of cute and interesting that they recognize and know," he says. Plus, the music's appeal spans the age spectrum.
Royce hasn't budged on the general time span his playlists cover: pop and dance hits between 1976 and 1993, give or take a year. And he refuses to spin anything but the original productions.
With music, of course, what goes around comes around. With the recent success of Junior Jack's "Stupidisco," which samples the Pointer Sisters' "Dare Me," Royce started playing the Sisters' original.
"People stopped and said, 'Why did you play this? This song just came out,"' he laughs. "I'm like, 'No, child, this came out in 1985!"'
Flashback happens Tuesdays at Cobalt, 1639 R Street NW. Doors open at 10 p.m. No cover.