Dilcia Molina is not a criminal.
Yet in Honduras, where she was born and raised, the 42-year-old lesbian and mother of two says she was often treated like one, due to her equal rights advocacy and investigations of child prostitution rings in the country.
Molina says she is certain that the six military police officers who raided her home, armed, in November 2001, had intended to rape her, to "get the lesbian out of me," she says with the help of a translator.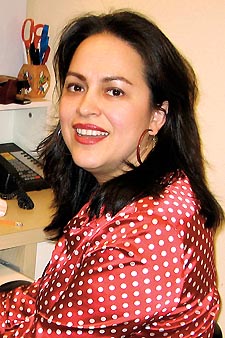 Dilcia Molina
(Photo by Yusef Najafi)
"They were looking for me due to my work with human rights and advocating for LGBT equality," she adds.
But Molina wasn't there the night military police broke into her home. She was in Mexico studying conflict resolution — she had to hear by phone what the men had done to her son and babysitter.
"One of the men grabbed my son and cut his face with a knife," Molina says. "He tied up my son and the girl who looked after him, and tortured them."
It was then that Molina, who had also endured three months of phone threats and vandalism to her car, decided to leave Honduras for good.
Granted political asylum in the United States in 2002, Molina currently lives in Fredericksburg with her two sons, who are 14 and 12. She works part-time as a project coordinator at La Clínica Del Pueblo in Northwest D.C.
In addition to conducting research on Latino/a immigrants who engage in commercial sex work in metropolitan Washington, Molina has devoted her time to helping other immigrants who are seeking legal residence in the U.S. by referring them to pro bono attorneys.
Molina's story was featured in a 2003 documentary, Dangerous Living: Coming Out in the Developing World, which highlights the struggles of gays in the global south.
The Latino LGBT History Project, along with American University's Anthropology Department and GLBT & Ally Resource Center, will kick off "Creating Spaces: The Latino LGBT Community in the D.C. Area," a forum discussion about various topics among the gay Latino/a community, at 11 a.m., on Saturday, March 24, at American University's Ward Building, with the one-hour documentary.
Maria Amelia Viteri, the event coordinator from AU's anthropology department, says the event is part of a broader conference, titled "Interrogating Diversity: Interrogating Issues of Contemporary Surveillance and Policing", that kicks off on Friday, and wraps up on Saturday, March 24.
"[The forum] is mostly geared to the LGBT Latino community, but not exclusively," Viteri says, "the reason why [it's exclusive] is that it's a part of a bigger conference."
Still, when issues of sexuality and race intersect, the conversation gets "much more complicated," Viteri explains, which is why several experts representing different aspects of Washington's GLBT Latino/a community were invited to speak at the event, she says.
According to AU's press release, activists from the Latino/a community will provide "additional lenses to look at the role of surveillance and policing through the constitution of the LGBT Latino community in the area highlighting [the community's] struggle to create a movement despite police [and] government surveillance based on race, ethnicity, country of origin, gender identity."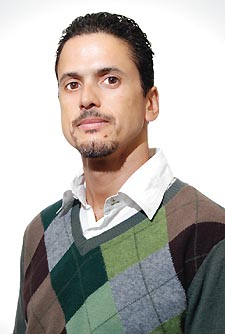 Enrique Perez
(Photo by Todd Franson)
They include Molina as the moderator of the discussion, Imaya Gabriela García and Omar Reyes, from La Clínica Del Pueblo; Juan Noboa and Jose Gutiérrez from the Latino LGBT History Project; and Letitia Gómez from the national Latino/a Lesbian and Gay Organization (LLEGO) and ENCLACE; and Enrique Pérez from the Maryland AIDS Administration.
Pérez, 40, who's also recognizable as a member of the D.C. Cowboys dance group, says he is offering his expertise in the area of immigration.
"Because I've been in this country for 11 years…I know how difficult it could be," he says.
Pérez originally left Venezuela for Miami as a tourist more than 10 years ago. He eventually ended up in the Washington area, where he studied hospitality and hotel management at Montgomery College. There he applied for and received a student visa. Two years ago, Pérez acquired a green card.
"I knew I wanted to stay," he says about his initial visit to the U.S. "I did not want to go back to Venezuela because I couldn't be out and live openly as a gay man.
"[Legalization] is not an easy process," he continues, "but it's also not difficult or impossible. It's all about being informed and meeting the right people."
The lack of information in the Latino/a community is one issue Molina hopes to tackle during Saturday's event.
"There's very little information regarding political asylum, it's in English, and it's not distributed well enough," she says. "Our population does not have access to this kind of information, because it's on a computer, and people who come from Central America, sometimes, don't know how to read or write. That's a limitation to information, and there's also the language barrier."
In addition to providing information for immigrants about how to seek legal residence in the U.S., activists are hoping to raise awareness about the GLBT Latino/a community, its history in Washington and some of the stereotypes they would like to demolish.
"Some people think that Latinos are uneducated, and that is not true," Pérez says. "There are lots of professionals here, who already got a bachelor's degree or Ph.D., or M.D. back in our [countries]…. We are also hard workers, and we also don't want to [live illegally here]…. What we're trying to explain is who we are, what we do, what we want to do, and where we are going to get taking this right track."
Pérez says working at the Maryland AIDS Administration makes him feel like he's on the right track.
"This kind of job is hard, but it's very rewarding, and at the end of the end of the day you think about what you did," he says. "Thinking about one person that you helped [is] rewarding. It makes you feel like you did the right thing, not only for yourself but for some other people and it's recognized by them."
Molina also finds it rewarding to help others. She is responsible for launching Madre Tierra (Mother Air), an organization that helps Latina women who are dealing with domestic abuse and other issues.
"We didn't know where to put the political asylum element in the organization," she says of the group's evolution, "and that's why Madre Tierra took it as an initiative, because we work on political asylum cases based on domestic violence."
Molina and other panelists will discuss political asylum and other issues pertaining to the gay Latino/a community on Saturday.
"For me it's important, opening a dialogue, looking at the LGBT Latino issues and getting to the depth of the issue," she says. "Because I believe there's a lot of codes from the LGBT community that are not related to us in anyway, and you have to make a statement without biases on racism and sexism, because even inside the gay community, there's an inner discrimination."