"Life should be sweet."
So says Rose, mother of Mort, mother-in-law to Bev, grandmother of Fern and Sandra. It's that simple. As elderly Rose slowly exits the stage, it's impossible to deny that her story — her love story — isn't the sweet happy ending we all hope for. It's the stories that precede her tale in Sherry Glaser's one-woman show, Family Secrets, that remind us life can also be bitter.
Family Secrets is about the secret to being a family and the secrets that are a family. Based largely on her own life, Glaser's performance is simply stunning. Glaser co-wrote the show with her husband Greg Howells, who, in a story that could have come out of the play itself, disappeared in 1997 and has since been declared dead. Glaser embodies this type of pain as she weaves together five stories told by three generations of the Fisher family, each one laugh-out-loud funny and heartbreakingly sad. Glaser inhabits each character completely, defying the risks of a one-woman show.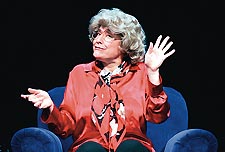 Glaser
Glaser takes the stage as Mort, a slightly grumpy Jewish accountant living on Long Island. He only wants to be happy, but it's so hard when your daughter becomes a witch, brings her lesbian lover to family gatherings and then gets pregnant by the Hispanic spiritualist. Why can't life be simple? In her only gender-bending role in the show, Glaser does a fine job playing Mort as a slightly broken, but still ticking, father. As Mort finishes stripping away the layers of his story, Glaser starts to strip off the layers of her costume to slowly transform into Mort's "crazy" wife, Bev.
Cackling through most of her tale, Bev recounts her struggles to be the perfect mother. Her inability to reach this impossible goal ultimately leads to a breakdown. Even as Bev laughs at her own antics, the nervous tics that Glaser subtly employs belie the anxiety that still resides within. The saddest story, Bev's is also the strongest and best performed.
Glaser then tackles the stories of the two daughters, one giving birth to the fourth generation of the Fisher family, the other still 16 and lost in teen angst. Fern's recounting of her long labor ultimately becomes just that — laborious. However, Glaser pours enormous amounts of energy and life into this character and her performance wins out over the lacking story. As Sandra, however, the play truly falters for the first time. Though an equally heartbreaking story as the others, Sandra fails to connect to the audience the way her family members do.
Family Secrets




To April 15
Theater J
1529 16th St. NW
$15-$45
800-494-TIXS
www.theaterj.org
As Rose, Glaser brings it all together. Rose cuts through the crap and reminds us that families aren't defined by all the secrets and lies and disappointments; families are ultimately about love. Fortunately, it's never too late to discover — or rediscover — love. Rose's mirth and happiness spill off the stage into the audience as she leads a sing-a-long for such classics as "Hava Nagila" and "Sunrise, Sunset." While the non-Jews in the crowd might be a little lost, it works.
Glaser relies on little beyond her own talents during the show. A chair, a bed and a changing table are all that are required to tell the Fishers' story. Subtle changes in lighting mimic the subtle changes in Glaser that define the character. Ultimately, the true prop is Glaser's own body. Whether she's gyrating to rock music or trembling with age, Glaser morphs into each new person before your eyes. One minute Mort is taking off his suit jacket from a long day and the next minute Bev is primping her perm in the mirror. The transformations are quick, minimal and complete, and are critical to Family Secrets' success.
In the final moments, Rose embraces the audience as only a grandmother can, reminding us that we might have started the show as strangers, but we're family now and because of that we're all expected at Passover this year.
Accept the invitation. You'll enjoy your time with the Fishers.