It's hard to believe that Amy Winehouse, a 23-year-old white girl from London, is the voice behind the 11 soulful tracks that comprise her second album Back to Black (




). You'd swear you were listening to an aged jazz vocalist from the '50s or '60s. But it is in fact Winehouse, and if you're audacious enough to try to describe who she sounds like, you might mention Lauryn Hill, Erykah Badu or even Mary J. Blige. You might even reference American Idol season six contestant Melinda Doolittle's old-school singing style. But there's something unsettling about labeling Winehouse as the next anyone, because there's something different about her sound: It's new.
And it only takes a few seconds into the first track before you're sucked in by the raspy vocals, casual lyrics and addictive hooks that make up the choruses in each song, including the first track "Rehab," in which Winehouse repeatedly sings, "They tried to make me go to rehab / I said No, No, No."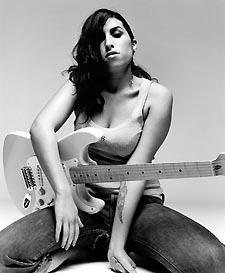 Winehouse
She ain't lying either.
In the five months since releasing Back to Black in the U.K., Winehouse, who has spoken publicly about suffering from manic depression and her refusal to take medications, has built an edgy rock star reputation by missing concert dates, or showing up and vomiting mid-set on the stage. She's also admitted to having issues with bulimia and anorexia, and at times has been spotted with cuts on her arms. Bottom line: Winehouse is a tortured soul and a natural musician, and she pours all of her anguish out in Back to Black.
This is evident mostly on the title track in which Winehouse's vocals take on a hypnotic somber vibe when she sings "We only said goodbye with words / I died a hundred times / you go back to her / and I go back to black." That song is followed by "Love is a Losing Game," probably the most somber track on the album, in which Winehouse takes a gentler approach and shows a more vulnerable side, as she sings, "Over futile odds / And laughed at by the gods / And now the final frame / Love is a losing game."
At first listen, you might chalk up Back to Black to be a breakup album, but it's much more than that. It's about loneliness, lingering feelings and self-evaluation. Winehouse bares it all on the current single "You Know I'm No Good," a catchy funk-driven track that mixes her vocals with an up-tempo beat and lots of trumpets. "I told you I was trouble / you know that I'm no good," she sings.
There's something about the chorus of all the songs on the album that sticks. Songs like "Tears Dry On Their Own" play over and over again in your head after you've stopped listening to them. It's hard to determine if it's the lyrics or Winehouse's vocals that do that, but whatever it is, it's a forte she's mastered on the entire album, one that other artists usually fall short of, by releasing an album that has only one or two good songs. Winehouse has jumped over that hurdle, and you realize it by the time you're listening to the third track, "Me & Mr. Jones," in which Winehouse really channels classic jazz, using doo-wop melodies and a classic backbeat.
She modernizes the song by shamelessly asking, "What kind of fuckery are we?" Those lyrics compliment Winehouse's vocals and make Back to Black reminiscent of classic jazz. But only reminiscent. You know the album was made in this decade. And despite its classic R&B and jazz leanings, Back to Black is refreshing and addictive, even for listeners who don't regularly listen to that genre of music.