EVOLVE-ING INTO IRRELEVANCE… Victor Calderone waxes nostalgic about clubbing days past on his just-released compilation, Evolve. "When I look back into the days, the better days," the vaunted DJ says, uncharacteristically in his own voice, "people were dancing, people were smiling." Why aren't people dancing and smiling nowadays? He doesn't say. Instead, he just suggests a remedy, intoning: "Let me set you free."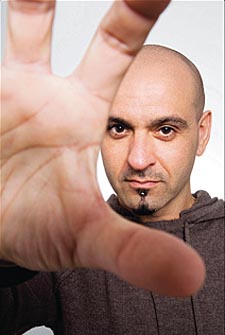 Calderone
Actually, people are still dancing, though maybe not as often or as vigorously. And they're even still smiling, though not as openly. The reason? Just listen to Calderone's new compilation — his first set in nearly four years — and you'll see. Calderone has evolved since he came to prominence a decade ago as Madonna's chosen remixer and then became a superstar DJ in thriving gay clubland. He does neither much remixing nor much spinning at gay events anymore.
The straight DJ's sound has evolved, too. But Evolve, named after his three-year-old mixed straight-gay New York party, demonstrates it's not exactly progress. Fortunately, one thing that hasn't changed: Calderone still works the bass like nobody's business. He's the master of dance music's low frequencies, a skill he picked up from Junior Vasquez, but one that he's made his own. Meanwhile, his genre of tribal house has faded as the predominant sound of dance music. So Calderone has shifted to incorporate the sound of now: blippy, techno-flavored electro with an industrial, exposed sound — a sound that works dance music's high frequencies, you could say. The problem: aggressive, polyrhythmic tribal beats are by nature warmer in feeling, with higher humidity, than aggressive, piercing synth sounds. Without some sense of melody or even just modulation, there's nothing to sing back, nothing to clamor for. And Evolve gets downright menacing at several points. And monotonous. The vocals that Calderone includes are non-melodic, digitally enhanced chants, shouts and screams. His own tracks now — he's included three here — are but a reflection of his former productions, all minimal layers and arid sonics.
You look to Calderone to make you feel warm, as well as set you free. But despite his professed intentions, it never happens. You remain shackled to his colder vision of the future, pining for the freedom and warmth of clubbing days past….
JUNIOR: "Y'ALL HAD ENOUGH YET?"… Junior Vasquez will release a new two-disc compilation in April, his second for Centaur Records. And let's hope it's better than last year's cluttered White Party 7. But the real news about Vasquez is whether he will or will not retire from the business this year. An article in the March Out suggests he will. But in an e-mail, a Centaur Records executive said he will not — or at least, if he does, it'll be "news to all of us here at Centaur." Is the truth somewhere in between? By e-mail, Vasquez's publicist says he's considering retiring in June, but only from DJ'ing. In other words, his Monday, June 25 gig at Pacha Nightclub is likely to be more than just the "Last Dance" of 2007's New York City Gay Pride. Further fanning flames of retirement, or at least a hiatus: a banner linked to upcoming events on Vasquez's Web site announces, "The Writing's on the Wall." Vasquez, nearing 60, has been spinning since house music emerged out of disco. Still, talk of retirement now comes as a surprise, since just in the past two years the DJ has renewed both his outlook and much of his storied popularity after battling a years-long crystal meth addiction.
But perhaps Vasquez feels he's achieved all that he can as a DJ; that it's as a producer, or even a remixer, that he's got higher heights to scale. After all, the man who popularized club remixes has never, actually, won a Grammy as Best Remixer. Not even this year, for his brilliant hip-hop-flavored club remix of Christina Aguilera's "Ain't No Other Man." Egregiously, it wasn't even nominated….
GRAMMY CONFESSIONS… Who did win as Best Remixer at last month's Grammy Awards? None other than Madonna's latest producer, Stuart Price, a.k.a. Jacques Lu Cont, who won specifically for his remix of Coldplay's "Talk." The nod was actually Price's second win of the remixing statute, having won in 2005. Meanwhile, his work as producer of Confessions on a Dance Floor earned Madonna her only award of the evening, for Best Electronic/Dance Album. But Justin Timberlake kept Price from sweeping the three main dance awards. "Sexy Back" beat out Madge's "Get Together" to go-ahead-be-gone-with Best Dance Recording….
VOTE FOR YOUR FAVORITE HUMPS?… Maybe Vasquez will have better luck at the International Dance Music Awards, the industry's most popular awards. Voting is open to the public until this Saturday, March 10. (Visit http://wmcstore.com/idma/ballot.asp) Vasquez is only nominated once, but especially with talk of retirement, he could get the write-in vote for Lifetime Achievement Award. His nomination, though, is as Best Remixer, and it's his title to lose. At the IDMAs, Tiesto, as ever, snagged the most nominations — five — followed by Gabriel & Dresden and Armin Van Buuren, with four apiece. But Beyonce, Justin Timberlake and even Christina Aguilera all earned more nominations — three — than Madonna. She scored two, or the same as the revived Bananarama, Rihanna and Fergie. Meanwhile, D.C.-based DJ duo Deep Dish scored surprisingly just one nomination this year, as Best American DJ. Also scoring a nomination: D.C.-native Rachel Panay, whose debut artist album is due by summer. Panay is nominated as Breakthrough Dance Artist, competing — against all odds — with Dutch sensation Fedde Le Grande and Fergie….