When DJ Susan Morabito plays Apex next Friday, March 30, you won't hear a certain diva on an endless loop shout "Throw your hands up in the air!"
In other words, no "Cha Cha Heels" on Morabito's dance floor.
"[It's a] wretched record. Dreadful. Would never play it," Morabito says about the widely popular three-year-old circuit anthem by Rosabel featuring Jeanie Tracy. You won't hear much from the Beyonce or Britney Spears repertoire either.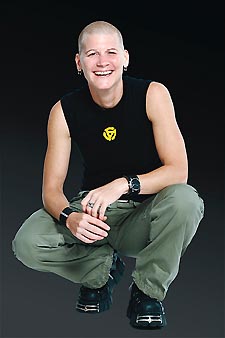 Morabito
"I'm not going to win any popularity points," says Morabito, "but the mainstream stuff that the bulk of the DJs on the circuit are playing, I don't care for it. I find that it all sounds the same. It's just a sound that I could never really get into and I find it somewhat soulless."
Morabito complains that the circuit sound hasn't changed for pretty much the past seven years. "I really wish the gay community would move out of that," she says.
Morabito, of course, isn't some ordinary bystander criticizing the circuit sound. She's anything but ordinary, and she's far from a bystander. She's a circuit legend, spinning for 25 years now. The pioneering lesbian DJ almost single-handedly pushed open the booths to today's increasing lineup of lesbians — and women, in general — got her start on Fire Island, where the gay circuit began.
These days, the Cleveland-reared, New York-based Morabito aims to diversify the circuit sound, playing what she considers "tasteful" house music, largely from Europe, and especially the U.K., where the sound "is constantly changing."
"There's more natural instrumentation in the bulk of what I play," Morabito says. "You'll hear horns, you'll hear guitars. It's a little more musical."
Morabito likes to throw a club classic or two into her set. Classics are not just favorites from her earlier years, or a previous era's greatest hits, but "hits that stand the test of time, something that people still want to hear." She cites Lustral's "Everytime" and the Pet Shop Boys' "Where the Streets Have No Name" as two such examples.
Classics are a rare breed. The bulk of records, she notes, "are just good for the moment: really big for three, four months. After that, nobody wants anything to do with them."
Susan Morabito will spin next Friday, March 30, at Apex Nightclub, 1415 22nd St. NW. Doors open 9 p.m. Cover is $9. Visit www.apex-dc.com or call 202-296-0505.