All Karl Jones asks for is a little dance music diversity. "When I first moved to D.C. six years ago, there really was nothing," he says. "You'd go out and there'd be that Cher remix again."
So Jones, a 29-year-old Oklahoma native, set out to stir things by founding, with friend Danny Fowler, Taint, an alt-queer monthly party. Three years later, Taint packs several hundred people a pop to the hipster DC9 bar.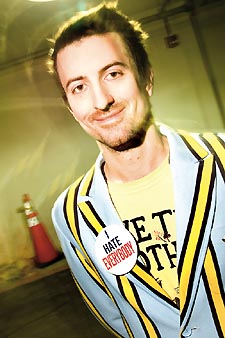 Jones
And now Jones and his party aesthetic is infecting the 9:30 Club as well — as Infamy.
But Infamy is more than just a super-sized Taint. Jones and Fowler have teamed up with DJ Will Eastman, who has been throwing the monthly indie-pop party Bliss for seven years at the Black Cat's Backstage. "Bliss is like an alternate universe. It's Taint without many gay people," Jones says. Merging the two parties to create a new third entity was a natural development. "Taint definitely started out more [of a gay-straight mix," Jones explains, but DC9 "is just such a small space, the gay boys took over. Infamy is a chance to bring more people into the fold."
Infamy features selections from local filmmakers and visual artists as well as performances from local bands — including the underrated, gay-fronted Soft Complex, who will make an appearance at the Saturday, March 10 event. Musically, the focus is on playful pop, and nearly half the fun seems to be giving the sound a name.
"We're kind of describing it as salacious synth-pop or delirious dance-pop," Jones says. Goldfrapp, Scissor Sisters, Hot Chip and Le Tigre are some of the better-known, largely British-influenced modern pop makers that Jones cites as getting play at Infamy. "Right now I'm sweating to Simian Mobile Disco and remix artists Switch and Dirty South," adds Eastman, the resident DJ.
Currently bimonthly, Infamy may become another monthly Saturday night event at the 9:30 Club, after Bob Mould and Rich Morel's Blowoff. But Infamy isn't just a bit less gay. As Jones explains, the men also generally "keep their shirts on."
Infamy happens this Saturday, March 10, at the 9:30 Club, 815 V Street NW. Cover is $10. Doors open at 11 p.m. Visit www.infamydc.com.