Despite some recent reports, Lieutenant Alberto Jova, the gay assistant to Washington's interim Police Chief Cathy Lanier, says the chief has no intentions of removing officers from the Gay & Lesbian Liaison Unit or stationing them at other police districts, in her attempt to expand the unit's services.
"The office will remain physically located where it is now, but when it's expanded, the officers will be more mobile and will be able to reach more parts of the city," Jova says.
"There is perhaps the misperception in the community that if citizens need the GLLU, they have to come to the third district, but that's not true. We go out to them. We just want more officers to be available to go out."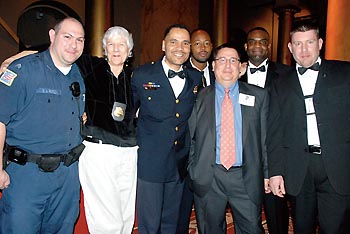 Lt. Alberto Jova, third from left, with members of the GLLU at the SLDN National Dinner
(Photo by Ward Morrison)
Jova confirmed that Lanier is currently planning to expand the five-member squad by adding two more officers.
"The chief wants to increase the number of sworn members from five to seven because her vision is that there will be seven officers who can represent the seven police districts," says Jova.
In addition to expanding the unit, Jova says officials are near to starting the selection process for a new commanding officer to replace Sgt. Brett Parson, who announced his departure in January in order to take on a new assignment in the Third District. The closing date to submit an application for that position is March 30.
"We'll see who's applied and I'll form some sort of selection committee," Jova says, adding that there is currently no one that comes to mind as Parson's most suitable replacement.
However, in some ways Jova has already taken the lead.
Jova says all of the officers at the unit, including the future commanding officer will report directly to him, and he will in turn report to the chief.
"[Parson] had considerable authority because he was the commanding officer [at the GLLU] and I have about the same amount of authority as he did, but it's a different role… I'm not there physically. I'm here in the chief's complex, so I can't say it's more or less authority."
In an open letter last week to the to the Committee on Public Safety and the Judiciary, the Gay and Lesbian Activists Alliance (GLAA) announced that it would not endorse Lanier as the new police chief, posted on GLAA's Web site.
"[We] must object to Mayor Fenty's cavalier approach to naming a new police chief," says GLAA Vice President for Political Affairs Richard Rosendall in the letter. "Such an important job requires more of a process than inviting someone to breakfast and offering her the job. Nine years ago, the last time a new police chief was chosen, there was a nationwide search, and I served on the citizen's advisory committee. Chief Ramsey requested a meeting with GLAA the day his appointment was announced."
GLAA's decision came after a half-hour phone interview between Rosendall and Lanier.
"We do not seek an adversarial relationship with the Chief of Police, nor indeed with any District official," Rosendall adds. "We simply have too many unresolved concerns to offer an endorsement today. We believe it is time for the Mayor to start over and conduct a proper search for a new chief — something he promised to do and to consult us about."
Rosendall and other activists were concerned about the possible disbandment of the unit, lack of sensitivity training among veteran officers, among other issues.
"I think they have legitimate concerns [as activists]," Jova says. "But we are trying to allay their concerns."
Jova is asking the gay community to trust Lanier's vision to expand the GLLU, a move that he says will help everyone.
"I am openly gay," he says. "[Lanier] has appointed me to a position that carries a level of trust… . I'm hopeful that the community will trust me and by virtue of trusting me, trust her."
Jova says he is in "constant dialogue" with Lanier in his role as advisor on GLBT issues.
Jova joined the police force nearly two decades ago. The resident of Takoma Park, who lives with his partner of two years, started out as an officer in the fourth district and served as a sergeant in the third. Jova had originally planned to work for Maryland's Prince George's County Police Department, but turned to Washington instead after finding Prince George's hiring process at the time discriminatory.
"They have a blue book that you have to fill out which just compiles your history, and in it they ask a bunch of medical questions, and they have a list of different diseases, and they say do you have the disease of tuberculosis, measles, mumps, so on and so fort, and then they say do you have the disease of homosexuality?," he says.
"They listed that as a disease, and I said to myself this is not the department for me."