With the final blast of winter passed — keep your fingers crossed, please — it's time to turn to thoughts of spring. Blooming flowers, chirping birds, flowering love, a coating of greenish-yellow pollen on every surface.
Except for that last one, spring is the time finally let down your hair and leave behind the short days and low chills of winter. And what better way to do that than with top-down driving that lets the wind blow through that hair. Or, in some cases, over that freshly shorn crown.
Whatever you follicular state, you can partake in the joys of convertibles. These days, the convertible also comes in a variety of shapes and prices, making it a little easier to find something that suits your own situation.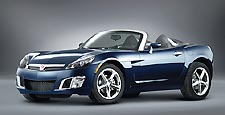 Saturn Sky Redline
Easily one of the hottest new coupes to hit the streets in ages, the 2007 Saturn Sky is a surprising head-turner in every way. When the two-seat roadster was dropped off in my driveway, my neighbor sauntered over and asked the company rep what kind of car it was. His answer was greeted with a bit of shock.
"A Saturn? Are you kidding me?"
That pretty much sums up the attitude of just about everyone I talked to who realized a Saturn badge was affixed to this sharp and aggressive looking coupe. It's not that often that a car company really turns around its image and product line, but Saturn seems well on the way, between the Sky and other offerings such as the Aura sedan.
2007 Saturn Sky Redline
$29,025 base MSRP
Mileage (city/highway): 21/30 mpg
The Sky Redline adds a few bonuses to the car's already impressive stance, in particular turbocharging the four-cylinder engine for a significant power boost. Like the Pontiac Solstice, with which it shares the same base platform, the Sky is a front-engine, rear-wheel-drive roadster, which is reflected in the relatively mammoth front end and tiny rear deck. It feels totally American, and I mean that in the best possible way.
Like the Solstice, however, the manual convertible top, while fairly easy to put up and down, takes up the entirety of the already miniscule trunk space. You won't be making any top-down romantic getaways for two, unless your domestic partner is willing to carry all the luggage in his or her lap. It can be a challenge getting into and out of the Sky — it sits very low to the ground — but once you're settled, the interior is more comfortable than expected, and well designed to boot.
If the Sky Redline is a little over your budget, the non-turbo version starts at $25,325.
---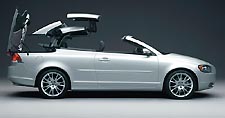 Volvo C70
While the 2007 Volvo C70 may look a bit staid at first, when you press the button to drop the top you'll suddenly find yourself the center of attention. With all the motorized whirring, synchronized separation and precision folding that ensues whenever the roof goes down, it looks like the C70 is turning into Optimus Prime.
A two-door coupe that seats four, the C70 is well-suited for those who like the idea of a convertible, but aren't into small, showy roadsters. With the top up, you'd be hard pressed to know the open air was just a button-push away. Unlike the wind-noise you get in even the quietest of ragtops, the C70 maintains a sedan-like atmosphere.
2007 Volvo C70
$38,710 base MSRP
Mileage (city/highway): 20/29 mpg
With the top down, things liven up. Even better, with the four seats it's easy to bring along a few friends to enjoy the ride. Volvo has also performed a nifty engineering feat, creating a spacious trunk for the C70 that maintains a reasonable amount of space even with the top down. Those romantic weekend getaways where you want to cruise with your honey under the open sky? Totally doable with the C70.
Volvo's standard turbocharged five-cylinder engine also gives the car enough oomph to feel pleasurable to drive. The front-wheel drive and longer body don't provide the same visceral driving thrill you'd get from a two-seat roadster.
---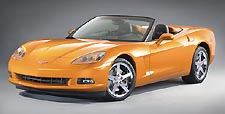 Corvette Convertible
Speaking of visceral thrills, there's the 2007 Corvette Convertible. My affection for things Corvette perplexes many of my Audi TT-driving friends. If you're a fan of European sports cars and sedans, there can be something unseemly and overly-aggressive about a Corvette, like it's a car that wants to invade your country.
While I'm a fan of many European brands, I still enjoy whatever chance I get to drive the latest version of Chevrolet's iconic sports car. I actually didn't car much for the last iteration — the '90s version in particular had a sheen of middle-age-crisis and Viagra-prescription desperation — the new, shorter and more agile model is a visual treat.
2007 Chevrolet Corvette Convertible
$53,335 base MSRP
Mileage (city/highway): 16/26 mpg
And driving it? Well, as I've mentioned in my review of the hardtop model, it's an amazing thing to take on the road. Full, throaty power roars when you floor the accelerator — and you don't want to floor it for long, as you'll quickly be in violation of all sorts of speed laws. But if you love that flattened-to-your-seat feeling of acceleration, you'll get plenty of it.
That said, I'm not as thrilled with the convertible Corvette as I am with the standard hardtop model. After all, the standard 'Vette comes with a removable top panel, so the open air is never far away — although it's more difficult to deal with than the convertible's fairly convenient ragtop. But for some people, when you're buying a two-seat sports car, a convertible is the only way to go. In that case, the Corvette easily fits the bill.