"Men have seeds, and women have eggs… and if two women fall in love and want to have a baby together, they need a seed." That's basically how Ellen Kahn, 44, and her partner of 18 years, Julie Drizin, 43, of Silver Spring, described to their then-4-year-old daughter how she was made.
"We chose to tell [our children] the story, based on what we read in lesbian parenting books and what other people have done," says Kahn, a board member of Rainbow Families DC, and director of the Family Project at the Human Rights Campaign. She and Drizin, have two daughters: Ruby, 8, and Jasper, 4.
"It was an introduction to a concept, but it gets much more complicated," she adds. "It's not as simple as 'a very generous man gave us a seed."'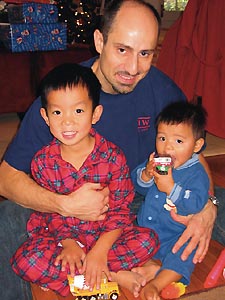 Richard Gervase and his sons, Michael (left) and Sebastian
(Photo courtesy Richard Gervase)
As children of same-gender couples get older, they begin to realize that their families are "not quite traditional," Kahn says. They start to ponder how their birth and parenting process differs from their friends' at school.
"What we want to do is help [gay] parents find ways that are comfortable for them, personally, to have these conversations, but also in ways that are age-appropriate," Kahn says.
Same-gender parents can discuss those methods and a wide range of other parenting topics with fellow gay parents, allies and experts at the Rainbow Families DC 2007 Parenting Conference, on Saturday, April 28. The conference will be held at the Takoma Park Middle School, at 7611 Piney Branch Road, in Takoma Park, Md.
"All of the voices, [on] the panels and workshops, are from people living this experience," Kahn says of the day's events, which include various workshops organized around three themes: "Paths to Parenthood," "Educating our Children, Changing our Schools," and "Supporting our Families."
Abigail Garner, author of Families Like Mine: Children of Gay Parents Tell It Like It Is and a blogger at www.oversampled.net, learned her father was gay when she was 5 — she will give the conference's keynote address before the workshops kick off at 11:15 a.m. In addition to gay parents, the conference is also geared toward prospective parents, as well as people who are seeking ways to mentor or help children.
"That might appeal to folks who are maybe a little older, or who travel a lot, or are semi-retired, and maybe the option of having kids wasn't there for them … 20 years ago, but now maybe they're thinking, 'I've learned a lot, I have something to give to young people,"' Kahn says.
The Parenting Conference is also a good place to meet other gay parents, such as Richard Gervase, a 40-year-old part-time housing and community development consultant who serves on the board of Rainbow Families DC, and Stuart Delery, a 38-year-old law partner at the firm of WilmerHale. They live in Chevy Chase, D.C., and plan to attend the conference with their two sons, Michael, 6, and Sebastian, 2.
"It's a dream environment for prospective parents, because of the panels but also the chance to chat," Gervase says. "We'll have, in the same place, parents who've adopted, who have worked with surrogates or became parents through insemination, foster parents … the chance for us to be able to have that exposure in one place will be tremendous."
Gervase and Delery, who have been together for 14 years, met as students at Yale Law School. Delery is known in gay circles for his pro bono work on GLBT-related cases, including the Servicemembers Legal Defense Network's (SLDN) case against the military's "Don't Ask, Don't Tell" policy. Gervase is the incoming president of the board of trustees of the National Child Research Center. The couple started the adoption process in 1999.
"We were settled in our relationship and settled in a house and began to feel ready to start a family," Gervase says. Although when he first came out he thought such a step would be unlikely, that changed.
"We began to realize that it was a possibility," he says.
The couple has built a strong network of friends with other couples who have adopted from Vietnam or Guatemala."Something that has been particularly true is the tremendous sharing about how the process works," he says.
That process includes how to help children deal with the fact that they're adopted. That's been a manageable challenge, Gervase says, for their son Michael, who has to deal with that plus having two dads and being an immigrant.
"At this age, we think it's important for us to help [Michael] present his family to his peers," Gervase says.
"The kids in his class know us, and we think it makes a big difference." Gervase says they make it a point to work with the school on special issues, including how Michael refers to his own fathers: Gervase is "Papa" and Delery is "Daddy."
"We're trying to be as prepared as possible," he says. "I'm sure there will be some teasing. We just want him to feel strong enough and confident enough to share his family story."
To help generate that confidence, Gervase has taken on the role of a Little League coach to keep up with his son's desire to play ball.
"It tends to be a father-dominated event, so when he first wanted to [play] baseball, it felt like it was a different kind of coming out for the family," he says. "In school, in his class, everybody knew us, but when you sign up for a league, it was all new kids and all new families."
The conference takes on a similar family-affair vibe, because the kids are as welcome as the parents. Kahn credits Children of Lesbians and Gays Everywhere (COLAGE), for its involvement in helping provide programming at the conference for children of all ages.
"Those of us with kids, we're always saying, 'I wish I was able to go to this event, but I don't have a babysitter,"' Kahn says of the all-inclusive conference format. "And no matter what age your kids are, we'll provide care, activities and programs for [them]."
In the two years since the last Rainbow Families DC conference, the group has established itself as a not-for-profit organization, created a board of directors (which still has room for six more people, Kahn says) and revamped its Web site by making it more efficient and user-friendly.
"Because 2006 was an organizing year for Rainbow Families DC, we felt like we couldn't take on the conference until we got our organizational house in order," Kahn says. "Now we're back with a vengeance."
Tickets for Rainbow Families DC 2007 Parenting Conference are $20. To register for the event, visit www.rainbowfamiliesdc.org.