You needn't enroll in a class at Northern Virginia's George Mason University to learn about the various activists, popular artists, scientists and authors who have contributed to the progress of the gay rights movement.
Just take a stroll on GMU's Fairfax or Prince William campuses this week, and prepare to find yourself in the middle of a walking 101 course on the lives of activist Leonard Matlovich, comedian Margaret Cho, singer Freddie Mercury of Queen, and more than 80 other prominent figures who have in one way or another advocated for equality and are now featured in the college's 2007 "Proud Of…" campaign to commemorate Pride Week at the school
The biographical signs, posted randomly across the campus by GMU's Pride Alliance, have become an annual tradition during the university's Pride celebration, which takes place on the first week of April. The signs are there to inspire students by sending a message of tolerance and acceptance.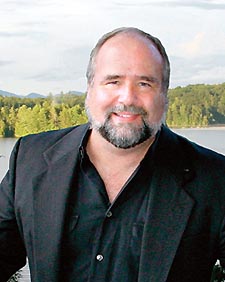 Chollar
It's a message that Ric Chollar, GMU's Assistant Director of Diversity Programs and Services for Lesbian, Gay, Bisexual, Transgender and Questioning (LGBTQ) Student Concerns, says is particularly important this year, as it is the first Pride celebration at the school since Virginia lawmakers passed a constitutional amendment banning same-sex marriage in the state.
"Knowing that we are a state institution and are governed by a state [where] a sizeable number of residents hate us enough to not honor our relationships legally, doesn't necessarily make it feel like a safe place for people," says Chollar, who is gay.
"What's great about Mason, is that the people here, all the way up to the president's office, have been incredibly supportive and continue to try to do all they can within what's legally allowed."
That includes a series of events that are open to the general public, which kicked off last Friday. This Thursday, April 5, Poet Lenelle Moise, who describes herself as a "culturally hyphenated pomosexual poet," appears at 7:30 p.m., at the Johnson Center Dewberry Hall, during "Womb-Words Thirsting."
That is followed by the Alliance's fifth annual Drag Show!, scheduled for 9 p.m., on Friday, April 6, at the Johnson Center Atrium.
Later in the month, GMU will also take part in the Day of Silence, a national student-led protest, and a project of the Gay, Lesbian and Straight Education Network (GLSEN), against the discrimination and harassment of gays, on April 18. A rally and vigil "Breaking the Silence," will follow at 7 p.m. on that day.
"For members of our own LGBTQ communities, [Pride Week] is about celebrating, building and honoring our own community's accomplishments and learning from one another and expanding our view of what it means to be LGBTQ," Chollar says. "But the larger backdrop would be [that] it's also [about] all of Mason, to learn about us and to help us celebrate the accomplishments of LGBTQ experiences."
Chollar, a resident of Adams Morgan, has been involved with GMU's Pride Week for the past several years, and says that the event's growth has not happened without opposition. An idea to advertise GMU's Pride events on the front page of the university's Web site several years ago generated negative feedback from some parents, Chollar says.
"People called up, not too many, saying 'I don't want my tax money to go into supporting morally corrupt lifestyles,' or 'I don't want my children attending a university that puts resources into immoral stuff.' Whenever there is higher visibility or good things happening, we also get reactions to it."
Shizrae Mallick, a 19-year-old, straight sophomore, reacted to a fellow student's anti-gay slurs by joining the equal rights movement when she was in high school. Responding to an incident of gay-bashing by "standing up for the community," she quickly found that rumors were circulated that she was lesbian.
"I did feel discriminated against and that's why I wanted to help in any way I could. I feel so attached to this community," says Mallick, who describes herself as a good listener and a "hardcore ally."
Like many other colleges, GMU offers "Safe Zone" training on how to be an effective ally to gay students. Training, which Chollar says is open to students of other colleges as well as the general public, is available on Friday, April 6, at GMU's Prince William campus, and again on Tuesday, April 10 at the Fairfax campus.
"People go through a full day of training and then come out of the other side with a Safe Zone sticker that identifies them as a safe person," he says, adding that training topics include stereotypes, stigma, the impact of homophobia, transgender issues as well as a section that deals with various paths of development.
"We explore diversity within LGBTQ communities. Folks learn not to just make suggestions for students on one particular path; we discuss how students manage multiple identities, so we look into students who are both queer and Christian, or queer and Catholic, or queer and Muslim or queer and Jewish…."
It's a program that helps students outside the gay community understand the complexities that lie within, a challenge that all minorities face, according to Daniel Pino, a 19-year-old sophomore who serves as the social outreach chair of GMU's Pride Alliance.
"It's something that happens to any person with this status," he says. "With being a gay man, a lesbian, a transgender [person], being in any minority status, race, class or sexual orientation, you are always going to be faced with not necessarily ignorance, but a misconception of who you are."
Pino, who is currently studying global affairs and art history, says he has found a way to cope with the misconceptions that others might make about him.
"I have been called faggot. I have walked past a group of guys and when they think I'm not listening, they'll say something like, 'Be careful he might rape you.' But at Mason, I have the support system built in to talk to my bosses, to talk to Ric Chollar, to talk to my administrator, and they really help channel that negative energy into something that is very positive."
For Pino, that positive energy took the form of GMU's first production of The Laramie Project, which Pino says he produced.
"It was kind of my personal vendetta," he admits. "Showing people that I may be a gay man, you may have this idea of me, but look what I can do….
"Having the resources is a really good option for students, and it's something that if I didn't have here, I'd feel very marginalized."
For more information and details about GMU's Pride events visit http://lgbtq.gmu.edu.